LSU DT Glenn Dorsey tackles questions from reporters during the media session at the NFL Scouting Combine in Indianapolis.


INDIANAPOLIS -- The NFL Scouting Combine is both a mega-event and a well-oiled machine.
There are a myriad of stations, tests, drills and interviews the players must go through, with personnel from all 32 teams watching them every step of the way. And there's very little wasted time, as players are shuttled from one station to the next very efficiently, forcing clubs to have their personnel spread out to properly cover and document all that goes on.
This past weekend, Packers.com tagged along with some of the team's personnel for a day as they executed their assignments at the RCA Dome and its adjacent convention center and nearby hotels. Here's a snapshot of some of the behind the scenes happenings...
No, it's not for a prize fight, but this particular morning began with a group of defensive linemen getting their heights, weights, hand widths and arm lengths measured in an oversized ballroom in front of hundreds of NFL personnel sitting in an auditorium-like setting.
The players are stripped down to nothing but a pair of tight shorts and brought onto the "stage" one at a time. One guy yells out his name and school and another calls out his hand and arm sizes, in inches, before he walks toward the center and faces the crowd with his back against the measuring tape, where his height is marked and announced. Then he walks over to a scale and stands with his back to everyone, a strategic switch to allow a clear view of both sides of the body, and his weight is announced.
LSU defensive tackle Glenn Dorsey, who is projected as one of the top picks (if not the top pick) in the upcoming draft, is in this morning's group, and he gets a rather special introduction from the hand-arm guy.
"From the national champions," he says. "Hand, ten-even. Arm, thirty-five and one-fourth." Then comes the height, "Six-zero-one-four," with the last number representing eighths of an inch, meaning Dorsey is 6-1 1/2, and his weight, "Two-ninety-seven."
All the measurements are recorded by the league, but in addition to hearing and writing the numbers themselves, the various team personnel are getting that initial look at the body frame and type that no one can see on film when the pads are on.
"It's about comparing the bodies," director of college scouting John Dorsey said. "You want to see if they're NFL-type bodies."
The medical staff will get a more in-depth look at each player later in the day, complete with injury and medical histories, but this first glance can make an impression, good or bad.
"You're really looking for anything that jumps out," director of pro personnel Reggie McKenzie said. "Sometimes a guy will be shorter than I thought, or thicker than I thought, or more muscular."
The players may not know it, but they're being watched all the time, even sometimes when they're just waiting in line for their turn.
"I like to see how they interact with each other," McKenzie said. "You can see which ones are more serious, or more jovial. You can tell by watching their actions."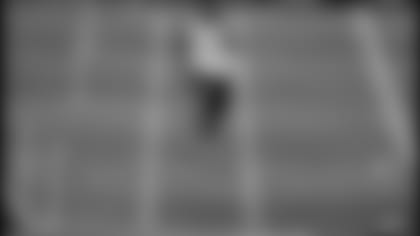 While these defensive linemen are headed to the orthopedic stations and other medical rooms, a group of offensive linemen are in the RCA Dome for the athletic tests.
They start with a few simple measureables - the broad jump, vertical jump and sit-and-reach. Then it's on to the all-important 40-yard dash.
Along the near sideline of the dome's playing field, the 40-yard track is marked off, beginning from the goal line out to the 40, with an automatic timing system. Scouts and other NFL personnel are scattered throughout the sideline seats at the 10, 20 and 40-yard intervals to record their own split times.
Assistant director of college scouting Shaun Herock is stationed at the 10, about a dozen rows up from the field, to record a key split for offensive linemen, who rarely are asked to run a full 40 yards.
"You want to see the explosion," Herock said. "The quick twitch."
An on-field announcer calls out the players' names, schools, and if they've scheduled a pro workout day on their campus. The players then do two rounds of 40s, and the collective beeps of dozens of stopwatches are clearly audible in the otherwise quiet dome.
Teams record their own hand-held split times and full times to get accurate, consistent comparisons with times they've gathered on players during campus visits throughout the college season. Automatic timing is different, and comparisons to hand-held times (particularly with potential draftees not invited or appearing at the Combine) aren't valid.
"Most of the offensive linemen will run, but a lot of the skill guys will pull out and only run at their pro day," Herock said. "But more of them are starting run now because of the TV coverage (on NFL Network), and it's a pretty fast track."
After the 40s, the players proceed to their on-field workouts, which for offensive linemen consist of a series of drills to test primarily agility and technique. They're nothing too dramatic, but they are position-specific, which is valuable.
During one drill the linemen jump up from lying on their back and shuffle back and forth or side to side at the direction of a coach. For another, a run-blocking drill, two linemen in their stances criss-cross while engaging another player holding a big blocking pad. To test their pass sets in a different drill, players have to come out of their stance, shuffle into the backfield and beat an on-rushing opponent to a particular spot.
"You want to see their feet, see their athletic ability, their movement skills," said Herock, a former collegiate offensive lineman himself. "Some drills will show the pop in their hands, how they strike.
"Each position has its specifics. For linemen it might be the hips, for receivers their hands, for running backs their body control. And all this is filmed, so we can watch it over again in our meetings."
Brief notes are scribbled about certain players during the drills, which are conducted in rapid-fire fashion by experienced coaches. What the various scouts are looking for and taking notes on depends on their team. With linemen, some teams are looking for more agile, athletic players to fit their offensive system or blocking schemes. Others are looking for the big guys, the maulers who can simply control and overpower defenders.
"Beauty is in the eye of the beholder," Herock said. "It depends on what you want."
After proceeding to the shuttle run and cone drill, this group is done in the Dome while another has just finished the jumping and is getting stretched out to run their 40s. And the groups are moved through all day long.
"It's not an instant thing, it's a long process," Herock said. "You take a little bit of everything and put it all together."
The day concludes with players and team personnel back at their hotels for interviews. There's a general area where players can be engaged in conversation somewhat randomly, and other separate, private rooms where teams can interview players they requested ahead of time.
Like the medical stations, the interview rooms are closed to everyone but those specifically involved in the process. They begin after dinner and go well into the evening, sometimes as late as 11 p.m. They make a long day even longer, but they're a critical part of the evaluation process for clubs.
"You look at the numbers, and everybody can play, everybody has talent," director of player development Tim Terry said. "But you want to know what type of guys they are, how they'll fit in your locker room, how they'll fit with your coaching staff."
Different teams value personality traits like character and love of the game differently, but this is a first-hand chance to learn what they want to know.
The Combine as a whole is like that, really, with 300-plus players all being put through the same paces for 32 teams not necessarily searching for the same thing.
"You get to know these guys over a couple of days, and they get to explain who they are as best they can," Terry said. "It's the ultimate job interview."