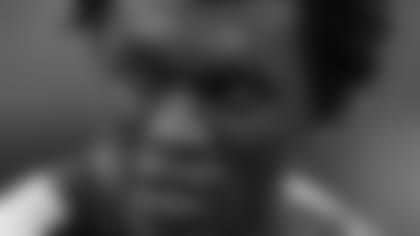 Brigham Young's DE Ziggy Ansah
GREEN BAY—An overall deep group of defensive linemen is likely to be especially attractive for teams that play a 3-4 defensive scheme. Draft guru Tony Pauline includes most of the top defensive linemen in this year's draft as prospects to play in a three-man front.
"At the top you have Star Lotulelei of Utah. You have Sharriff Floyd of Florida, who can play two-gap defensive end; Sheldon Richardson of Missouri, a 3-4, two-gap defensive end. Jesse Williams of Alabama can be used at nose tackle or as a two-gap defensive end. Johnathan Hankins of Ohio State, Sylvester Williams of North Carolina, Kwann Short of Purdue, John Jenkins of Georgia are all potential nose tackles in different types of systems," Pauline said in ticking off the prospects.
"Down the line, A.J. Francis of Maryland, William Campbell of Michigan and Abry Jones of Georgia are all 3-4 defensive ends. Brandon Williams of Missouri Southern and Montori Hughes of Tennessee-Martin are potential nose tackles," Pauline added.
Need help on your defensive line? This is a great year to fix the problem, especially for teams that play a 3-4 defensive scheme.
Jesse Williams of Alabama is Pauline's favorite. Pauline considers Williams to fit right about where the Packers are picking, No. 26 overall.
"Like him a lot. Former rugby player from Australia. Terrific athlete, great movement skills. He's not one dimensional. Better than average pass rusher and can occupy the gaps. He does a lot of things well. Great upside. Bottom third of round one," Pauline said of Williams.
The big name among defensive linemen for a 4-3 scheme is Ziggy Ansah of Brigham Young. Some believe Ansah is even athletic enough to play outside linebacker in a 3-4 scheme. He's come out of nowhere to have pushed himself into the top 10 of this draft, according to Pauline.
"Absolutely, for a variety of reasons. Great pass rusher, tremendous upside; Jarvis Jones (neck concerns) and Star Lotulelei (heart condition) have fallen. It all adds up to Ansah being a top 10 selection," Pauline said.
Some have compared Ansah's rise since the Senior Bowl, where he capped a big week by winning game MVP honors, to that of Bruce Irvin's a year ago. Pauline disagrees.
"Bruce Irvin wasn't unknown, he just had a bad senior year. He pulled it all together with a great combine. Ansah hasn't played much at all. Irvin wasn't a fast riser. Ansah wasn't even on NFL scouting sheets going into the season. He played a handful of games as a junior; posted seven tackles as a junior," Pauline said.
Ansah is clearly this year's risk/reward prospect, much as Jason Pierre-Paul was in 2010. Pierre-Paul was a one-year wonder in college that lit up the combine and caused the Giants to pick him at 15th overall.
The dust of Ansah's selection will have long since cleared when the Packers step up to the plate on draft day, but depth of talent available to them might not have thinned and it's not likely to present as much risk. Additional coverage