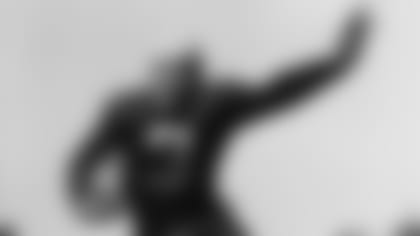 RB Tony Canadeo
Back in May, Mark from Hollywood asked about Ray Nitschke saying, "Give it to them, we're not through with 'em yet." You recommended checking out Nitschke's autobiography, "Mean on Sunday." So I bought a copy – a fantastic investment of time and money. Sure enough, the quote is there on page 162. Nitschke's description was of the 1967 Western Conference playoff game against the Los Angeles Rams.
Ted, thanks for finding the answer. Mark and others now know where to look.
Adolf from Vienna, Austria
I have a very unusual question. In 1961, I was an exchange student in Yakima, Wash., and I watched my first football game on TV. It was a game involving the Green Bay Packers. It would be nice if you could tell me the opponent and the score.
I'm going to take a stab at this not knowing anything about the Yakima television market. But I'm going to proceed under the assumption that Yakima would have been in the San Francisco 49ers' regional network in 1961. There's no way I'll be able to tell you for sure which game it was, but if it was 49ers territory maybe I can narrow it down enough so you'll be able to take a more educated guess. For example, do you think the Packers won? Did you return to Austria for any holidays? Any other clues? If my assumption is correct, there are four possibilities and maybe another. This was before Seattle had a team. This was before TV doubleheaders on Sunday afternoons. There were no Monday night games. As I recall: All – or almost all – viewers regardless of where you lived could watch one NFL game a week except in the rare case of a national telecast. The Packers were on national TV twice that year: Thanksgiving Day when they beat the Detroit Lions, 17-9; and Dec. 31 when they beat the New York Giants in Green Bay, 37-0, in the NFL Championship Game. I would assume those games were televised in Yakima.
Two other possibilities would be the Packers-49ers games. The first was played Sept. 24 in Green Bay and the Packers won, 30-10. The other was played Dec. 10 at San Fran's Kezar Stadium and the Packers lost, 22-21. If Yakima had a CBS station and it was part of the 49ers' network, you almost certainly would have been able to watch those games. I suppose there's also a chance that it could have been the Sunday, Dec. 17 game when the Packers beat the LA Rams, 24-17, in LA. The 49ers played on Saturday that week – the last week of the season – so if Yakima received a Sunday broadcast as a replacement it might have been the Packers-LA game. The only other NFL game played west of the Mississippi River that day was Pittsburgh at St. Louis. I see no preseason games as candidates and no other 49er game played on a day other than Sunday. But I'm sending out an SOS here. Any readers who lived in the State of Washington in the early 1960s and watched pro football? Remember what team's games were piped into western or central Washington? Was there a CBS station in Yakima? If I was in Yakima, I could go to the library and look back at old TV listings on microfilm. But I've never been to Yakima. Have been to Vienna. What a beautiful and historic city!
What number did Ray Nitschke wear for a short time prior to wearing 66? I think it was 72.
Wow! I'm impressed. Uniform numbers are one of my weaknesses when it comes to trivia and I have no recollection of Nitschke wearing 72.  But he was listed as wearing No. 72 and as a linebacker-fullback in the program for the only preseason game played in Green Bay in 1958, his rookie year. I couldn't find numbers listed for the start of camp in the 1958 press guide or the Press-Gazette, but I'd assume 72 was the number he was first assigned. Between the Sept. 1 preseason game and the '58 season opener, Nitschke switched to 33 and wore that number his rookie year. He started wearing 66 in 1959.
What is the record low attendance at Lambeau Field for a Packers game?
19,856 vs. Tampa Bay, Dec. 1, 1985. It was the day of a blinding blizzard -- 10-plus inches of snow fell. People simply couldn't get to the stadium. William also asked the question and said he was there that day. He added: "When my girlfriend and I came into the stadium, the usher told us to sit wherever we wanted and if ticketholders showed up, to just slide down. It was awesome, as we were able to sit at the 40 about 20 rows up. Even there it was difficult to see Tampa in their white jerseys!"
Who was president of the Packers in 1928, '29? When did they build Lambeau Field?
Ray Evrard was elected president in 1928 and served one year. Dr. W.W. Kelly was elected in 1929 and served one year. New City Stadium (now Lambeau Field) was built in 1957 and dedicated Sept. 29, 1957.
What can you tell me about Emlen Tunnell's tenure with the Pack? In 1955 or '56 when I was 5 or 6, my mom worked at a motel in Lake Delton, Wis., near where the New York Giants held a summer camp. Emlen took a liking to me and would pack me around on his shoulder. To this day I still have the football he gave me. I'm not sure when he transitioned from the Giants to the Packers. I also think Lombardi was an assistant coach with the Giants at that time. An interesting side note is that only the black players stayed at this less expensive motel with one exception, Frank Gifford.
Great personal story. It wasn't unusual in the 1950s, even early '60s for teams to spend a week somewhere en route from one exhibition game to another. I was 8 when the Pittsburgh Steelers spent a week at St. Norbert College in De Pere. That was the year Johnny Unitas was a rookie and got cut, but he was still with the team in Green Bay and I went out to the dorm and got his autograph, among others. Any chance your story could date to 1954? I found in my files a note that the Giants were in Wisconsin Dells prior to an exhibition game against the Packers that was played in Milwaukee on Sept. 18, 1954. Not sure why they were there. Their training camp site that year was Willamette University in Oregon, but they had gone back home to New York to play an exhibition on Sept. 12. Maybe they just needed a place to go for a week and picked the Dells or nearby Lake Delton. I suppose the Giants could have gone back to the Dells in 1956 before or after an exhibition game in Green Bay on Aug. 25, but I couldn't find anything about it in my clippings from that year. I find it an interesting question. It's something I'll have to do more research on. Do you know where they practiced? And, yes, that would have been Lombardi's first year as an assistant with the Giants. Lombardi purchased Tunnell from the Giants when he came to Green Bay in 1959. Tunnnell was 37 years old at the time. That was before teams had African-American assistant coaches, and I think Lombardi brought Tunnell to Green Bay as a de facto player-coach. Here, again, is what Herb Adderley said about him in an Oral History previously posted here.
Which Packer was the first to run for more than 1,000 yards in a season?
Tony Canadeo. He rushed for 1,052 yards in 1949. Jim Taylor was the next 11 years later.
Born in Appleton, but living in Arizona. I was wondering what you would consider the official year the Packers were established?
1919. I know George Whitney Calhoun would refer to 1918 as the start of the Packers in a short item he wrote – or presumably wrote -- for the team's press book into the 1930s. But I believe that was largely because Calhoun was the manager of the 1918 city team and by including that year he could claim another state championship for the Packers. A state championship was a big deal when the Packers started out. But in 1922 when the Press-Gazette published its first history of the Packers – again, a piece Calhoun likely wrote – it made a clear distinction between the 1918 city team and the 1919 Packers.
John from Lake Geneva, WI
Was Harlan Huckleby ever with the Packers. I say yes, my friend says no. I also think he might have been a Heisman Trophy winner. Did he have any kind of career with the Packers?
You're right, Huckleby played with the Packers from 1980-'85. But he never won the Heisman. Wasn't even a top 10 vote-getter. He had a nice career at Michigan, but he was no Willie Heston or even Butch Woolfolk. And he was a backup with the Packers. His best year was '81 when he rushed for 381 yards with a 2.7 average and caught 27 passes for an 8.2 average. He also returned kickoffs at the end of his career, but averaged less than 19 yards per return.
My recollection is that Marv Fleming was the first player to play for the Cowboys after having played for another professional team. Can you verify this and provide facts and anecdotes from his time in Green Bay?
Fleming played for the Miami Dolphins, not the Cowboys, after leaving the Packers. Also, keep in mind Dallas was an expansion franchise in 1960. Thus, it started out selecting three players from each NFL team in an expansion draft. It picked DE Nate Borden, DB Billy Butler and HB Don McIlhenny from the Packers. All three played with the Cowboys. As for Fleming, he played with the Packers from 1963-'69, then played out his option and signed with Miami. He played there from 1970-'74. So he played in five Super Bowls (two with the Packers; three with the Dolphins) and won four rings. He was inducted into the Packers Hall of Fame in 2010.
What was the longest winning streak at Lambeau Field for my Green Bay Packers?
The Packers won 25 straight from 1995-'98, second-longest streak in NFL history. Miami won 27 straight home games from 1971-'74.
Where is the great runner, Samkon Gado, now?
I believe he just finished his third year at the Medical University of South Carolina and that his next step will be a residency for ear, nose and throat surgery.
Steve from Rogue River, OR
I used to get the Packer Yearbook in the early 1960s and, sadly, no longer have them in my possession. Would it be possible, at some time, to post a team photo from one of those years? Maybe 1961. Thanks ever so much and keep up the great work.
Steve, I'll post your question and hopefully our makeup artists will accommodate you and run the picture.