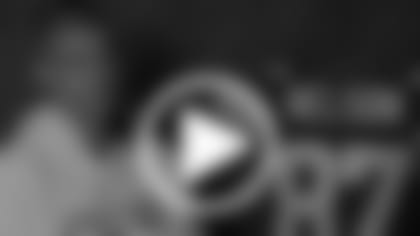 ](http://www.packers.com/media-center/videos/Inside-Slant-Jordy-Nelson/444706b3-0883-4229-badb-388f01ec583f)
Jordy Nelson has struck deep for big plays and he's moved the chains with timely grabs. Including his 84-yard touchdown reception last week at Carolina and his string of sparkling performances in the 2010 postseason, no Packers player has caught more passes for more yards over the team's last six games.
One of a legion of speedy targets Green Bay could send at the opposition since his arrival as a second-round pick in 2008, Nelson developed into a key component in the Packers' offensive attack over the final 12 games of the 2010 regular season when he recorded 36 receptions.
He then turned in a memorable playoff run, with 21 catches for 286 yards and a pair of touchdowns, including 140 yards vs. Pittsburgh, the most by a Green Bay player in team history in the Super Bowl.
Nelson grew up on a farm in Leonardville, Kan. (population: 437), and was a walk-on at Kansas State as a safety. He sat down with Packers.com staffer Ricky Zeller and talked about when he knew he might be talented enough to play in the NFL, what his best football memory is, which is the loudest stadium in the league and what goes through his mind before the snap, among other subjects.