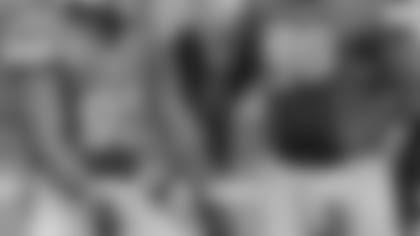 Lions DTs Ndamukong Suh (90) & Nick Fairley (98)
GREEN BAY—Coordinators Tom Clements and Dom Capers share a common bond this week: Their units are each facing two disruptive forces.
Clements' Packers offense will have to neutralize Lions defensive tackles Ndamukong Suh and Nick Fairley, and Capers' defense will have to do the same to Lions wide receiver Calvin Johnson and running back Reggie Bush.
"The inside guys have to play well," Clements said of center Evan Dietrich-Smith and guards Josh Sitton and T.J. Lang. That trio will be responsible for blocking Suh and Fairley, the latter of whom recorded four sacks, four tackles for loss, several quarterback hurries and two forced fumbles in the two games between the teams last season.
Green Bay won both of those games, largely because they made game-changing plays on defense. In the Packers' win in Detroit, safety M.D. Jennings' pick-six interception set the stage for a late-game Packers rally. In the Packers' win at Lambeau Field, defensive tackle Mike Daniels' fumble return for a touchdown was the turning point in a game the Lions led, 14-3.
"I feel good about having Morgan back," Capers said of safety Morgan Burnett, who will see his first action of the season after missing three games with a hamstring injury. "He's our quarterback back there."
Capers' defense has met with feast or famine through the first three games. It was great against the run but bad against the pass in the opening-day loss in San Francisco. It was great early but bad late in the Week 2 win over Washington. It was dominant for most of the game in Cincinnati but allowed a 95-yard touchdown drive at crunch time.
How will the Packers defense play against the Lions, with the season in a delicate state of balance at this early stage? At 1-2, the Packers desperately need a win against 3-1 Detroit, or risk falling far off the pace in the NFC North.
"Teams that are going to pay too much attention to Calvin Johnson, (the Lions) have another guy they can throw the ball to," Capers said of the Johnson/Bush challenge the Packers defense faces. "(Bush) is a matchup guy. They're going to see how you match up with him."
The Lions have the league's No. 6 offense. Bush has a touchdown run of 37 yards and a receiving touchdown that went for 77 yards. Johnson has caught a 72-yard touchdown pass already this season.
Those are the kinds of big plays that give the Lions added bite. Suh and Fairley provide the roar.
"We have to be able to mix it up and not let them know we're going to do one thing or another," Clements said of a game plan that'll likely attempt to make the Lions defensive tackles run side to side, instead of into the Packers' backfield, which was the case too often in last year's meetings.
"We have to slow them down, and when we have a chance to throw it away and not take a sack, we need to do that," Clements said.
Quarterback Aaron Rodgers will be the target of Suh's and Fairley's charge on Sunday. Rodgers is coming off a substandard performance for him and he'll be intent on continuing the Packers' mastery of NFC North rivals.
"If you're a competitor, which he is, and you didn't feel you played well, you try to rectify that situation. If he doesn't play up to his standard, he's going to make sure in the next game he does," Clements said.
A strong running game would aid Rodgers' cause. Eddie Lacy is recovered from a concussion and he'll likely share playing time with fellow rookie Johnathan Franklin. A third consecutive 100-yard rushing performance would certainly help the Packers protect Rodgers.
"I think we've run the ball well in three games. I guess you're going to have to ask other teams how they'll defense us," Clements said when asked if the Packers' success at running the ball might cause opponents to commit an eighth defender to the line of scrimmage.
"They have a good front four. They get teams in longer yardage situations. They play defend in the secondary and they let the front four loose."
Special Teams Coordinator Shawn Slocum wants improvement in his team's return game. The Packers are currently last in the league in kickoff return yardage.
"I don't like that at all. We have to do something about that. It doesn't take but one big play and that ranking flips," Slocum said.
The Packers have played it coy this week on the subject of who will replace Jeremy Ross as the team's primary returner. Might Randall Cobb resume his return duties?
"Randall's been practicing as a returner here for three years. We'll make a decision on Friday," Slocum said.
Kickoff was rapidly approaching for an NFC North game of critical importance to the Packers. Additional coverage - Oct. 4