*As part of the Green Bay Packers' celebration of the 10th anniversary season of the Super Bowl XXXI Championship, Packers.com is running a series of stories about the people responsible for bringing the Vince Lombardi trophy back home to Titletown.
Marco Rivera didn't know what to expect when he was selected by the Green Bay Packers in the sixth round of the 1996 NFL Draft.
He was fresh off the Penn State campus and being the 208th overall pick doesn't exactly translate to job security in professional football.
Rivera was in no position to make assumptions on where he stood with the Packers, and for that matter, he didn't know all that much about his new team, either. Fortunately for the 6-foot-4, 295-pound guard, someone close to him did.
"One of my buddies called me up and said, 'Hey man, the Green Bay Packers are going to win the Super Bowl this year, you lucked out,'" Rivera recalled. "And I'm like, 'Really?'
"The next thing I was thinking was 'Man, that's going to be a hard team to crack the lineup because you know if they're going to go to the Super Bowl, they're pretty much all loaded.' So, when I got there I didn't know what to expect."
It didn't take long before Rivera learned exactly what he was walking into, however.
"I go in the locker room and I see Brett Favre, and I don't say anything. The next guy I see is Reggie White. And I was like 'wow.' These are the guys I've been watching the last couple years. This is awesome."
Though Rivera enjoyed the thought of playing on a team filled with great players, reality sunk in shortly after the draft.
Sure, looking back on it now, Rivera can laugh. But one of his first on-field experiences as a rookie didn't offer much in the comedy department.
"The one memory that I had was when we first put the pads on in the first mini-camp in April," Rivera said with a chuckle. "I think (offensive line coach) Tom Lovat did it on purpose. He put me up one-on-one against Gilbert Brown. So I'm thinking, 'How am I going to stop this guy from getting to the bag?' And before I knew it, I was on my back, he was on top of the bag, and everybody was laughing.
"And I just was like, 'Man, this is a different game,' and I'll never forget that. Actually it was my second time, because the first one I went offsides and the second one I went up against Gilbert Brown, and he just picked me up and put me right back on that bag and I'm like, 'Wow, man, I've got a long way to go.'"
Perhaps Rivera didn't have as long to go as he previously thought. Considered a long shot to make the team, he was a surprise success story in training camp, which earned him a roster spot.
According to Rivera, he just tried to keep his nose to the grindstone while hoping for the best.
"I was a young guy, quiet, didn't talk much, and I was just trying to impress the coaches, do everything they wanted me to do," Rivera explained. "I was always in the weight room lifting. It was just putting my time in."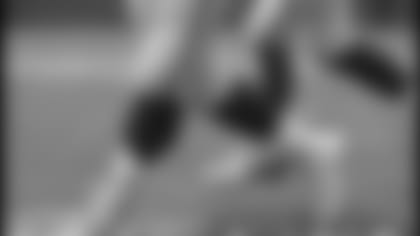 Clearly, his diligent work paid off as Rivera played nine seasons with the Packers, including three years as a Pro Bowler. Last season, as an unrestricted free agent, he joined the Dallas Cowboys and now at 34 years old, it's Rivera's turn as a wily veteran to take notice of the team's youngsters.
"Even now, I look at the young guys coming in and when I see guys do that (working out, putting time in), I know that this guy's committed and he wants to be a player because he's doing everything to get himself ready, he's doing everything he can to get the team ready to play," Rivera said.
"He's not showboating, he doesn't talk, he doesn't loudmouth. He's just quiet, getting everyone better, that's what it's all about. There's young guys that do that and there's other guys who'll come in and think they got the world by the horns. Young guys have to understand you have to put your time in if you want playing time. And when you do get your playing time, you've got to make it worthwhile."
Rivera didn't have much of an opportunity to play as a rookie. After all, the Packers were fairly set along the offensive line, particularly the interior line.
Instead of sulk or complain, however, Rivera soaked up the atmosphere, not that he didn't think about what it would have been like to play.
"At the time, I was happy to help the guys out," Rivera explained. "In the back of my mind, I was like 'Man, I'd love to be playing.' But I knew it wasn't my time, it wasn't my turn to play. And so I just did my best and did everything Tom Lovat wanted me to do and got better by practicing against other guys.
"My job on that team was to get the starters ready. So I went in every week trying to give the defensive guys the best picture possible to get ready to play the game. You know, basically that was my job and in turn, I was getting better. I was practicing against Gilbert Brown and Reggie White. You can't help but get better because those guys were so good. And that's how I gave back to the team, to get them ready to play on Sunday."
As a young man, Rivera said it was a learning experience unlike any other in terms of seeing how so many great players went about their daily work in the NFL.
Now when Rivera reflects on the Super Bowl XXXI team, he can't help but gush over the players that surrounded him in the locker room.
"I'm glad that I was part of that team because man, guys were so good," Rivera marveled. "I played with Reggie White, Santana Dotson, Gilbert Brown, Sean Jones, Brett Favre, Chewy (Mark Chmura), Frank (Winters), it was just a ton of guys. Robert Brooks. We had Edgar Bennett, William Henderson, we had them all. We had them all. Eugene Robinson. It was just fun times. It was a fantastic team and it was a great team to be a part of."
Rivera and his wife Michelle have three sons, Dante 6, Roman, 4, and Nico, 1, and though he may be considered grizzled by NFL standards, Rivera admits he would like to play three, four, or maybe even five years depending on how his body feels.
That's understandable, especially since he's enjoyed plenty of success and played with some great players along the way, including Favre and White in Green Bay.
"It was phenomenal," Rivera said. "Phenomenal. I got to play with two of the best players in the history of the game. Not just average players, you're talking about a three time MVP in Brett Favre. You're talking about Reggie White, everybody knows who Reggie White was. I mean, I was part of their team."
It also shouldn't come as a surprise that Rivera mentioned the Super Bowl win as one of his most memorable moments in Green Bay.
"When we won that Super Bowl and I saw how the town reacted and how the organization reacted...I mean, gosh, the trophy is named the Lombardi Trophy. It doesn't get any better than that," Rivera said. "And the trophy came home in my book.
"When you look at that, to me, pro football comes down to Lambeau Field, and it comes down to the Green Bay Packers. That's what it's all about. If you want to get to the heart of pro football the way it's supposed to be experienced, you go to Lambeau Field."
And just because Rivera no longer calls Green Bay home, that doesn't mean he doesn't often think about or correspond with the men who do.
In his first season away from the team, he still managed to keep tabs on some old friends.
"Brett's still my buddy, Mike Flanagan, Mark Tauscher, the whole offensive line," Rivera acknowledged. "I read the papers, see how the guys were doing, see if they were holding up, call them on the phone. I called Mark Tauscher and told him he looks fat every time on the phone.
"Monday night games were the best because I could sit home and watch the game. As cool as Mark Tauscher was, he was just a big fat guy on the TV. Then, I called him after the game and I'd say, 'Man, don't wear that white jersey, it makes you look horrible.' But we're like that. That's how we were when we were there so, that's how we still are."
It's been 10 years since Rivera was drafted, and those days of not knowing what to expect of the Green Bay Packers are long gone. He may be gone, too, but Rivera won't soon forget his time spent in Green Bay.
"The Green Bay Packers are such a storied franchise and I'm part of that," Rivera said. "I will always be part of that and to me, that's special. To me, nobody can ever take that away from me. Just to say that I played for the Green Bay Packers, the same Packers that Lombardi coached, Bart Starr played for, Nitschke played for, and all those guys from back in the '60s and '70s.
"Reggie White, Brett Favre, those were all Packers. Marco Rivera was a Packer. That right there, that's what football is all about. If you want to ask any professional player how do you want to play and how do you want to end up, it doesn't get any better than that."
It's almost difficult to believe those days of Rivera not knowing what to expect of the Green Bay Packers existed at all.