Q. So, how do you feel after five catches against the Vikings?
A. Obviously, I feel good about it; I feel it was productive for what my role in that scheme or that game plan. I'm just trying to do the best I can. Whatever they ask me to do, try to do it to the best of my ability. I was excited. I tried to not glorify in the moment. You know, working with guys like Aaron, Jordy, Sitton and T.J. Lang, you know you've got to be in the right now moments, being locked into that play. So, in the game there were moments on the sideline where I was like, wow, this is Sunday Night Football. After the game I talked to my parents and I was definitely happy I could contribute to the win. They were happy for me, very proud of me, and I was just very thankful and blessed for this opportunity.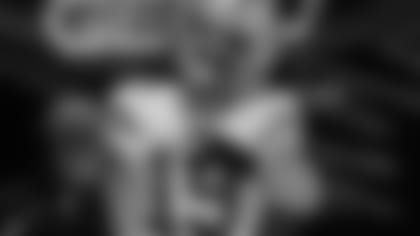 White led the Packers in receptions (5)
in a preseason game in St. Louis
Q. What can you tell us about yourself that we don't know?
A. I know you guys know I have a twin; that's usually my go-to right there. But I like to have fun, man; I'm a kid at heart. Everything doesn't have to be so serious, just like when it comes to football. It's just a game and it was intended for everyone to have fun. Yeah, there's time when there is serious time needed, but I like to downplay that and just hang loose.
Q. What were your thoughts when the Packers signed you as an undrafted free agent? Did you think you had a chance to make the team?
A. Yeah, I mean I had some options to go other places, but I had a really good feel about the Packers. I had talked to coach E.B. (Edgar Bennett) and he gave me the run-down with what was going on. I had just kind of seen what route they were taking with drafting two receivers and how I felt. Me, personally, I felt I had seen what they can bring and felt like I was a different type of receiver than them. Not saying I was better, but just added a different variable. At the time it was Charles (Johnson) and Kevin (Dorsey). They're pretty big guys. So I knew I could be in the slot and worked a lot in it in college and felt like using my speed in the slot is one of my strengths. I felt like I could do that especially with Cobb being as versatile as he is, being in the backfield sometimes. I just felt like I could come in and be a guy stretching the field in the slot.
Q. What's your fondest memory of training camp?
A. Probably the St. Louis game. I had six catches for however many yards. I had a controversial touchdown with Vince (Young). That was cool for me to kind of have that game and to get my feet wet. I felt what it takes to succeed in the NFL; you have to produce. Outside of football, it's just kicking it with the team. This is a real great place to be as far as just team-oriented. Everything was fun, we stuck together and made it through camp.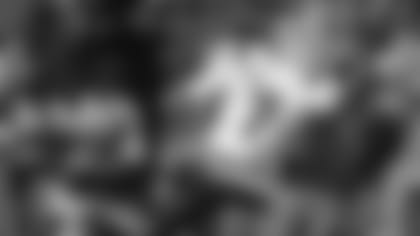 White earned second-team All-WAC honors
from the coaches as a senior in 2012
Q. You were a legacy recruit at Michigan State. How did you get to Louisiana Tech?
A. I got in trouble; it was this big ordeal with about 15 of us who got into this dorm fight. So, I had talked to my coach and kind of seeing how everything would shake out, one thing led to another and we both kind of agreed it would be best to go our separate ways. I wasn't happy with where I was at. I was playing quite a bit in my redshirt freshman year, but I was impatient and wanted more. I was kind of unhappy about that. Obviously, they weren't happy with the decisions that I was making so we just parted ways and I ended up going to a Juco in Mississippi (Northwest Mississippi). I was actually going to sign with GRCC (Grand Rapids Community College) but the day before I was going to sign I got a call from this guy in Mississippi – I had never talked to him before and never talked to the guy after. He told me, "We have a plane set up for you. You need to come down to Mississippi. This is the best Juco football in the country." I ended up flying into Memphis and they toured me around, and I signed there. Louisiana Tech then recruited me from the Juco.
"I'm just trying to do the best I can. Whatever they ask me to do, try to do it to the best of my ability."
Q. Why is "A Beautiful Mind" your favorite movie?
A. I feel like when you get older you realize a lot of things are mental; mental processes of how you see things. Same with the field, being in football or something you love to do, if you know you can do it and have the ability, it's all mental and in your head. I like a lot of movies that kind of focus on that mental structure. In the movie he's able to overcome his disability by basically just ignoring these hallucinations that he's having. I admire that because I know how hard it is mentally for some people. Even myself, it's hard; I try not to think about being in this situation. I take it day by day because I feel like once that stone gets rolling, it can kind of be a snowball.
Q. Your twin brother is a defensive back. Bad hands?
A. He was always a quarterback; he was my quarterback in high school and I was the receiver, while my younger brother was the running back. We went to the state championship and both of us got recruited at Michigan State. They wanted him to try quarterback to see if he could be that dual threat guy, but I guess it just didn't work out. They had Kirk Cousins there; he ended up moving to cornerback. We would duel it out. Every time we got back to the house we would have fun out back in the field and do one-on-ones, betting $20.
Q. What's it like being an identical twin?
A. It's fun. I don't know any other way so it's always been fun. Playing tricks on other people and try to hit the switch for a second. We don't really think of each other as twins. We had a bunch of twins in high school and they would have to go everywhere together and dress the same. We're not really like that; we're more independent from one another, which is why being apart from each other hasn't been as hard as people thought it would be. But it's my brother; we've been together since day one.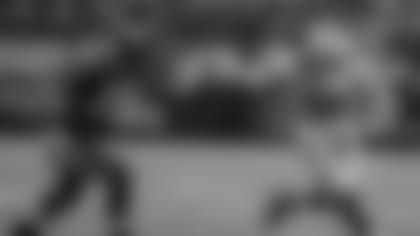 White has stepped up, following injuries to
Randall Cobb, James Jones and Jermichael Finley
Q. What are you learning from Aaron Rodgers?
A. I try to take a piece out of his game. That's one thing I've always tried to do with anyone I've respected, as far as football. I try to take bits and pieces of their game and put my own little twist on it in my own way. I just like how he approaches the game, it's all business. He's as goofy as anybody but when it's time to get serious it's all business and it's all greatness. That's what makes him the great player he is. What I try to take from him is how he approaches the game and his mental focus. You can just tell he's mentally locked in at all times and there's not a moment where he doesn't know what's going on. There was a play in Minnesota, a stick (route) that I had caught; it was a little short out. He threw it, I caught it, but he wanted me to keep going. It's little things like that keep our chemistry going. Luckily for me he's automatically a guy you can have chemistry with because of how good and talented he is. I'm still learning from him and just trying to take everything that he has to offer.
Q. What are your goals? A. Right now it's just to be whatever the team needs me to be. I'm a rookie and obviously want to go into the game thinking I'm going to be the rookie that has a great game this week around the league at receiver. But that's another big thing here. I talked with Aaron about struggling in practice and I felt like it was me trying so hard to make that next step. I got my first catch, now I have to try and make that extra leap and have 100 yards like Boykin did. So, (Aaron) had spoken with me and just said be yourself; you don't have to do too much, play your game. It's just a mental game from this point on. It's just knowing your job and doing it at 100 percent.