PACKERS HOST CHIEFS IN PRESEASON FINALE
Green Bay welcomes Kansas City to Lambeau Field to close out the preseason slate with a game against the Chiefs tonight.
It marks the third consecutive year that the teams have met in the preseason finale, a first in the history of the preseason series between the clubs.
The teams have met 13 times before in the preseason, with the series deadlocked at 6-6-1. The Packers hosted the Chiefs in the 2011 preseason finale, the first time Kansas City had visited Lambeau Field during the preseason since Aug. 8, 1992.
For Head Coach Mike McCarthy, it is a matchup against the team where his NFL coaching career started. McCarthy spent six seasons on the Chiefs' staff (1993-98), the first two as an offensive assistant/quality control coach and the final four as the quarterbacks coach. Thursday night will be the fifth time McCarthy has coached against Kansas City since taking over as head coach of Green Bay in 2006 (two regular-season games, third preseason matchup).
Ironically, McCarthy's very first game as an NFL coach was a preseason contest between the Chiefs and the Packers on Aug. 7, 1993, at Milwaukee County Stadium. Kansas City won, 29-21.
The first meeting between the clubs was undoubtedly the most memorable game in the series. In January 1967, NFL champion Green Bay met AFL champion Kansas City in Los Angeles in the first-ever Super Bowl, won by the Packers, 35-10.
Green Bay beat Cincinnati, 27-13, last Thursday night in its preseason road finale. The Packers' No. 1 offense registered 245 total net yards in a half of work, including 100 yards on the ground on the way to a 17-6 halftime lead.
Tonight marks another Green Bay preseason tradition: the Bishop's Charities Game. It was first played in 1961 after Vince Lombardi was approached by the Diocese of Green Bay about playing a charitable contest in Green Bay (the Shrine contest was a fixture in Milwaukee).
The series enjoys its 52nd contest this year and has raised more than $3.5 million.
For more than 30 years, the church handled much of the game's business-related tasks, including game program and advertising sales, using a network of volunteers covering 14 Northeastern Wisconsin counties. The Packers assumed many of those tasks in 1994.
The Packers are 27-23-1 all-time in the series. They will be playing Kansas City for the fifth time in the series, with the other meetings coming in 1978, 1979, 1992 and 2011.
Green Bay has won three straight games in the series, including a 20-19 victory over Kansas City in 2011. Prior to that, the Packers had lost six consecutive Bishop's Charities contests. That six-game losing streak (2003-08) came on the heels of a 12-game winning streak (1991-2002) in the series.
NOTABLE CONNECTIONS
Packers head coach Mike McCarthy began his NFL coaching career in Kansas City, first as quality control/offensive assistant (1993-94) and later as quarterbacks coach (1995-98)…Packers LB Erik Walden played in nine games for the Chiefs in 2008...Packers offensive coordinator Tom Clements served as the quarterbacks coach in Kansas City (2000) and also played quarterback for the Chiefs in 1980...Packers VP of football administration/player finance Russ Ball began his NFL career with the Chiefs and went on to work 10 seasons there (1989-98), the first eight as an assistant strength and conditioning coach and the final two in football operations...Ball played center at Central Missouri St. when Chiefs defensive backs coach Emmitt Thomas was on the staff there...Ball also coached at Missouri when Chiefs defensive quality control coach Otis Smith played for the Tigers…Thomas was Green Bay's defensive coordinator in 1999, when McCarthy was the QB coach for the Packers...Thomas also coached in Atlanta with Packers secondary-cornerbacks coach Joe Whitt Jr. ...Packers VP of sales and marketing Tim Connolly spent seven seasons with the Chiefs (1989-95) as executive VP and chief operating officer...Packers assistant director of pro personnel Tim Terry (1999) and director of player development Rob Davis (1996) went to training camp as players with the Chiefs...Packers college scout Brian Gutekunst worked for the Chiefs as a scouting assistant in 1998...Chiefs QB coach Jim Zorn played for the Packers in 1985…Packers TE Tom Crabtree spent 2009 training camp with the Chiefs...Packers WR Jordy Nelson played at Kansas State and is a native of Manhattan, Kan. …Chiefs LS Thomas Gafford spent the 2006 training camp and the 2008 offseason with Green Bay…Chiefs DT Anthony Toribio played in one game for the Packers in '09 and spent parts of 2008-09 on Green Bay's practice squad...Chiefs offensive line coach Jack Bicknell Jr. was the head coach at Louisiana Tech when Packers CB Tramon Williams played there...Packers LB A.J. Hawk is the brother-in-law of Chiefs QB Brady Quinn; Hawk's wife, Laura, is Quinn's sister.
Sept. 1, 2011, at Lambeau Field; Packers won, 20-19.
In his one series of work, QB Aaron Rodgers completed 3-of-4 passes for 20 yards, capping the drive with an 8-yard TD pass to TE Tom Crabtree.
With the Packers trailing 16-13 late in the third quarter, rookie LB Vic So'oto picked off a QB Tyler Palko pass and returned it 33 yards for a touchdown, giving Green Bay a lead it would not relinquish.
WR Dwayne Bowe led the Chiefs with eight receptions for 85 yards (10.6 avg.) and a TD, while QB Matt Cassel connected on 15-of-17 passes for 129 yards and a score.
Chiefs K Ryan Succop attempted a 56-yard field goal as time expired, but the kick sailed wide left and the Packers emerged victorious in the preseason finale.
SAVE THE DATE
Important dates to remember (all times CDT):
Friday, Aug. 31 – Roster reduction to a maximum of 53 players by 8 p.m. (CDT)
Saturday, Sept. 1 – After 11 a.m. (CDT), clubs may establish a practice squad of eight players
Sunday, Sept. 9 – Regular-season opener vs. San Francisco 49ers, 3:25 p.m. (CDT)
As per team tradition, the Packers select game captains each week.
Tonight's captains will be G T.J. Lang(offense), LB D.J. Smith (defense) and K Mason Crosby (special teams).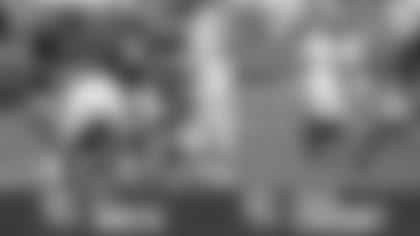 Tonight's officiating crew includes referee Wayne Elliott (28), umpire Marc Herrod (46), head linesman Mike Peek (77), line judge Tom Keeling (59), field judge Richard Simmons (102), side judge Lance Easley (26) and back judge Derrick Rhone-Dunn (84).