PACKERS TAKE ON THE COLTS IN NATIONALLY TELEVISED GAME
Green Bay is in Indianapolis to take on the Colts tonight at Lucas Oil Stadium in a nationally televised contest on CBS.
This is the second straight season that the Packers and Colts have squared off on Aug. 26 in front of a national audience for the third preseason contest, when teams take a longer look at their starters.
In the 2010 preseason meeting at Lambeau Field, the Packers topped the then-defending AFC champion Colts, 59-24. The 59 points posted by Green Bay were the most by a Packers team in the preseason since they recorded a 75-0 shutout of the Cedar Rapids (Iowa) Crush on Sept. 5, 1938, in Ironwood, Mich. It was also the most points scored by the Packers against any NFL opponent in a game (preseason, regular season or postseason), topping the mark set on Oct. 7, 1945, in a 57-21 win vs. Detroit.
Green Bay's 59-point total was also the most by any team in a preseason game since the AFL-NFL merger in 1970. Of the Packers' three highest point totals in the preseason since 1979, all have come during Mike McCarthy's head-coaching tenure. In 2009, Green Bay won at Arizona, 44-37, and in 2007, the Packers topped Seattle, 48-13.
This will be the ninth preseason meeting between the two teams, with the Colts holding a 5-3 advantage in the all-time series.
The teams have not played in Indianapolis during the preseason since an Aug. 24, 1996, contest that the Colts won, 30-6. Green Bay's last visit to Indianapolis during the regular season was on Sept. 26, 2004, a 45-31 Colts victory.
For the Packers, this will be their first visit to Lucas Oil Stadium, which opened in 2008. The stadium is also the site of Super Bowl XLVI on Feb. 5, 2012.
Over the past 19 preseasons, the Packers have appeared on national television at least once during 18 of those years. The lone season that Green Bay did not appear in front of a national audience over that span was in 2009.
The Packers will wrap up their preseason slate next Thursday when they host the Kansas City Chiefs at Lambeau Field, while the Colts travel to Cincinnati next Thursday to take on the Bengals in their preseason finale.
Tonight's matchup between the Packers and Colts will feature two of the most successful franchises in the league since the advent of free agency in 1993.
Green Bay and Indianapolis have made the most playoff playoff appearances in the league since '93, with 13 each over that span. The franchises have combined for five Super Bowl appearances and three world titles during that period.
The Packers rank No. 3 in the NFL since '93 with a .622 winning percentage (179-109-0) during the regular season, with the Colts checking in at No. 4 with a .604 winning percentage (174-114-0) over that span. New England (.642) and Pittsburgh (.630) are the only teams with a higher winning percentage since 1993.
Since '93, the Packers have won 10 or more games 11 times and captured seven division crowns, while the Colts have also posted 11 seasons with 10-plus wins (current streak of nine straight) and eight division titles.
Including playoffs, Green Bay's 25 wins over the past two seasons rank No. 3 in the NFL behind only New Orleans (27) and Indianapolis (26).
The Packers own the best home mark in the NFC since Week 15 of 2006 at 26-8 (.765), while the Colts rank No. 2 in the AFC at home over that span with a 27-7 record (.794), trailing only New England (30-3, .909).
NOTABLE CONNECTIONS
Packers P Tim Masthay entered the NFL with the Colts as a non-drafted free agent in 2009 and spent part of '09 training camp with Indianapolis…Masthay was a teammate of Colts TE Jacob Tamme and QB Mike Hartline at Kentucky…Packers DE Mike Neal was born in Gary, Ind., and attended high school in Merrillville, Ind. …Colts WR Taj Smith entered the NFL with the Packers in 2008 as a non-drafted free agent and spent training camp that summer with Green Bay…Packers offensive coordinator Joe Philbin was on the staff at Iowa when Colts TE Dallas Clark played for the Hawkeyes...Colts OL coach Pete Metzelaars and QB coach Frank Reich played for Carolina in '95 when Packers defensive coordinator Dom Capers was in his first season as head coach there...Packers safeties coach Darren Perry played at Penn State when Colts head coach Jim Caldwell and special teams coach Ray Rychelski were on the staff there…Colts DL coach John Teerlinck was Packers OLB coach Kevin Greene's position coach with the Rams in '91...Colts linebackers coach Mike Murphy was Packers assistant head coach/inside LBs Winston Moss' position coach when he played LB for Seattle…Colts WR David Gilreath played at the University of Wisconsin…The two teams feature several players who were college teammates, including Colts QB Peyton Manning and Packers T Chad Clifton (Tennessee), Colts RB Joseph Addai and DT Drake Nevis and Packers QB Matt Flynn and FB Quinn Johnson (LSU), Colts WR Anthony Gonzalez and Packers LB A.J. Hawk (Ohio State), Colts DE Jamaal Anderson and Packers LS Brett Goode (Arkansas), Colts G Josh Beekman and T Anthony Castonzo and Packers NT B.J. Raji (Boston College)...Colts DE John Chick and Packers WR Diondre Borel (Utah State), Colts WR Austin Collie and Packers LB Vic So'oto (BYU), Hartline and Packers WR Randall Cobb (Kentucky)…Colts DE Jerry Hughes, OL Jake Kirkpatrick and OT Michael Toudouze and Packers G/T Marshall Newhouse…Colts RB Javarris James and Packers CB Sam Shields (Miami)…Colts T Jeff Linkenbach and DT Ricardo Matthews and Packers CB Brandon Underwood (Cincinnati), Colts TE Michael Matthews and LB Philip Wheeler and Packers S Morgan Burnett (Georgia Tech), Colts DT Fili Moala and DB Kevin Thomas and Packers LB Clay Matthews (USC), Colts DB Mike Newton and G Jamey Richard and Packers RB James Starks (Buffalo), Colts DB Jerraud Powers and Packers CB Pat Lee (Auburn), Colts LB Pat Angerer and Packers T Bryan Bulaga (Iowa), and Colts QB Curtis Painter and DB Brandon King and Neal (Purdue).
As per team tradition, the Packers select game captains each week.
Tonight's captains will be WR Donald Driver(offense), CB Charles Woodson (defense) and K Mason Crosby (special teams).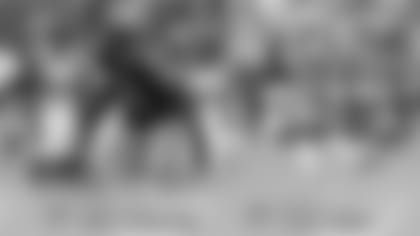 WEARING THE STRIPES
Tonight's officiating crew includes referee Walt Anderson (66), umpire Butch Hannah (40), head linesman Steve Stelljes (22), line judge Byron Boston (18), field judge David Meslow (118), side judge James Coleman (95) and back judge Billy Smith (2).