Greg from St. Petersburg, FL
Vic, I'll admit I used to think Mike McCarthy wasn't a very good coach, but the more I listen to him and see what he has done over his tenure in Green Bay, I have to believe he is a top-five coach in this league. To understand the need for an identity change (when many people would be happy getting to the playoffs and putting up gaudy regular-season offensive numbers) and implement the change without wavering has been very impressive. Like you said, there is far more to a head coach than the plays they call. Thoughts?
I continue to be amazed by the forcefulness of his decision-making. That personality trait in him has to engender a lot of confidence in his players. Declining the holding penalty and opting for fourth-and-one instead of third-and-11 had to have pleased John Harbaugh. It was a bold and risky decision, on the road and against a team known for power football. McCarthy could've declined the penalty and then, after seeing that Harbaugh was going for the touchdown, call time out and accept the penalty. McCarthy didn't do that because he firmly believed his defense would make the stop, and it did. Again, it's the right decision if it works, and McCarthy's players made it work. How much of that was a product of the faith he expressed in them? This guy was born to coach.
How does this year's rash of injuries compare to other years? I can't recall this amount of injuries to both offense and defense.
It seems like a normal year. Every week brings a new challenge to replace an injured player or players. It's that way all around the league. It appears we've moved on from the hamstring phase and into the bone phase of the injury process. Not enough stretching? Who do we blame for bone injuries?
Vic, it's a shame Candlestick Park is closing. I really like all the old-named stadiums, like Three Rivers Stadium, Veterans Stadium, Giants Stadium, etc. Now, most are boring and named after corporations. What started all the great named stadiums to disappear?
The names went corporate when some marketing whiz realized there was revenue potential in naming rights. Money always wins. I'm OK with it as long as the corporate names belong to companies with a recognizable brand that is identifiable to the location of the stadium, and the intent is for the new name to be the stadium's forever name. For example, Gillette and Heinz are good names because they are part of the fabric of their communities, and I suspect they will be the names of those stadiums forever. When the name changes every few years, however, the stadium lacks identity.
Vic, are you a religious man? Your wisdom comes from somewhere.
Much of it comes from Nick's Pool Hall, a popular establishment in my hometown where I found direction and guidance as a youth. The walls were lined with old men telling stories and listening to the young patrons speak of their greatness. On one such occasion, I was explaining to a kid from a neighboring school that his team wouldn't win a game in our league because we were Class AA, the largest classification at that time, and his school was Class B. A wise old man named Odin Plever overheard this conversation and called to me, "Ketchman, come here." I said, "Yes, Mr. Plever." He then spoke to me words I have never forgotten. He said, "In the mill, all the shovels are AA."
Chris from Voorhout, the Netherlands
Vic, the season grinds on and it looks like there are three contenders in the NFC North. What kind of record do you think it will take to win the conference this year?
I think 11-5 would do it, provided you win your division games.
Vic, I honestly like the new direction the Packers are heading with putting more focus on the run, but would you be OK with Rodgers rarely breaking 300 yards to do it?
If they're winning, sure. What good are stats if you're losing? Winning makes everything right. Aaron Rodgers doesn't need more stats, he needs more titles. When you have the titles, you have immortality.
John from Port Edwards, WI
Can you tell us what you saw on Rodgers' 64-yard TD pass to Nelson?
I saw something I can't remember having seen last year. I saw the defense bite hard on the run fake.
You have mentioned a few times about wanting to remove facemasks from helmets. I think I know what you're getting at, but could you explain more about why you feel that would be helpful?
I think the helmet requires all-new design. I think the helmet and facemask design of today is endangering the future of the game. The culture must be forced to change and the fastest, surest method for doing that is a redesign of the helmet and facemask. We need, in my opinion, some kind of facemask design that offers protection from inadvertent contact, but doesn't allow for the helmet to be used as a weapon. We need a facemask greatly reduced in size from today's models and, in my opinion, it needs to fit closer to the face. In my opinion, the helmet is too big. It's giving players a sense of security, and that's the opposite of what the helmet should be doing. Again, we need something that protects, but can't be used to strike. All of that is easier said than done, but I have no doubt it can be achieved by men of higher intelligence. I believe strongly that the helmet holds the key to football's future. We have not reduced injuries, we've merely moved them to other parts of the body. The helmet is the problem.
If the Packers are so satisfied with a statement game against a powerful team, then one can only conclude they also harbored doubts about being themselves weak in the past. They talked about being a strong team, but still had to prove it to themselves.
I agree. A defense can't have the ball run down its throat and feel good about itself. An offense that can't run the ball suffers a loss of esteem. This team needed to change. It speaks volumes of Coach McCarthy's leadership and football acumen that a guy who loves to throw the ball decided his team needed to run it.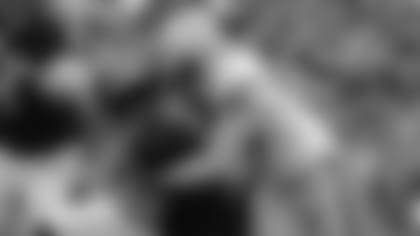 LB A.J. Hawk
If the Ravens-Packers game had been a Super Bowl, who would be named MVP?
I think it would've been A.J. Hawk. His impact on the game is undeniable: three sacks, five tackles for loss, three quarterback hurries. Be that as it may, Aaron Rodgers made the big plays at crunch time, and that's awfully hard to ignore.
What's up with the Broncos' awesome passing and horrible pass defense? Sounds exactly like the Packers' 2011 season.
If you're the defensive coordinator of an up-tempo, spread offense, you better have a long contract because your rankings aren't likely to look good on a resume. I've known Jack Del Rio since 2003. He got the Jaguars head job by leading the Panthers defense to the No. 2 ranking in the league. He took over a depleted Jaguars roster and, along with Mike Smith, turned the Jaguars into a dominant defensive team. So why is his defense in Denver No. 29? It's because the Denver offense is No. 1 in passing. It's real simple: The more points your offense scores, the more points your opponent has to score. You're setting the bar higher. The faster you play, the faster they have to play. The more plays you run, the more plays they'll run. Offense should complement defense, and special teams is the straw that stirs the drink. When you play to one, you tax the other. Dan from South Milwaukee, WI
Never in my life have I witnessed a team decimated by so many injuries. It has come to the point where I can't even enjoy a game because every minute another key player goes down. How can I sit back and enjoy these games anymore?
It's a problem. Reducing injuries has become the league's No. 1 challenge.
What's your sense about the defense rushing three and dropping eight into pass coverage? It seems the extra time afforded the quarterback inevitably allows a receiver to get open. I cringe whenever I see it.
I've seen it work. I've seen the quarterback stand and pat the ball and then force a pass that's intercepted. Sunday, Tandon Doss got behind the Packers secondary in a three-man rush scheme, and that's exactly what you're trying to prevent by dropping eight defenders. You don't win with strategy, you win with the execution of strategy. Whatever strategy you elect to use, make it work and it will have been the right choice.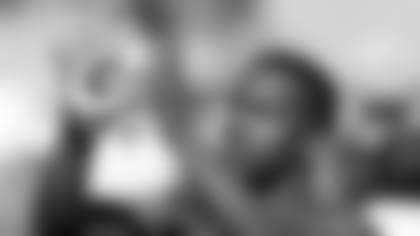 CB Casey Hayward
What is the deal with the front office not making a clear decision on Casey Hayward? Did he tear his hamstring or what?
You can't heal injuries with a decision, only with time. Obviously, he sustained a severe hamstring injury. The Packers are being patient because they regard him as an important player in their title hopes. I know it's frustrating for fans that teams don't share injury information, but we have to trust that they have a plan.
Leonardo from Las Vegas, NV
Vic, did you have any luck finding a quality receiver on the quality receiver tree out back?
If you're going to find a guy in the orchard out back, it's the quality receiver tree that's likely to yield one.
Vic, like you said earlier this summer about the run game, it's not going to happen quickly, it will take some time to get it rolling. I know we are just five games into the season, but are you a little surprised at how the run game has come along from the baby steps at the beginning of the season to what we're seeing now?
Yes, I'm surprised that the Packers have been able to achieve this level of play with their run game as quickly as they have. The kind of change the Packers have effected is one of the most difficult in all of football because it involves a radical change of personality, beginning with the tendencies of the play-caller. Here's an example of the change the Packers have made: Through five games last season, the Packers had 111 rushing attempts for 478 yards. Through five games this season, the Packers have attempted 136 runs for 704 yards. At this time a year ago, they were No. 20 in rushing and going down. Now, they are No. 5 and going up. That is a radical improvement. It's really stunning.
It looks like you were right months ago when you wanted a young running back instead of the older Steven Jackson, who is now struggling with injuries.
We'll go through it again next March. It's a rite of passage.