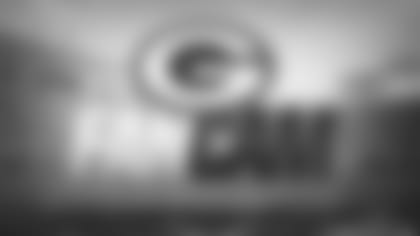 ](http://www.packers.com/familynightfancam/ "Packers FanCam")
Golden Knights Parachute Team set to land in Lambeau Field
Fans attending Friday's "Packers Family Night, Presented by Bellin Health" can look forward to two new attractions, the 360 degree FanCam and the Golden Knights Parachute Team, the United States Army's official aerial demonstration team.
The Green Bay Packers FanCam, a 360 degree high-definition photo of fans in the stadium, will return this year for Family Night after debuting during last season's divisional playoff game against the New York Giants. This exciting fan feature, which has been popular at other sports venues, allows fans to identify themselves using an optic-zoom and tagging feature.
Fans will need to be in their seats by 7:10 p.m., because at that time the ultra-high-definition, 10-billion pixel image will be taken from the 50-yard line.
This high-definition image will capture Lambeau Field in its entirety, and the image takes between 5-7 minutes to shoot. While looking at the photo, fans will be able to "step inside" a view they otherwise may never get to see.
The resolution of the photo will be so high that fans will be able to visit www.packers.com/familynightfancam/, zoom in to find themselves or friends, "tag" themselves with a Packers GForce logo, and share via email, Facebook and Twitter.
In addition, fans who visit the FanCam website can click the "competition" tab for a chance to win Packers prizes. Fans can follow updates on www.packers.com and the Packers official Facebook page, and will be notified on those sites once the FanCam is available for "tagging" on Saturday, Aug. 4.
The Golden Knights Parachute Team will also make an appearance at Family Night, as they will parachute into the stadium bowl shortly after the FanCam photo is taken, around 7:20 p.m. The team, which originated at Fort Bragg, North Carolina, travels around the United States, performing parachute demonstrations at air shows, professional football and baseball games, and special events, connecting the Army with the American people.
More information on Packers Family Night can be found online at www.packers.com.