PACKERS HOST RAMS FOR FIRST TIME SINCE 2006
Green Bay returns home to host the St. Louis Rams at Lambeau Field today, the first matchup between the teams in Green Bay since 2006 and the 90th regular-season meeting between the clubs.
This will be the Packers' last appearance in front of their home crowd for nearly a month. In Week 7, Green Bay travels to Minnesota before enjoying its bye in Week 8. The Packers stay on the road coming out of the bye with a contest at San Diego in Week 9.
Including playoffs, the Packers have won11 straight games, which is tied for the second-longest winning streak (1928-29) in team history behind only a 12-game winning streak in 1961-62.
The Packers have won seven straight contests at Lambeau Fieldand 13 of their last 14 at home. The only loss over that span came to Miami last season in Week 6.
Green Bay's 13-1 (.929) home mark since Week 10 of 2009 ranks No. 2 in the NFL over that span behind only New England (13-0).
The Packers have a 28-8 (.771) record in their last 36 regular-season games at Lambeau Field, a record that ranks No. 3 in the NFL and No. 1 in the NFC over that period.
The Packers' regular-season home winning streak of seven games is the longest home streak of Head Coach Mike McCarthy's tenure. It is also the longest streak since Green Bay posted an 11-game winning streak at Lambeau from 2001-02.
Green Bay has a 27-19 mark (.587) in home contests against the Rams, which includes a 28-7 victory in the 1967 Western Conference Championship in Milwaukee.
The franchises met every year but one from 1937-71. The teams didn't play in 1943, when the Rams didn't field a team.
The Packers will be wearing a third jersey today that is a re-creation of the team's uniform from 1929, the year of Green Bay's first world title. Green Bay wore the uniforms last season in Week 13 vs. San Francisco, a 34-16 Packers win.
For the first time since 1965 and only the seventh time in franchise history, the Packers are off to a 5-0 start.
Green Bay is one of just two teams in the NFL with an unblemished record, with fellow NFC North foe Detroit joining the Packers as the only undefeated teams in the league. The only other time that both the Packers and Lions each got off to 5-0 starts was in 1931.
It marks only the second time since realignment in 2002 that two teams in the same division have started out a season with five wins each. In 2004, the New England Patriots and N.Y. Jets of the AFC East each posted 5-0 starts.
The six previous 5-0 starts in team history all resulted in NFL titles (1929-31, 1944, 1962, 1965) for the Packers.
With their win last Sunday night in Atlanta, the Packers are off to only their second 3-0 start on the road in the past 39 seasons. Both of them have come under the guidance of Head Coach Mike McCarthy, as Green Bay also got off to a 3-0 start away from Lambeau Field in 2007.
The Packers rank No. 1 in the NFL in scoring at 34.6 points per game...Their 173 points this season are tied for the most through five games in team history (1945)...Green Bay has scored at least 25 points in each game this season, a franchise first.
The Packers have scored points off a turnover in 18 of their last 20 games at Lambeau Field.
QB Aaron Rodgers – Has posted a 110-plus passer rating in every game this season, the first QB since the 1970 AFL-NFL merger to accomplish that feat in each of the first five games of the season...Including the playoffs, has posted a 110-plus passer rating in 13 of his last 16 starts...Leads the NFL with a 122.9 passer rating through Week 5.
K Mason Crosby – Has made 16 straight field goals entering today's contest, which is the second-longest streak in team history...Trails only Chris Jacke's streak of 17 straight field goals in 1993.
WR Greg Jennings – Has caught a touchdown pass in four of five games this season.
S Charlie Peprah– Has posted an interception in each of the last two games.
As per team tradition, the Packers select game captains each week.
Today's captains will be WR Greg Jennings(offense), DE Ryan Pickett(defense) and LS Brett Goode(special teams).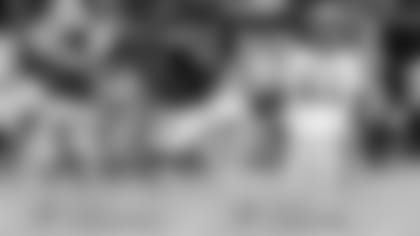 Today's officiating crew includes referee Ed Hochuli (85), umpire Rich Hall (49), head linesman Mark Hittner (28), line judge Adrian Hill (29), field judge Craig Wrolstad (4), side judge Ron Torbert (62) and back judge Don Carey (126).