PACKERS HOST RAVENS IN LATE-SEASON SHOWDOWN
Under the bright lights of Monday Night Football, Lambeau Field hosts what promises to be a smash-mouth game between the Packers and Ravens with playoff implications for both conferences.
Fresh off three wins in the course of 12 days, Green Bay comes into the contest a rested team, having last played on Thanksgiving.
Tonight, it will look to extend its season-long winning streak to four games.
Just the fourth meeting all-time between the two franchises, it will be the second time the series has taken to the Monday night stage. The teams last played in 2005, also a December MNF game, as the host Ravens handed the Packers their most lopsided loss in 25 years.
The Packers have won both of their home games in the series, including a 2001 matchup against the defending Super Bowl champion Ravens.
As the Packers and Cleveland Browns, these franchises first met in 1953 and played 15 times, including the 1965 NFL Championship at Lambeau Field, Jim Brown's last game. The Ravens franchise launched in 1996 but did not carry over its history with the move to Baltimore.
Baltimore will be playing in its second prime-time game in as many weeks. Last Sunday night, it defeated division rival Pittsburgh, 20-17, in overtime at home.
HONORS ROLL IN FOR WOODSON
On Tuesday, CB Charles Woodson learned he would be honored as the NFC Defensive Player of the Week for his performance on Thanksgiving in Detroit.
Against the Lions, he became the first NFL player since sacks became an official statistic in 1982 to record two interceptions, an interception for a touchdown, a sack and a fumble recovery in the same game.
It was the second such honor of the season for Woodson, who won the award two weeks prior for his Week 10 performance against the Cowboys.
On Thursday, Woodson was named NFC Defensive Player of the Month for November, capping off a fantastic month for the 12th-year pro.
In the month, he collected 28 tackles, three interceptions, including one touchdown return, three forced fumbles, a fumble recovery, two sacks and eight passes defensed. It is the second such award this season for Woodson, who also won it in September.
With another interception and sack against Detroit, Woodson became the first NFL player to have back-to-back 7-INT/2-sack seasons since sacks became official in 1982.
Packers alumni WR Don Beebe and G Aaron Taylor, both members of the Super Bowl XXXI championship team, will be in attendance and introduced on the field prior to kickoff.
Beebe played in 26 games for the Packers during the 1996-97 seasons, recording three 100-yard receiving games in '96, including a 220-yard effort against San Francisco that remains the third-highest single-game total in club history.
Taylor played in and started 46 games on the offensive line from 1995-97. A first-round pick in 1994 from Notre Dame, he played in three NFC Championship Games and two Super Bowls while with the Packers.
The Packers, along with the Wisconsin National Guard and Oshkosh Corporation, will offer a multifaceted "Military Appreciation Night" in honor of our nation's military.
The national anthem will be performed by Army Sfc. Jeffrey Vanderlin, a Green Bay native who will be retiring from the military in 2010 after 20 years of service. In addition, a large American flag will be displayed across Lambeau Field.
Inside the stadium, TundraVision will broadcast video greetings from Wisconsin National Guard members in Iraq and Afghanistan offering well wishes to the Packers and fans at Lambeau Field.
The salute will culminate at halftime when four individuals and their families, two from the Wisconsin Army National Guard and two from the Wisconsin Air National Guard, will be recognized on the field with a brief ceremony that will end with a short volley of fireworks.
As per team tradition, the Packers select game captains each week.
Today's captains will be TE Jermichael Finley (offense), LB Nick Barnett (defense) and LB Brady Poppinga (special teams).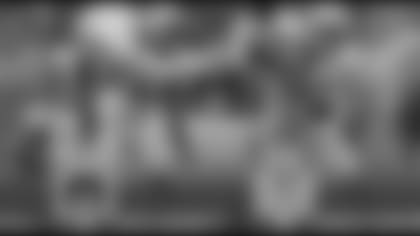 Today's officiating crew includes referee Walt Anderson (66), umpire Scott Dawson (70), head linesman Phil McKinnely (110), line judge Byron Boston (18), field judge Craig Wrolstad (4), side judge James Coleman (95) and back judge Billy Smith (2).
With 11 interceptions since 2008, ranks second among NFL safeties behind Ed Reed (12).
For his career, has hit 53-of-57 field goals from 39 yards-and-closer.
Has hit 18-of-26 field goals from 40-49 yards.
Has hit 7-of-16 field goals from 50-plus yards.
Needs 166 receiving yards for 9,000 career. He ranks No. 2 on the franchise's all-time receiving yards list (8,834 career) behind No. 1 James Lofton (9,656).
Needs 155 yards to reach 1,000 in 2009. His six 1,000-yard campaigns already is a franchise record, ahead of Lofton and Sterling Sharpe (five each).
Has a reception in 122 consecutive games, besting the franchise's previous long streak of Sharpe's 103 (1988-94).
Needs 110 rushing yards to surpass 1,000 on the season.
Has 11 career 100-yard games.
When he gets 22 carries or more, the team is 9-1 (10-1 incl. playoffs).
His 19 catches of 40-plus yards since 2007 leads all NFL players.
In 27 career starts, has eclipsed a 100.0-plus passer rating 15 times.
Has eight career 300-yard games and seven 3-TD games.
Has 43 career interceptions, 26 in 57 games since coming to Green Bay in 2006. Woodson had 17 interceptions in 106 games with Oakland.
Is second in interceptions in the NFL since 2006 with 26 (Asante Samuel - PHI, 27).
His six interception-return TDs since 2006 is the most in the league during that span.
His five sacks since 2008 lead all NFL defensive backs.