HOME SCHEDULE CONCLUDES WITH SEAHAWKS
The Packers wrap up the 2009 regular-season slate at Lambeau Field today as they take on the Seattle Seahawks.
Green Bay comes into the game with playoff hopes on the line and a chance to secure the franchise's 25th postseason bid. With a win, the Packers would achieve double-digit victories for the 24th time in team history and second under Head Coach Mike McCarthy.
Coming off an emotional, last-second defeat in Pittsburgh that also snapped a five-game winning streak, Green Bay will welcome a familiar foe to Lambeau Field, where it has won 18 of its last 25 games.
This marks the fifth consecutive season in which the Packers and Seahawks will meet. The two clubs last met in Green Bay in the 2007 NFC Divisional playoffs, a 42-20 Packers win in one of the most memorable postseason contests in franchise history. Including another playoff victory over Seattle at Lambeau Field in the 2003 postseason, the Packers own a 5-1 advantage over the Seahawks in Green Bay. Seattle's lone win came in its first-ever Lambeau Field appearance in 1999.
Green Bay owns a 7-5-0 advantage in the all-time regular-season series, which has taken on the feeling of a friendly rivalry in recent years. Packers GM Ted Thompson spent five seasons (2000-04) as director of football operations for the Seahawks where he worked side-by-side with Mike Holmgren, who coached Seattle for 10 years (1999-2008) after coaching the Packers for seven (1992-98).
Seattle dropped its most recent game at home to the Buccaneers, 24-7, to fall to 5-9 on the year. The Seahawks wrap up their season at home next weekend against the Titans.
Green Bay could clinch a playoff berth in front of the home fans at Lambeau Field, the place where it clinched its last postseason berth in 2007 in Week 14.
There are three scenarios by which Green Bay could clinch a playoff spot this weekend: 1) Packers win AND Cowboys loss; 2) Packers win AND Giants loss or tie; 3) Packers tie AND Giants loss.
The Giants play at home against Carolina at noon, while the Cowboys travel to Washington to take on the Redskins later tonight.
At 9-5, Green Bay stands ahead of Dallas (9-5) and the New York Giants (8-6) for the top NFC Wild Card seed. By virtue of its Week 10 win over the Cowboys, Green Bay holds the first tiebreaker over Dallas.
While the loss at Pittsburgh certainly stung in the way in which it occurred, the fact that it came against an AFC opponent helps soften the blow. Wild Card playoff berths are given to the conference's top two teams that do not win a division. If teams within the same division are fighting for those spots, division tiebreakers apply. Should teams be competing against teams from another division, conference record is the second tiebreaker after head-to-head matchups. Green Bay is 7-3 against the NFC so far this season with conference matchups ahead including today against the Seahawks and in Week 17 in Arizona.
WINNING WHEN IT COUNTS – IN DECEMBER
Despite the loss in Pittsburgh, Green Bay remains 2-1 in the season's final month and could clinch a playoff spot with a win and some help Sunday.
Physical games against the Ravens, Bears and Steelers typify what December football in the National Football League is all about. A fourth straight game in winter conditions is expected for the Packers this Sunday before concluding the regular season in Arizona.
Armed with an incredible home-field advantage, Green Bay has been a consistently successful team this decade as the regular season winds down in December and January. Often times, as will be the case Sunday, those games are the final determining factors in the race for playoff berths and seeding.
The Packers own one of the NFL's best home records since 2000 in regular-season games played in December and January. Now at 19-4 (.826), only New England (19-3, .863) owns a better home record over that period heading into play today.
Overall, Green Bay's 32-13-0 mark in the season's final month stands as the third-best mark this decade, behind only New England (36-8-0) and Pittsburgh (33-13-0).
As per team tradition, the Packers select game captains each week.
Today's captains will be T Chad Clifton (offense), LB A.J. Hawk (defense) and LB Desmond Bishop (special teams).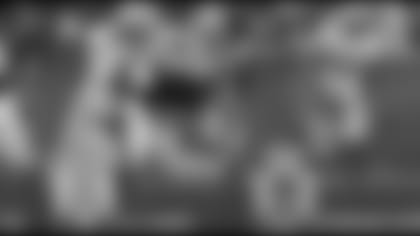 Today's officiating crew includes referee Walt Coleman (65), umpire Jeff Rice (44), head linesman Julian Mapp (52), line judge Jeff Bergman (32), field judge Scott Steenson (88), side judge Rick Patterson (15) and back judge Bob Waggoner (25).
With 13 interceptions since 2008, ranks second among all NFL players behind Charles Woodson (15).
With 405 interception return yards since 2008, leads all NFL players.
Has hit 57-of-63 field goals from 39 yards-and-closer.
Has hit 18-of-27 field goals from 40-49 yards.
Has hit 7-of-16 field goals from 50-plus yards.
Needs 48 receiving yards for 9,000 career. He ranks No. 2 on the franchise's all-time receiving yards list (8,952 career) behind No. 1 James Lofton (9,656).
Needs 37 yards to reach 1,000. His six 1,000-yard campaigns already is a franchise record, ahead of Lofton and Sterling Sharpe (five each).
Has a reception in 125 consecutive games, besting the franchise's previous long streak of Sharpe's 103.
Needs 95 yards to become only the third player in franchise history to post back-to-back seasons of 1,200-plus rushing yards (Ahman Green, 2001-03; Jim Taylor, 1961-62).
Has 12 career 100-yard games.
Needs 27 receiving yards for a second consecutive 1,000-yard season.
Needs 38 passing yards for another 4,000-yard season, which would make him the first player in NFL history to post 4,000 yards passing in each of his first two seasons as a starter.
In 30 career starts, has eclipsed a 100.0-plus passer rating 16 times.
Has nine career 300-yard games and nine 3-TD games.
Has 44 career interceptions, 27 in 60 games since coming to Green Bay in 2006. Woodson had 17 interceptions in 106 games with Oakland.
With six interception returns for scores, ranks second on Green Bay's all-time list. Needs two more to surpass No. 1 Herb Adderley (seven).