PACKERS AND STEELERS TO MEET IN SUPER BOWL XLV
In a meeting of two of the most successful franchises in league history, Green Bay (13-6) and Pittsburgh (14-4) will square off tonight for the Vince Lombardi Trophy at Cowboys Stadium in Arlington, Texas.
For the Packers, it is their first Super Bowl appearance since the team advanced in back-to-back seasons in 1996-97. Pittsburgh has played in the Super Bowl twice in the past five seasons (2005, 2008), emerging victorious both times.
With a 21-14 win over the division-rival Chicago Bears in the NFC Championship Game at Soldier Field on Jan. 23, the Packers became the first No. 6 seed in the NFC to advance to the Super Bowl since the NFL went to a 12-team playoff format in 1990. The only other NFL team to accomplish the feat is the franchise the Packers will face in Super Bowl XLV, as the 2005 Pittsburgh Steelers won three road games as the No. 6 seed to advance to Super Bowl XL.
The Packers enter Super Bowl XLV on a five-game winning streak, having won back-to-back home games over the Giants and Bears to close out the regular season and clinch a postseason berth, and then winning three straight road games in the playoffs. Pittsburgh brings a four-game winning streak into the game and has won eight of its last nine contests including playoffs.
After starting out the season 3-3, the Packers have a 10-3 mark (.769) since Week 7. Those 10 wins are tied for the most in the NFL over that span with New England and Pittsburgh, with the Steelers posting an identical 10-3 record during that period.
This will be the second straight season that the Packers and Steelers have met. The teams squared off in 2009 in Week 15 at Heinz Field, with Pittsburgh emerging victorious, 37-36, on a 19-yard TD pass from QB Ben Roethlisberger to WR Mike Wallace as time expired.
The Packers hold an 18-14 edge in the all-time series with the Steelers, but Pittsburgh has won seven of the last nine meetings. The teams first played on Oct. 15, 1933, in Green Bay, and the Packers won the first nine games between the teams.
A HISTORY OF SUCCESS
When the Packers and Steelers take the field tonight, it will be the first time that two of the most storied franchises in NFL history have met in the playoffs.
By advancing to this year's Super Bowl, Green Bay and Pittsburgh now have a combined 13 Super Bowl appearances between them, five for the Packers and eight for the Steelers (tied with Dallas for the most in the NFL).
The Packers and Steelers have won 18 world championships between them, with Green Bay's 12 titles more than any other team in NFL history. Pittsburgh's six world championships are the most by any team in the AFC.
Pittsburgh's six Super Bowl titles are the most of any NFL team, with the Packers' three Super Bowl championships tied for No. 4 in the league.
The Packers' NFC Championship win at Chicago on Jan. 23 was their 28th victory in the postseason, third most in NFL history. Green Bay now trails only Pittsburgh and Dallas (33 each) for the most playoff wins.
At 28-16 (.636), Green Bay owns the league's best all-time postseason winning percentage. Checking in right behind the Packers is Pittsburgh, who has a 33-19 mark (.635) in the playoffs.
Since the advent of free agency in 1993, Green Bay owns the third-best regular-season winning percentage in the league (.622) with Pittsburgh checking in at No. 2 (.630) behind only New England (.642).
WHAT TO WATCH FOR
WR Donald Driver - With four catches, will surpass WR Antonio Freeman (47) for the most career receptions in franchise playoff history.
WR Greg Jennings - His 17 receptions in this year's playoffs are tied for the most in franchise annals in a single postseason along with WR Robert Brooks (1995) and Freeman (1997)...With 239 yards receiving, ranks No. 3 in team annals behind only Freeman (308 in 1997) and Brooks (281 in 1995).
LB Clay Matthews - His 3.5 sacks this postseason are the most by a Packer in a single postseason since sacks became an official statistic in 1982... With 4.5 career postseason sacks, ranks No. 2 in franchise history behind only DE Reggie White (8).
QB Aaron Rodgers - His career postseason completion percentage of 69.6 ranks No. 2 in NFL postseason history (min. 100 attempts) behind only Erik Kramer (70.0, 91-of-130)...His six TD passes in this year's playoffs rank tied for No. 2 in franchise history for most in a single postseason, trailing only QB Brett Favre (eight in 1995)...With 790 yards passing this postseason, ranks No. 2 in team annals behind Favre (805 in 1995).
RB James Starks - Has 263 yards rushing in the playoffs, the second-best total by a Packer in a single postseason behind only RB Dorsey Levens (316 in 1997).
CB Tramon Williams - With three interceptions in his playoff career, needs one more to tie the career franchise record held by CB Herb Adderley, CB Craig Newsome and S Eugene Robinson...Is tied with Newsome (1996) and DB Joe Laws (1944) for the most interceptions (three) by a Packer in a single postseason.
PLAYOFF CAPTAINS
As per team tradition, the Packers alternated game captains each week during the regular season. For the postseason, the team elected captains.
Players elected captains were WR Greg Jennings and QB Aaron Rodgers (offense), LB A.J. Hawk and CB Charles Woodson (defense) and CB/S Jarrett Bush and K Mason Crosby (special teams).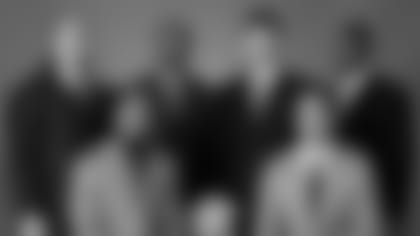 Tonight's officiating crew includes referee Walt Anderson (66), umpire Chad Brown (31), head linesman Kent Payne (79), line judge John Hussey (35), field judge Doug Rosenbaum (67), side judge Mike Weatherford (116) and back judge Scott Helverson (93).