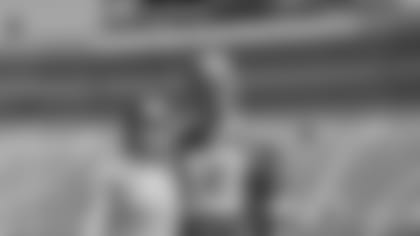 Noah Bolton of Spring Green, Wis., stands with his girlfriend on the sideline at Lambeau Field. VIEW PHOTO GALLERY
The Green Bay Packers welcomed their one-millionth Lambeau Field Stadium Tour visitor on Monday morning, July 15.
Noah Bolton of Spring Green, Wis., was visiting Lambeau Field for the first time in 10 years. As part of his planned vacation, Bolton wanted to bring his girlfriend to the stadium to see what had changed since his last visit.
Upon his arrival to Lambeau Field, Bolton was greeted in the Hall of Fame by representatives of the Packers organization, a giant Packers-themed cupcake and a custom jersey adorned with "Tour 1M Fan". Bolton also was presented a lifetime pass to Lambeau Field Stadium Tours and was treated to lunch at Curly's Pub. A picture of Bolton will be placed in a location that can be seen by fans entering the attraction.
"I was really surprised by this whole thing," Bolton said. "When she [Krissy Zegers, Hall of Fame and Stadium Tours manager] first said it, I wasn't sure if she was serious or not. I'm definitely going to come take a tour every time I'm up here now. We were planning on coming up here yesterday, but I'm really glad we waited until today."
Bolton said that the first person he would share his news with will be his brother, who is a die-hard Chicago Bears fan.
"I'm definitely going to brag about it," Bolton said. "I'd like to see them do something like this in Chicago. I bet they don't have that."
Lambeau Field Stadium Tours allow fans to experience the Packers' history-rich facility first-hand and see several behind-the-scenes areas. Tour guides will lead guests through the Lambeau Field Atrium, up to the Club Level for a look at the Legends Club and through the players' tunnel.
The Legendary Lambeau Experience, a two-hour walking tour, is back for this year's training camp. The tour, available beginning July 26 through Aug. 27, features stops that are not included on the standard stadium tour, including a look at the New South End. Included in the tour is an admission pass to the Packers Hall of Fame, a snack on the tour and a Packers souvenir. The tour is $38 for ages 12 and older and $19 for ages 11 and younger. Please call the Hall of Fame for exact times at 920-569-7512 (press option 1). Fans should please note that public access to the inside of Lambeau Field is available only on a stadium tour.