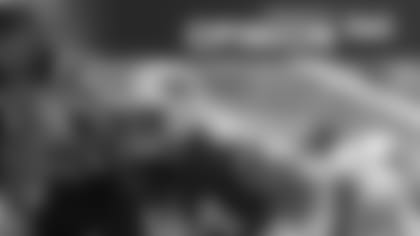 Wisconsin LB Chris Borland
Vic, I gotta say it. Ha Ha, I told you so.
Yes, you did, Ryan. The fans called it way back in January. They made the pick and they didn't wait four months to do it. Bask in your glory, everybody.
David from Fort Atkinson, WI
Forgive me, Packernation, but I'm not sold on Clinton-Dix.
Oh, no. There'll be none of that. No back-pedaling now. He's your guy, too.
Bryce from New Berlin, WI
Who in the NFC North helped themselves the most on day one?
Trading back into the first round to draft Teddy Bridgewater gave the Vikings' first-day picks sex appeal, but the Lions' selection of Eric Ebron is the one that worries me. Ebron makes an already explosive offense even more difficult to defend. Look at the rankings of the Bears, Packers and Vikings defenses last year. You know what I mean? Those three teams are going to have to make some serious gains on defense to keep up with what the Lions are doing on offense.
You called it: Be patient and your safety will come to you.
I'm not clairvoyant. There are lots of donuts in the donut shop.
Vic, where was the run on quarterbacks? Thought we'd get it early with Bortles going third. Did all the teams just draft smart?
That's what they did. They surprised me with their discipline. Look at how the players fell. With the exception of a couple of picks, the first round of the draft is a value board. It's all about value. The trades prove that. Teams are fitting themselves to the pick. They are moving to where the player they want fits because the salary cap demands that they do that. You must not overpay for a player, especially in the first round, which is the money round. Quarterbacks had always been the exception to that rule, but not in this draft.
Nikhil from New Delhi, India
I thought the Lions missed an opportunity to get better but the Vikings may have added the right talent they need to move up from the bottom of the North. Do you think their first two picks change them as a team?
Bridgewater will define the Vikings' draft, just as Johnny Manziel will define the Browns' draft. I wasn't crazy about either guy.
Do you see the Packers drafting Chris Borland on day two?
Borland is one of two names on my mind heading into tonight. The other name is Weston Richburg. Ted Thompson has been a lights-out drafter in the second round, and he has the picks to jockey into position to do something special tonight. Again, Tony Pauline called it. He said the first round wasn't deep, and I felt it fall off shortly after the middle of the round, but he said the second round would begin late in the first round and last into the third round, and to that end I see players on the board that will represent outstanding value tonight.
I think Cleveland reached a bit with the pick at 22, but they showed how to really get value out of moving down. Cleveland could finally move out of the bottom of the AFC North.
I liked what they did in 2007 when they picked Joe Thomas third overall and then traded back into the first round to select Brady Quinn at 22. It's almost as though the Browns were using the 2007 draft as a model for what they did last night. The Browns were hailed for the Quinn draft, just as they're being praised for their maneuvering to get Manziel, but it's only good if the player turns out to be good. Now the tough part starts.
Michael from Burleigh Heads, Queensland
Five wide receivers were picked in the first round. I thought they were a dime a dozen. Your thoughts?
In 10 years as the Packers' GM, Ted Thompson has yet to select a wide receiver in the first round. I don't remember the Packers being desperate for wide receivers during those years.
Justin from Rochester, MN
Vic, I've been following your Packers coverage very closely for a couple of years now. I'm sensing you're not as excited about the Clinton-Dix pick as you were with Perry or Jones. Am I onto something here? Tell us the truth; we can handle it.
No, you're not onto something. What you're sensing is your own anxiety for being accountable for this pick. You want me to lead cheers so you feel better. It's tough being the man at the top, isn't it?
Steven Jackson; Eddie Lacy. Jairus Byrd; Ha Ha Clinton-Dix, Will we be lucky again?
Pay a lot of money in free agency; draft a young and affordable player. It's not about being lucky; it's about being smart and patient.
Vic, I like the Clinton-Dix pick, not because he's a safety, but because he was the BAP and he fit a need. What do you think about the selection?
I like the pick because value and need meet. Tony said that would happen at 21 and he was right. I think the Packers can accomplish the same tonight.
Second and third round, who would you like to see get picked up?
I've already mentioned Borland and Richburg. Louis Nix is still on the board, which is all about the two-down stigma attached to nose tackles. He has to be a major target of the 3-4 teams tonight. The Steelers have the ammunition to come up for Nix. I expect the Patriots also have interest. Do we get a run on quarterbacks tonight? Will that push value players farther down the order? We haven't even scratched the surface of the wide receiver crop. Jordan Matthews immediately comes to mind. Tonight is going to be better than last night. The depth in this draft begins tonight.
Was Shazier a reach at 15? I wanted an inside linebacker but I still love the pick and feel it might provide the most immediate impact and upgrade on defense.
When a team jumps up and selects a guy without expiring much of its pick clock, you know they had the guy they're picking targeted. The Steelers have a role in mind for Ryan Shazier. They wanted that speed. Linebackers are the stars of a 3-4 defense and you can never have enough of them.
Celebrates or chortles? I'm getting a lot of chortling.
Vic, Mosley was gone. Who was your pick?
I figured it was between Darqueze Dennard and Ha Ha. I think Dennard hurt himself when he scratched at the Senior Bowl. He didn't think he needed the Senior Bowl. He put all of his eggs into the combine basket and it backfired. There's a stigma attached to guys that try to limit their exposure to the scouting process. Look at Aaron Donald. He did it all. He went to the Senior Bowl and dominated. He went to the combine and posted numbers relative to his position that were better than Jadeveon Clowney's are relative to his position. That's the kind of guy you want. You want a guy who accepts a challenge and responds.
Chortle on, Emmitt, chortle on.