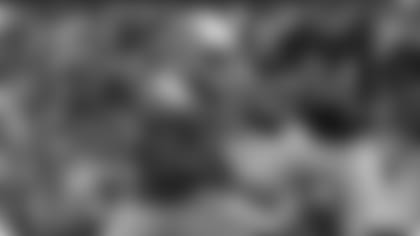 RB Johnathan Franklin
An hour show with 10 seconds of Rodgers. Disappointing.
Yeah, I was disappointed, too, but I loved the show. I thought it was beautifully written. "The Office" is a writer's kind of show and last night's ending is memorable.
Stewart from Edinburgh, Scotland
I'm hearing that players that were drafted are only just starting to sign for their teams. What has taken so long? I thought rookie wages were determined by what round they are drafted in?
What's taking so long? Only a few years ago, teams didn't begin signing their draft picks until the week before training camp began. What's the rush? The new CBA has quickened the pace, but if I was the GM of a team, I'd still tell my contract negotiator to take his time. I mean, how does the team benefit from putting a lot of money into a young man's hands before it has to do that? I know a former personnel director who liked to say, "When you put a million dollars into someone's hands, does that make them a better person?" I can remember from my days in Jacksonville, before the new CBA, that the rookies spent every free minute hanging out in the cafeteria. Why? Because they didn't have any money other than the per diem they were given, so they ate as much free food as they could. Think about it. You can take these kids from the start of OTAs right into training camp, and keep them "poor" and dependent on the team for housing and food. Keeping a kid poor is a good way to keep a kid out of trouble. Once training camp begins, you own him for the next six months. I thought that process was a great way to get these young men through the greatest change year of their lives. So, again, I ask, what's the rush?
Vic, how is a safety's value measured?
I would value a safety on his ability to execute these demands: 1.) Is he big and strong enough to be used as an eighth man in the box and come up to the line of scrimmage and support against the run? 2.) Is he fast enough to get to the sideline from the middle of the field on the deep ball? 3.) Does he have the instincts to play the ball in the air and the hands to catch it? 4.) Is he smart enough to be the "quarterback" of the secondary? If the answer to those questions is yes, you've got an All Pro-caliber safety.
I recently heard about a study that gives us the reason we do not like to take care of the future. Our brain perceives our future self as a completely different person. We are hardwired to care about ourselves only in this moment because it is the only moment in which we exist. "Take care of the future and the future will take care of the present" builds a bridge between my future self and the guy typing this up, and that leads to a better life. I'd like to put these words up in my classroom. To whom may I give credit?
Seriously, Jesus, I wasn't thinking of life when I wrote those words. I was only thinking of football. I truly believe that if you keep your team young, you'll always be competitive. Maybe football is a metaphor for life.
Andy Mulumba, one of our rookie undrafted free agents, got drafted with the second overall pick in the CFL. So is it his choice to decide whether to take his chances of making the Packers roster, or is he stuck with the CFL?
It's his choice, and when the Green Bay Packers call, you don't say no.
When did 6-4 become only 6-4?
It became only 6-4 when football became basketball on grass. The game is getting longer and taller, which are basketball–like qualities. In the old days, when the running game was king and blocking was about being able to get out in front of the play and play with leverage, being squat was a good thing for guards. Pad level was everything, and short, squat linemen had a natural pad level advantage. Coaches still preach pad level, but this isn't a pad level game anymore. This is a push and shove game. It's a game played with the arms and hands, not the shoulders. Taller usually means longer, and that's what works in today's game.
Vic, with the game on the line, what would you find more exciting, a defensive stop at the goal line to hold onto the lead or a pick six for the comeback win?
That's a tough choice, but my heart has always pounded on those goal-line plays, such as the one in the 2011 season opener. For me, that goal-line stop the Packers made on the Saints might have been the most exciting play of the season.
With injuries such as the one Nick Collins sustained, is it possible he'll recover enough over several years to make a late comeback in his career? Would he still be under contract with the Packers if he did?
Please believe me when I tell you this is a game of replacement. That doesn't mean you shouldn't fall in love with players, it just means you should prepare yourself for a short love affair. This is a beat-'em-up, burn-'em-out game. It's a game of next for everyone but the quarterback; he's too valuable to beat up or burn out prematurely. He must be protected. Nick Collins' Packers career has been committed to lore. He is now forever rooted in the heart and history of the Green Bay Packers. That's not such a bad thing.
Aaron from USS Gonzalez Ocean
Vic, regarding the question on Tony Pauline, I've recalled how much you have talked about him over the past couple of years. I enjoy reading his opinions on certain players. Can you please explain how you came to know him and why you trust his opinion so much? What makes him such a great scout?
Every writer needs a draft guy. That became apparent to me a long time ago, when the mania for all things draft really shifted into high gear. My draft guy left me for a bigger job, so I needed a new draft guy and I began searching the web for an unknown with a homemade site who knew his stuff. Mel Kiper was already taken and I had a small budget. I found Tony at something called tfydraftpreview.com. I read his stuff and I liked his work and asked him how he'd like to not make a lot of money writing draft previews for me. He jumped at the chance. What I found out was that he became the guy on whom I leaned for draft information. His preparation was fantastic. There wasn't anyone on whom he hadn't watched tape and wasn't prepared to offer a full report. He hit home runs for me on guys such as John Henderson, Glenn Dorsey and Tyson Alualu. So that's the story. Through the years, Tony has proved himself, and he's not just some geek with a computer. He's an athlete. He trained for the Olympics. He has a feel for athletic confrontation. I value his work and the contributions he makes to packers.com every draft season.
I once thought it would be neat if the Packers did a special blaze orange uniform for a home game on opening weekend of deer hunting season, but as I've watched highlight reels recently, it always takes an extra moment to register what I'm looking at when they include a throwback uniform clip. I prefer to be able to instantly recognize the Packers.
I think they'd only have to wear that blaze orange uniform once to achieve instant recognizability.
Gladdys from Rolling Meadows, IL
Vic, could you explain why Johnathan Franklin is eligible to participate in this weekend's rookie camp, but is ineligible for the OTAs?
I can confirm that Johnathan Franklin is eligible to participate in this weekend's rookie camp and all OTAs practices.
Chris from White Bear Township, MN
Your explanation on how dynasties are built got me thinking. Packer fans viewed Brett Favre as a quarterback who kept the franchise winning but proved to be a liability in playoff games for a decade after the Super Bowl runs. In reality, the team that was built around him may not have been as well equipped to carry Favre when he had those careless moments. Here's to the Packers forging as a team with multiple strengths and picking each other up as needed.
Brett Favre had the misfortune to have spent his best years in a conference with the two dominant teams in the league, the Cowboys and 49ers. I think the Packers and Favre would've won multiple Super Bowl titles had they not had to go through Dallas and San Francisco. Those were powerhouse teams built prior to the advent of the salary cap. By the time the Cowboys and 49ers were fading, so were the Packers.
I am a high school coach who runs the veer. Is this a style of football you are fond of?
Bill Yeoman's Houston Veer was a wonderful offense that was defined by its unique run-blocking scheme, which slanted its linemen and targeted defenders for double and triple-team blocking. It was the forerunner of today's zone-blocking scheme. Tony Dorsett won the Heisman Trophy and set the all-time college football rushing record playing in the Veer, and not one of his offensive linemen was ever drafted by an NFL team. Of course, veer-type blockers didn't fit in the pro game back then. They might in today's game.
Vic, the Packers are draft and develop, but it seems like Ted Thompson also manages to pick players that slip down in the draft. These players tend to have more motivation to prove themselves. Is that part of the indefinable something that makes those guys so valuable in the long run?
That's probably a big part of it, but never discount the physical requirements of this game. If a guy doesn't have the talent to play in this league, all the motivation in the world won't help him. You gotta have the goods. The first thing personnel people do when they see their rookie class on the field for the first time, as will be the case later today, is decide whether everybody on the field does, indeed, belong there. You don't want anybody on the field that doesn't have the body or the talent to compete to make it onto an NFL roster. Players slip in the draft for various reasons. Maybe a wide receiver didn't have a quarterback that could get the ball to him in college, so his talents were hidden. Maybe an offensive tackle played in a scheme that didn't reveal his pass-blocking talent. Having to fight for a roster spot will harden a young man's will to win; it'll toughen him, and that'll make him a better player, but only if he's got the goods. A player that doesn't physically belong on an NFL practice field truly sticks out like a sore thumb.
So, if I have what I think is a good idea for the NFL to make even more money, would they cut me in on some of that action, or just take it all for themselves?
Take it all for themselves and then call security to have you removed from the building.
If reporters wore jersey numbers, what would your number be and why? What number would you give Spofford?
My number was always 22 because Bobby Layne was my idol. I loved the sight of the blood from Layne's nose on a white jersey. Spofford would wear No. 15; efficient, mistake-free, underrated.