What are the rules regarding accepting and declining penalties? How was Cincinnati able to decline a penalty, but then accept it once they saw what the Packers we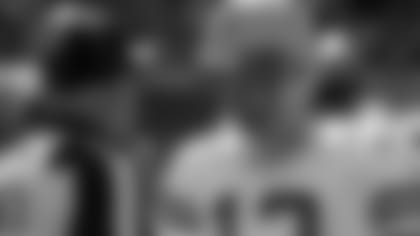 "There is nothing that prohibits a team from changing its mind about a foul. The referee can use his discretion to determine if the team is trying to manipulate the play clock, but that would be an isolated instance. Normally, if there is no potential for the clock to be manipulated, we would allow a team to reverse their original decision whether to accept or decline a foul." Those words are from NFL VP of Officiating Dean Blandino, who I asked to help me answer your question. I've known Dean for a long time, going back to when he was a young man on the rise in the NFL. He's always been helpful.
Just finished reading your interview with David Bakhtiari
. He seems like a very level-headed and motivated young man. Do you see him being the man that protects the blindside for years to come?
He has the kind of quirky, edgy personality you want in an offensive lineman, and he has the feet to be a left tackle. He can become one of Ted Thompson's best-ever draft picks. We'll see.
Scott from Lincoln City, OR
Your wife puts up the Christmas lights?
I don't do well with them. They make me jittery.
It isn't the Olympic ideal that requires total humiliation of the opponent. It was Genghis Khan who said: "The greatest pleasure is to vanquish your enemies and chase them before you, to rob them of their wealth and see those dear to them bathed in tears, to ride their horses and clasp to your bosom their wives and daughters."
Genghis Khan is one of the worst mass-murderers in the history of the world. That's the ideal? For a football game? Why is "everybody" so angry?
I'm too young to have seen Terry Bradshaw play, but the way you describe him makes me picture someone who is part Brett Favre and part Aaron Rodgers.
Played like Favre, won like Starr.
Glad to read you don't put up Christmas lights until after Thanksgiving. I always get annoyed when people put them up right after Halloween. A time and a season for everything, yes?
The thing about Wisconsin that has surprised us the most is the practice of keeping outdoor Christmas lights up all winter, and turning them on every night. Everywhere else I've been, it's Thanksgiving weekend up, New Year's Day down.
Vic, the similarities between the Packers and the Steelers are kind of amazing. Both have a long history, a huge season-ticket waiting list, and a name based on industry. So are the Packers the Steelers of the NFC, or are the Steelers the Packers of the AFC?
There are a few other similarities, but that's where they end. They are total opposites in most other ways, and that includes the personality of their fan bases.
Am I right in thinking that if Jones does not block the extra point, we win?
In other words, a two-point lead would've persuaded Mike McCarthy to attempt the field goal? It's a good thought, but I still think he would've gone for it on fourth-and-inches. I just think it's in Coach McCarthy's personality to go for it in that circumstance. He has belief in his offense.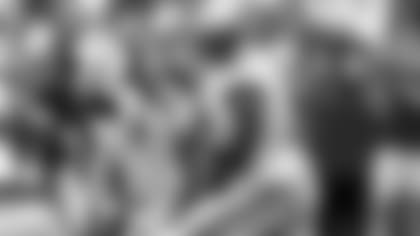 Lions WR Calvin Johnson
Division games are always tough, but there is no opponent on our remaining schedule that gives me pause. I could see the Packers running the table. Do you see a sleeper out there?
I don't have to look past the next game to find a sleeper. The Lions' defensive line has been problematic for the Packers. So has Calvin Johnson. I hope the players don't look any farther ahead than the next game.
Greg from New Britain, CT
It seems that with the decline of the running game, fullbacks are being used more and more seldom (only 20 percent of offensive snaps). Do you see this as a position that is going extinct, or do you think someone will find a way to revolutionize the position like the Patriots did with their double tight ends in recent years?
The fullback from my generation is now the running back. The fullback from what I suspect is your generation, is now the tight end. What's in a name?
Brad from Salt Lake City, UT
Vic, how many Packers fans does it take to screw in a light bulb? Three, one to screw in the bulb and two to rub his hamstrings.
I don't think it's misaligned hips, I think it's the cheese. It can tighten you up.
The Packers have been inconsistent, at best, running with zone blocking. Why don't more teams, including the Packers, go back to power-blocking schemes where there are designed holes?
It's because there aren't a lot of John Hannahs and Anthony Munozes in the draft. Lineman that have the power to drive block and the feet to pass block are rare. Protecting your quarterback is a line's top priority, so teams tend to draft more for movement than power. The zone-blocking scheme favors linemen built for movement. In time, I believe the league will ban cut blocking. When that happens, the zone-blocking scheme of today will have to evolve into something else.
Not everybody is angry. Angry people like to rant, and they want to convince us that we, too, should be angry. Why is that?
No Wolverine will forget the 1968 thrashing at the hands of the top-ranked Buckeyes in Ohio Stadium. Michigan kept it close until the half, but Ohio State ran off 29 straight points for the 50-14 victory. On the Buckeyes' last touchdown, Woody Hayes elected to go for the two-point conversion. When asked afterwards why he went for two, Hayes said "Cause I couldn't go for three." The following year, Michigan got the ultimate revenge. Under first-year coach Bo Schembechler, the Wolverines recorded one of the biggest upsets in college football history, as No. 12 Michigan beat No. 1 Ohio State, 24-12 at the Big House. Vic, I remember that comment from Woody Hayes. Do you? It gets back to the point, why humiliate someone or some team? The object is to win the game. A one-point win counts as much as a 36-point victory. You don't get any points for style.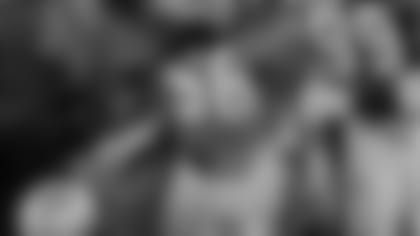 Woody Hayes & Clemson's Charlie Bauman (58)
I remember it as though it was yesterday. I was a freshman in college in Ohio. This game was the beginning of the end for Hayes. His anger started to get the best of him. There was the L.A. Times photographer incident, then there was the ABC-TV cameraman's accusation that he was punched by Hayes along the sideline following an Ohio State fumble in a loss at Michigan, and then came the incident in the Gator Bowl, when Hayes punched a Clemson player for all to see. This time, there was no denying what had happened and he was fired a few hours later. It's what happens when feelings of anger overwhelm a man. He should've gone for one.
Vic, football is beautiful. Go Packers.
Football is, indeed, beautiful. It's a spectacle on an afternoon in the fall, as we cling to what's left of nature at its finest. Football is too beautiful not to be enjoyed. As legendary sports writer Bill Cannon said, he liked being a sports writer because he liked being in happy places. So do I.
I love your stories about the way the game used to be played. I'm 23 years old and fear that I was born in the wrong generation because I long for the violence of the sport to return, which I know isn't happening. Tell me more about the "Holy Wars."
They made football an unhappy place. They disturbed me because they threatened my objectivity and my perspective. They are the most meaningful games I have ever covered because, ultimately, they shaped my personality as a sports writer. I'm glad for that to have happened, but I hope I never cover anything like that again.
Vic, just wanted to thank you for the answer you gave on Thursday. It was the one about human confrontation and playing the game of football. I enjoyed your answer so much it inspired me to send it to my son. He's a freshman running back at Concordia College.
Nothing is more exhilarating than hearing in the huddle a play called that will put the ball in your hands. The field is full of players and the stands are full of fans, but there is only one ball and it's going to be placed into your hands, and for the few seconds you're carrying that ball, you're the most important person in the place. That's the human drama that makes football the great game it is.