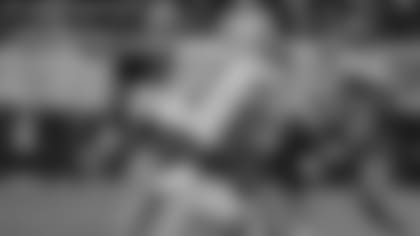 Lions WR Calvin Johnson
Big game this weekend. What's a good game plan for stopping Johnson and a resurgent Bush? Do you put Shields on Johnson? Who takes Bush? Teach me about defense.
With all due respect to Reggie Bush and the Lions' other weapons, of which they have many, I still think Calvin Johnson is a defense's priority player. Sam Shields drew A.J. Green, so I suspect he'll draw Johnson. I also think Shields will get help. The Lions make opponents play a lot of nickel and dime, and that's why it's important that the Packers get Morgan Burnett or Casey Hayward or both back for this game.
Vic, I'd love to ask Thomas where on the Internet and television he's finding 90 percent of 41 years of Vic Ketchman experience and insight.
I did not dismiss Thomas' question yesterday. I posed it to my cohorts at our weekly meeting and asked them what exclusives have we provided to our readers. This is what I got back: live streaming of Donald Driver's retirement, the first look at the Super Bowl XLV rings and its details, team photo video, video of players delivering fans their season tickets, live streaming of the shareholder meeting, video of locker room speeches, photos of team travels for road games, live webcasts of press conferences, videos of the equipment department preparing the helmets, video of the field being painted, coverage of this year's team-building dodge ball game, Google Hangouts with Aaron Rodgers, Clay Matthews, Randall Cobb and Jordy Nelson,  "Tuesdays with McCarthy," the Randall Cobb offseason workout video, my interview last fall with Bob Costas, Tunnel Cam, "Murphy Takes 5," and a lot more. Of course, we missed on the Joe McKnight rumor a few weeks ago.
Vic, I am a PIAA high school football official and I have seen sportsmanship headed in the wrong direction for the past five years or so. Last Monday's JV game exemplifies how much sports have sunk into the black hole. Under PIAA rules, the mercy rule (running clock) is applied when a team is up by 35 points (at halftime). Well, a team just scored, making it 34-0 with nearly 30 seconds remaining in the first half, when the winning coach calls a timeout for the PAT. He instructs his QB to purposely spike the ball, not allowing the mercy rule to come into play. They won the game 47-0. Against my better judgment, I asked the winning coach after the game why he chose that strategy. His response was "because we hate their team, their coach and their school." When did all this anger arise and why? Great column!
Didn't yinz just have a problem with some kid going berserk on another kid? What must the Amish think?
Derek from Eau Claire, WI
Don't people realize anything newsworthy is on ESPN within the hour? Of course you don't have any inside information. Do you miss the days of minimal national media coverage? Here's a rumor for you: Brett Favre is talking about coming out of retirement to play for the Jaguars.
You read it first, folks, right here on packers.com. We need more of that kind of cutting-edge reporting.
Morgan from Saint Croix Falls, WI
What are the scouts up to this time of year?
They're in their areas traveling from school to school, taking names and delivering donuts to the football office staff so they might curry the favor of the video people that provide tape for the scouts to watch.
Tadd from Salt Lake City, UT
Vic, you have a great knowledge of both the Steelers organization and Tom Coughlin. Which team do you think is more stunned by the 0-4 record?
I think the Steelers knew they were heading into a rebuilding phase. I don't think they expected 0-4, but they knew they had issues. I don't think the Giants were of the same feeling. This has caught them off guard.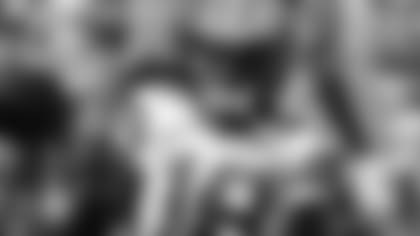 WR Randall Cobb
Vic, what would be the reason to have a different player returning kicks and punts? Are the skill sets that distinct?
Kickoff returners are explosive, punt returners are elusive. If you can find a return man who's both explosive and elusive, he can do both. Randall Cobb is explosive and elusive.
Until the NFL is ready to move a franchise to London, give them eight home games a season, all different teams. That way we can see if American football can hold their attention for a whole season.
Would Packers fans fill Lambeau Field eight times in a season to watch 16 teams for which Packers fans would have no rooting interest?
If Packers lose to Detroit, will they make the playoffs? I say no.
It wouldn't be the end of the world, but at 1-3 and heading to Baltimore, you could see it from there. This is big.
Mike from North Aurora, IL
Vic, yesterday in both of your editions there were a lot of people questioning how the Browns defeated the Bengals. I think people need to realize these aren't the same Browns from recent years. They have one of the top defenses in the league while also being very young. It also makes sense that a team can play poorly from week to week (the Packers are a prime example of that). This league is built on parity, so it stands to reason that any team can win on any given week, except maybe the Jaguars.
That's an unnecessary shot at the Jaguars. Hey, the Browns have to play there this season. Remember the shot you just took? That's the great thing about this league: It'll never let you get too smug. What's up is going down, and what's down will be up. There's no guarantee you'll win, but I guarantee you will lose.
Steve from Bullhead City, AZ
Vic, the start of the season is looking sketchy, but better a slow start and peak later in the season than to possibly run the table just to cool off at the end of the season. Agree?
Yeah, I agree. The importance of the first half of the season is to position yourself for making a playoff run late in the season. That's when we begin finding out who the real contenders are. Peaking a team is an art. It's a skill great coaches have. They have a knack for leaving something to be done, another level to reach. My hope for this team is that its running game and its defense will join hands late in the season to give the Packers a cold-weather dimension this team hasn't enjoyed at playoff time in the previous two seasons I've covered it.
The NFC has been the powerhouse of the NFL lately. This year through four weeks the NFC has nine losing teams and the AFC only has three. Are we in the middle of a power shift?
It's kind of caught me by surprise. I considered the NFC to be the dominant conference heading into this season, but the AFC has a freshness to it that lends legitimacy to your question.
The Packers have had a week to mull over the return game. Franklin, Hyde or back to Cobb?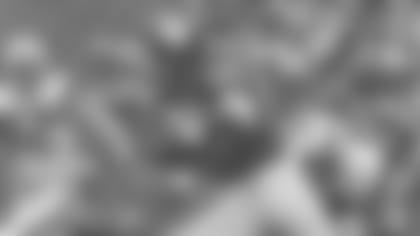 Dallas Texans RB Abner Haynes
Vic, could you please clarify the options available to a team during the coin toss? When the Packers win the toss, they often defer. What are the other team's options after that?
Receive, kick or defend a goal. If they don't elect to receive, they'll likely kick off twice. I was stunned to discover a few years ago that a lot of fans believe that if you kick off to begin the game, you automatically receive the second-half kickoff. A reader explained that it was a Madden thing. Search "Kick to the clock." It'll explain perfectly the pitfalls of bad coin toss management.
Vic, this past weekend Ray Lewis, Mike Ditka, Tom Jackson and Cris Carter were asked about the rules changes. Lewis, Ditka and Jackson hated them and seemed mad about it, but I thought Carter brought up a good point. Right now, they aren't fair because generations of players and fans have grown with these rules, but the younger generation only knows "Heads Up" football.
If all of a sudden we could only drive cars with steering wheels on the right side, what do you think the reaction would be?
What fan base personality does your personality align with most?
I'd like to think I align with Packers fans. I'd like to think I'm a fun-loving, respectful fan of the game. I'm not a dress-up-like-its-Halloween kind of guy. I have to avert my eyes when TV shows us fans dressed as though they're auditioning for a "Hell's Angels" movie. That's just too weird for me.
Vic, you said "nothing will get you beat faster than smugness," and in another response, "I think we've created it." We?
I believe we all belong to the fraternity of football. It's our game and we have to be accountable for it.
The 1967 Green Bay Packers vs. 2013 Green Bay Packers. Who wins?
My guess is that you want me to do matchups: Starr vs. Rodgers, Robinson vs. Matthews, etc. I don't do that stuff; it just doesn't make sense. It also doesn't make sense to compare a 1-2 team that has yet to define itself, to a team that is defined by the ages.
There you go with the winsome again, Vic. I'm willing to bet there will be angry emails coming to you.
The vast majority of readers enjoy the tag. That's healthy.
Vic, care to give us your eulogy for L.C. Greenwood?
In all of the years I've done this column, I have never received anywhere near the volume of requests to eulogize a player who has passed away, as I have for L.C. He played on a defense loaded with stars. He and Ernie Holmes played in the shadow of those stars and their celebrity. It caused L.C. to color his shoes gold and for Holmes to shave an arrow into his hair, both hoping they would gain the attention of fans and media. I wish L.C. was alive to see the attention his passing has received.
Vic, back in the '90s the refs would stop the game and tell the crowd to quiet down or they were going to charge the home team a timeout. I saw a story the other day asking if the NFL should ask the Seattle fans to quiet down, and how it could come about one day. Obviously, I doubt that would happen. Why did it ever get to the point the refs asked the crowds to settle down, and why did it eventually change to where it did not matter how loud they were anymore?
If the quarterback felt his offense couldn't hear him, he would step out from under center and turn to the referee. If the referee agreed with the quarterback, then everybody would stand and wait for the crowd to stop screaming. If they didn't, the referee would threaten the crowd with reprisal for the home team, which would then cause the home team to motion to the crowd to quiet down, which almost always worked. If the referee felt the quarterback was being overly sensitive to the crowd noise, he would motion him to get back under center. It created delays, but I kind of enjoyed the intrigue. The delays, however, were a major issue to the league, so it just gave up and told visiting teams to deal with it. They have.