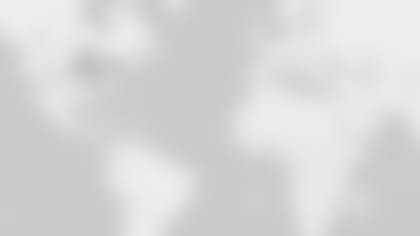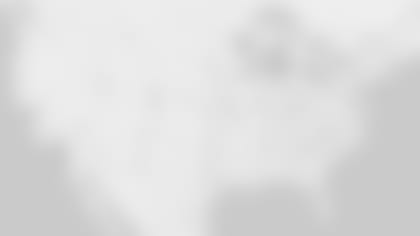 Hardy from New Richmond, WI
Which of the rookies do you think have had the biggest impact on the team?
There's no denying Corey Linsley's impact on the Packers this season. He's more than picked up the slack, he's played at a level you would expect of an established, veteran starting center. Linsley has done for the Packers at center what David Bakhtiari did for the Packers at left tackle last year. It's truly remarkable what the Packers have gotten out of their last two draft classes.
I will forever remember the day I got my butt kicked on the football field. What's your story, Vic?
We had a running back on our team named Barry Booker. He was a man as a teenager and I don't think there was one time I was ever able to tackle him. When someone overmatches you as he overmatched me, you quickly understand how great you're not.
Brian from Oklahoma City, OK
Is it possible to become a sportswriter/broadcaster if you didn't actually play organized college or professional sports, but you know more about the sport or sports than most professional coaches and writers and/or broadcasters?
Absolutely it is. I think it helps to have played the game at some level so you have a feel for the emotions that accompany it, but sports reporting is mostly about getting the facts right.
Michael from Loogootee, IN
What do you think the cause was for Mason Crosby having a bad year a couple of years ago? Whatever it was is not affecting him now and he's back to almost being automatic. I don't think I've ever seen a kicker have such an off year and then reestablish himself as one of the best in the league again.
I remember the 2012 Family Night scrimmage and Crosby attempting field goals from outrageous distances. I think he got a little bit of driving rangeitis that night; that's when it started to go bad. So what's it say about him that he was able to not only recover, but become an even better kicker than he was? It says he has the moxie to accept a challenge and win. He was intensely challenged in the 2013 training camp by Giorgio "Don't Call Me Sergio" Tavecchio, and let's not forget the guy from Oregon that was brought in late in camp, and Crosby took his game to a higher level. I'll always remember that kicking competition. It was what Joe Greene liked to call "genuine, honest-to-God human confrontation."
Let me help move the conversation. What do you see as Tampa's greatest strength?
It's Mike Evans and the feeling he's creating among the other young players on the Bucs, that the team is building something for the future. Don't give a young team a chance to grow up.
Vic, I love your sarcasm and brutal honesty. If you could change one rule in the NFL, what would you change?
Offensive pass interference in the end zone would be the defense's ball on its 20-yard line. Hey, if we're gonna put the ball on the 1-yard line for defensive pass interference, then let's also assume the pass would've been intercepted in the end zone, right?
To all of your readers out there, I believe you said "you're right" to the opening line of Shaun's comment, "I know you don't care, but you've lost a reader."
I liked your quote, "he finds out how great he's not." I think a lot of people could use this lesson in a lot of phases in life.
Sometimes we need to get knocked on our butt, and sometimes we need to be the knocker. Too much of one and not enough of the other isn't good.
During the Packers/Bills game, every time the Packers went to huddle on offense a train whistle blew. I don't know this affected the game, but I thought this is against NFL rules. Am I incorrect?
There are time limits on that stuff. It's all so silly. I could hear the faint sound of it through the press box glass. It made me giggle. Chuck Noll would always have a little repartee ready for those kinds of things. After the game, Chuck might've asked, "Where are those train tracks?"
Vic, great point about the Raiders picking Mariota or not. What do you think the Raiders would do if they drafted Mariota? Play Carr and see what kind of year-two jump he can take? Start Mariota?
These are the kinds of delicate decisions that are made in the draft that not only affect one team's future, but the future of the whole league. I was covering the Jaguars when they picked Byron Leftwich in the first round of the 2003 draft, and then passed on Ben Roethlisberger in 2004 and on Aaron Rodgers in 2005 because they had Leftwich. What if the Jaguars had selected Roethlisberger or Rodgers? That's why the draft is so intriguing. It's historical importance can't be overstated.
Mark from Stewartville, MN
Vic, the television show on which Marcus Mariota received his Heisman Trophy was a highlight-filled extravaganza. Fifty years ago, college football wasn't so glamorous. John Huarte, the Notre Dame quarterback who won the Heisman Trophy in 1964, didn't receive his award on television. He learned he was the winner from someone who took a phone call from a Heisman official. Do you miss the old days when everything wasn't such a big production?
I could say yes, but the answer is really no. I like my role in the media. I like being able to engage the readers and shape my writing for them, instead of for microfilm that's going to sit in the local library. That's the way it was when I became a sports writer, and I'm sure there's a lot of microfilm of stories I've written that no one has since read. This is better.
Vic, I thought Le'Veon Bell was a great running back coming out of Michigan State. When the Packers didn't take Lacy with their first pick, I thought another team would steal him early in the second round and we would end up with Bell, which I would still be happy about. But Lacy slid to the Packers' second pick and we took him. What was it that you didn't like about Bell?
He was a high-cut, straight-up runner that was more wiggle and jiggle than wallop. I like pads-down pounders. I thought Bell would be a bust. I sure missed on that one.
Patrick from Folly Beach, SC
I think I remember when the crowd noise used to cause a home team to get the refs to ask the team to make it stop or lose yards. Am I right or am I having a 1960s flashback?
It wasn't the home team, it was the visiting team. If the crowd was too loud for the visiting team to hear its quarterback's cadence, the quarterback would step out from under center and appeal to the referee for silence. The referee would usually stop the action and wait for the crowd to quiet down. The quarterback would step back under center and the noise would begin, again. It would go on and on like this until the PA guy threatened the crowd with the potential for penalty against the home team. If the referee felt the quarterback was faking it, the referee would point to the center, which was an order for the quarterback to get back under center and go. It was kind of cool, but it delayed games. I like the silent count concept. I'm amazed at how well visiting teams are able to cope with crowd noise.
Vic, when I read your comments about how football was when you started covering it versus now, you seem to be a bit like the grumpy old guy of the neighborhood. What elements of today's NFL do you like or think are better?
The telecasts are head and shoulders above anything from the old days. I think I like the old game better, but TV has given football a presentation that makes nearly everything about football today better than what it was 40 years ago.
Pablo from Cholula, Mexico
Vic, I don't understand how you can like golf and not like soccer. I appreciate that golf requires great skill, just like any sport, but the pace of it is what kills it for me. What aspect of soccer kills it for you?
It's ping pong for the feet.