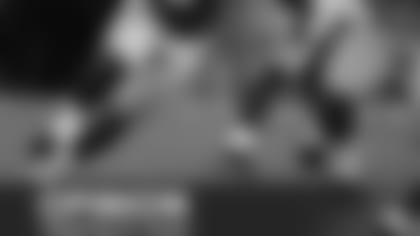 San Francisco RB Frank Gore had 23 carries for 119 yards and a TD vs. the Packers in the playoffs last season.
I really like seeing Edgar Bennett coaching on the sidelines and I think he's going to do a great job with our receiving corps. Which current player on the Packers roster do you think would make a good coach in the future?
Most players would be good coaches. They know the game and what it takes to be successful at it. What makes a player a candidate to become a coach is his willingness to continue to make football the centerpiece of his life. Is he willing to work seven days a week for half the year? Is he willing to work late into the night, spend half of the weekends in the fall away from home, spend even less time with his wife and children? Is he willing to do all of this for what will likely be less financial reward than he received as a player? Is he willing to do all of this even though he might not need the money? It was no surprise to me when I saw Kevin Greene on the Jaguars practice field a few years ago, trying to work his way into the game as a coach. When I covered Kevin as a player, it was easy to see football was his life and that he likely would come back to the game after he was done playing. Joe Greene tried to do the family thing. After he retired, he got into the restaurant business and stayed close to home. A few years later, he was back in training camp as a coach. I asked him why and he said he was sitting at home one day looking at the family photo album, and the pictures stopped at the same time he stopped playing football. That's when he realized that not only he needed football, but so did his family. It's that way for some guys, and those are the ones that become coaches.
Andrew from Jacksonville, FL
I'm beginning to think the "Fail Mary" play was just temporal punishment for giving Nate Poole the key to the city of Green Bay. He caught the TD that gave victory to the Cardinals over Minnesota, also giving the Packers the playoff berth in 2003. Thoughts?
They really did that? No wonder Vikings fans hate the Packers so much.
Tony from Hamilton, Ontario
Vic, seeing as Goodell wants to expand the league to Europe, could you see Toronto getting an NFL team? I think it would be a bad idea because the CFL would suffer.
Toronto already has an NFL team, it's called the Buffalo Bills. I am always amazed at the number of Ontario license plates I see when I cover a game in Orchard Park. Toronto, in my opinion, is the best thing the Bills franchise has going for it. The Bills are a link to Canada without having to cross the border. The NFL has enjoyed a very respectful relationship with the CFL for a long time.
George from Mineral Point, WI
I purchased two tickets to "Ask Vic Day." The trouble is, being an old coot, I have forgotten the date. Help!
See you on July 23. We'll send you a reminder.
Vic, with the changes in defense and the addition of some very talented folks on offense, Eddie Lacy for one, am I wrong in thinking there's a lot more excitement to look forward to from this year's Packers than in previous years? It's like so many people are on edge just waiting for a bust out season. Thoughts?
I've never covered a team that there wasn't a sense of excitement and hope for the new season at this time of the year. In the case of this year's Packers, I sense a little more than the usual anticipation. I think Packers fans sense that this team has accumulated a lot of talent. I think Packers fans know this team is one of the league's elite contenders. I'm not fond of the word "expectation," because it implies a kind of matter of factness, so I'll substitute the word "hope" and I'll tell you that there is a lot of hope for this team, especially with the additions of Eddie Lacy and Johnathan Franklin.
Vic, what's the No. 1 issue going into training camp? I think it's who will become QB2.
For every coach in the league, the No. 1 issue heading into training camp is staying healthy. Mike McCarthy will have his finger on the pulse of his team's physical well-being at all times. He knows his team has much to accomplish, but it can't be at the expense of its health. Beyond that, there are several issues. The Packers have to find a safety, move through major changes on its offensive line, work Datone Jones into the scheme, find a starting running back, develop a backup quarterback, identify depth at wide receiver. If they can do all of that and stay healthy, too, they will have the best training camp they could possibly have.
The worst rule in the NFL, in my opinion, is when there's a fumble by the offensive player and the ball goes out the back of the end zone and it's a touchback for the opposing team. So if I have a 99-yard run and fumble at the 1-yard line and the ball goes out of bounds at the back of the end zone, then it's the other team's ball. Thoughts?
I'll give you a better one. Your running back is reaching the ball out for the pylon in the front corner of the end zone. He touches the pylon with the ball and touchdown is ruled. Replay, however, detects that the ball was moving out of the running back's hand just before the ball touched the pylon. All of a sudden, a touchdown has become a touchback. It's a very harsh rule, and that's why it's very important not to violate it. I think the reaching thing is dangerous and is overdone.
Jordan from Tongyeong Gyeongnam, South Korea
Brett Favre was traded from Atlanta and Charles Woodson was picked up as a free agent. What other great players come to your mind that had better careers with their second teams than their first teams?
Jerome Bettis comes to mind; so does Willie Davis, who was traded from the Browns to the Packers. Jim Plunkett had more success with his third team than with his first two. Hard examination would provide a long list of players whose careers blossomed with their second or third stops. Keenan McCardell is another player that comes to mind.
How do you stop the running offense that has a running quarterback like San Francisco has, who can run up the slot and gain 15 to 20 yards?
You tackle him. You win the one-on-one by playing better than he does. It's always the answer. You win with players. If you have to win with scheme, then you will have likely weakened yourself somewhere else. Back in the spring, a reporter was talking to Dom Capers on this subject and the reporter mentioned that the 49ers didn't run the read option much against the Falcons in the NFC title game. "They didn't?" Coach Capers said. He went on to explain that the 49ers ran the read option a lot in that game, but instead of Colin Kaepernick running with the ball, he gave it to Frank Gore. In other words, the Falcons overplayed Kaepernick and that allowed Gore to have a big game. Everybody wants to beat the read option with scheme. You beat it with performance.
Vic, if you were putting a staff together and could pick any two coordinators, past or present, who would they be?
I think the answer has to be Vince Lombardi and Tom Landry, right? If you're asking who I would pick as my coordinators from those that I've covered, I would say Tom Moore and Dom Capers. If Coach Capers didn't want the job, I'd offer it immediately to Bud Carson.
So, Vic, it's not coaches or schemes, it's players and stadiums that produce Super Bowl winning franchises? Please explain.
Revenue makes it all happen. Revenue allows you to spend more on scouting, which goes to the discovery of players. It all starts with that. You're referring to my response on the Vikings' new stadium. It's going to give them revenue streams they've never enjoyed. I'll be interested to see what they do with them.
You spoke of the Packers' up-tempo offense and how the new running game should help the defense. What has been the typical time of possession of the Packers the last few years compared to the rest of the league? Will adding a running game which tends to slow an offense down tempo-wise (although will let the defense rest more), disrupt the offense and Aaron Rodgers?
The Packers were 18th in the league in time of possession last season. That's not bad for an up-tempo team, but it was a huge problem in both losses to the 49ers. The 49ers controlled the ball for 33:00 in the first game and for a whopping 38:01 in the playoff game. You're not likely to win games when you lose TOP that badly. Your second question is legitimate. The answer is to find a way to blend run and pass so that the tempo isn't disrupted. Hey, if you're going to beat the 49ers at their game, and I think it's obvious that's what the Packers have to do, then you're going to have to run the ball and play defense, and running the ball goes to TOP and TOP is good for the defense.
Rick from Murfreesboro, TN
Walter Payton for two firsts, why not? Sounds like a sweet deal to me. Or was he too near the end of his career? It's a bit tantalizing to imagine Dickey and Lofton paired with Payton.
Players, not plays, and picks, not players. It's been that way for all the years I've covered this league. Draft picks are pieces of gold teams horde. Look at Shaun Alexander. He was the best back in the league. He had just rushed for 1,880 yards and 27 touchdowns, but the Seahawks couldn't get a third-round pick for him. Why not? I think it's because it's a young man's game and personnel men would rather have an unproven rookie than a star player who might've lost some tread from his tires. Alexander was only six years into his career, but somebody saw something because he was never the same again. He rushed for 896 in the next season, then 716 and then 24 and gone. Rule of thumb is that most teams are just as good at evaluating talent as you are, and if they see the guy every day and they want to trade him, there's probably something wrong with him. In Payton's case, it was a little more than that. Signing free agents was something teams didn't do back then, out of loyalty to each other and leaguethink. Why kill the golden goose?
Gavin from Kilmarnock, Scotland
Vic, I read your column a lot and you have mentioned you feel Aaron Rodgers is the best QB in the league. What makes him better than Brady, Manning, etc.?
With your Pittsburgh background, how did you feel when the Steelers left the NFL and joined the AFL?
They weren't leaving the NFL; they were joining the AFC and that was fine with me and the fans I knew because Cleveland and Baltimore were going with them.
How about this: Use up some chips you've gathered through the years and get Jerry Kramer into the Hall. It could be your gift to Packers fans like me, who think the world of you.
If I could, I would. Here's what we need to understand about Jerry Kramer: He's the best thing the Hall of Fame has going for it. Players of Kramer's quality preserve the Hall of Fame's esteem. If everybody got in, the Hall of Fame would be valueless. The selection committee's job isn't to put people in the Hall of Fame, it's to keep people out of the Hall of Fame. Jerry Kramer gets more attention every day of his life for not being in the Hall of Fame than he would've ever received had he been inducted. That's good for Jerry and it's also good for the Hall of Fame. I believe he'll make it in one day and, oh, what an induction ceremony it'll be. It'll be the final celebration of the '60s Packers.
Louis from Coral Springs, FL
Vic, I kind of hope the whole "University of Packers" doesn't catch on. Our enemies would have a field day with the initials. Know what I mean?
My all-time favorite cheer is "Let's go Peay."
Hippolyte from Lyon, France
Vic, could you explain the supplemental draft for us?
If a team wishes to select a player, it does so by designating the round in which they wish to select him. The team must own a pick that high or higher in next spring's draft. The league then awards the player to the team that spent the highest pick on the player. The team receiving the player loses its corresponding pick in next spring's draft.