Two of the Packers' lesser-known defensive players are putting together solid weeks of practice leading up to the first preseason game.
Safety Tyrone Culver and defensive tackle Colin Cole have made some standout plays the past couple of days and hope to carry those efforts with them out to San Diego on Saturday night.
Culver, a rookie sixth-round draft choice, played well in the Family Night scrimmage last Saturday and followed that up with a nice interception on Wednesday, sliding in front of tight end David Martin along the sideline and picking the ball off the top of the grass.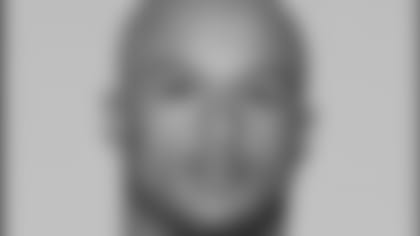 Defensive coordinator Bob Sanders said Culver is a smart player who has picked up the defensive scheme well and is communicating pre-snap calls effectively to his teammates, as a safety is expected to do.
"I think he's done an excellent job," Head Coach Mike McCarthy said. "Saturday night he was very productive, and he's definitely moving up the depth chart in the safety area."
Culver feels the plays are finally starting to slow down for him, usually the first sign that a rookie is getting comfortable with the NFL game. But he's not making any predictions as to whether he's in line to make the 53-man roster with so much competition at defensive back.
"That has to be in the back of your mind," Culver said. "Every day you just have to go out there, put your best foot forward, and just play the game of football.
"The minute you start worrying about the depth chart and things like that, that's when you start making mistakes. I just want to go out there and play to the best of my abilities and play hard."
Cole is doing the same thing in the middle of the defensive line. At 6-foot-2 and 325 pounds, Cole has the combination of stoutness and mobility that makes him productive on a regular basis.
"He brings a lot to the table because of his size and his anchor ability," Sanders said. "He's gotten pretty good push. He had a good day yesterday a couple times on the short-yardage and goal-line. He popped through and made a couple big plays for us."
One of those came when Cole busted through and stuffed running back Najeh Davenport for a loss with the offense inside the 5-yard line.
Both Sanders and McCarthy noted Cole probably has been the most consistent interior defensive lineman thus far in camp as he continues to build on a solid 2005 season, his first as a regular contributor in the NFL. That came after the undrafted Iowa alum failed to latch on with Minnesota and Detroit in 2003 and 2004 before he landed in Green Bay late in the 2004 season.
"I really feel like here I'm more of a fit to what the defensive staff is trying to accomplish," Cole said. "I'm a physical guy, I'm able to work with my hands and play square and do what they ask of me on a consistent basis."
Rookie guard Jason Spitz was back at practice Wednesday morning after going down Tuesday afternoon with a lower leg/high ankle injury. Spitz was rolled up on during a team drill but was walking around with an ice pack within an hour.
Getting back on the practice field the next day may be an indication of just how badly he doesn't want to miss any preseason games, with only four to get ready for likely his first NFL start on Sept. 10.
"Everyone in this room has some kind of pain they have to deal with," Spitz said. "I could have sat out of practice, but I've got such a long way to go for this football season, I can't miss a day. It hurts, you deal with it, you ice it down afterwards, and you get over it."
In other injury news, McCarthy classified the injury to receiver Greg Jennings as a hip flexor and said he's still day-to-day. He sat out Wednesday, as did backup center Wayne Lucier (lower leg/ankle).
Cornerback Mike Hawkins (knee) returned to practice.
One of the quarterbacks finally hit on the trash-can drill, where a trash can is placed in the corner of the end zone and all the quarterbacks try to loft passes from different distances into the open can.
From the 10-yard line, Brett Favre got one to drop in Wednesday and got an audible cheer from the crowd. Including the end zone yardage, the throw was roughly 20 to 25 yards.
The quarterbacks throw to the trash cans from as far as 50 yards away, but thus far in camp the closest anyone had come to making one was when Aaron Rodgers short-hopped the trash can from about 40 yards the first week.
Nobody's perfect, competition still close
In the battle for the kicking job, neither Billy Cundiff nor Dave Rayner has been able to turn in a perfect round this week.
On Wednesday, Cundiff was 5-for-6 on field goals, while Rayner was 4-for-6. Both made their kicks from 29, 31, 34 and 36 yards. Rayner was wide left from 41 and 48 yards, while Cundiff was good from 41 but short from 48.
On Monday night, they each went 5-for-6. Both were good from 24, 29 and 33 yards. Cundiff made both his kicks from 39 yards but was wide right from 52. Rayner was good from 52 but just 1-for-2 from 39 yards, his miss hitting the right upright, mostly as a result of a bad snap that clearly threw off his timing.
Fresh off Reggie White's induction into the Pro Football Hall of Fame, his widow Sara and son Jeremy were in Green Bay on Wednesday. Jeremy presented Reggie for induction on Saturday, and Sara gave the acceptance speech.
The two were setting up an interview with Favre for a DVD Sara is producing on Reggie's life. Jeremy also has done some of his own media work, writing a book entitled "In His Shadow: Growing Up with Reggie White." The 200-page paperback is due out next month.