*As part of the Green Bay Packers' celebration of the 10th anniversary season of the Super Bowl XXXI Championship, Packers.com is running a series of stories about the people responsible for bringing the Vince Lombardi trophy back home to Titletown.
His name is Doug Pederson, but he acted liked Drew Bledsoe during the last two weeks of January in 1997.
To prepare the Packers' defense for whom they would face in Super Bowl XXXI, Pederson, the scout team quarterback, simulated the New England Patriots quarterback's long stride and long release during practice.
"I took pride in getting our defense ready," Pederson said, "giving them the look, the picture of the other team and the quarterback and some of the mannerisms and some of things the other quarterback would do."
The preparation worked. The Packers' defense took advantage of the strong-armed but slow-footed Bledsoe, sacking him five times and forcing him into four interceptions during their 35-21 Super Bowl win.
The work on the scout team not only helped the Packers' defense but also Pederson, a six-year veteran. In 1996 he served as the third or inactive quarterback for 14 games, receiving mop-up duty against the Denver Broncos in Week 15. But by going against a defense led by stars like LeRoy Butler, Reggie White and Sean Jones and featuring the intricate scheme of defensive coordinator Fritz Shurmur, Pederson improved his ability to read defenses, reset and throw before hitting his third and fourth passing options.
"It was a great, great defense," Pederson said. "Going against those guys in practice was really a lot of fun for me because it allowed me to grow up as a quarterback and do some things that I was able to carry on for the rest of my career."
Pederson also had the advantage of playing behind two illustrious quarterbacks, starter Brett Favre and No. 2 quarterback Jim McMahon. From McMahon, Pederson ascertained how to keep both players and coaches calm during the tensest game situations. He soaked up the information from the established veterans like a sponge.
"I was the greenest one of the bunch," he said. "It was an ideal situation for me."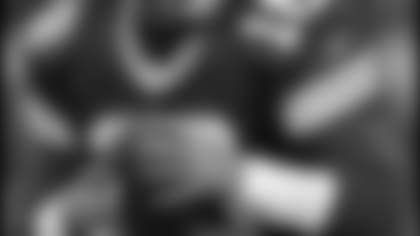 For the rest of his career, Pederson used the lessons he learned from Favre and McMahon and from competing against a Shurmur-coached defense. After the 1998 season, he left Green Bay to become the starting quarterback for the Philadelphia Eagles and head coach Andy Reid, his former Packers quarterbacks coach. The next year Pederson quarterbacked the expansion Cleveland Browns. He returned to the Packers in 2001 to back up Favre, playing the last four years of his 12-year career in Green Bay.
The former Louisiana Monroe graduate retired in March of 2005 and accepted a job as head football coach at Calvary Baptist Academy in Shreveport, La., which has 900 students in the K-12 school.
"I thoroughly love it," Pederson said. "I get a chance to share my faith with these guys and teach them things on and off the field."
Calvary Baptist went 5-6 and made the first round of the playoffs in its first year under Pederson. That season served as an impressive debut, considering the number of freshmen and sophomores he coached.
"We were not blessed with a lot of seniors and a lot of depth," Pederson said. "We're going to be a better team this year."
Pederson said his students were taken back at first by his status as a former NFL quarterback. Over time, however, they began to view him as a regular coach. His NFL ties also have benefits. He plans on having players like former Buffalo Bills quarterback Jim Kelly and former Packers teammates Craig Nall and Favre speak to his students at football camps.
Pederson remains close with several Packers players, including Favre, William Henderson and Aaron Kampman. In his first year removed from the NFL, he attended two games at Lambeau Field -- the Packers' loss to the Minnesota Vikings on Monday Night Football and their win against the Detroit Lions on Sunday Night Football. He hung out with his former teammates in the locker room afterwards.
Pederson owns a permanent symbol of his success with the Packers. On occasion he wears that Super Bowl ring in front of his players as a motivational tool.
"It's just another way to get my message across," Pederson said. "I'll let them look at it and show them that through hard work and perseverance and everything else you can get that ring."