The Green Bay Packers and WPS Health Solutions paid special tribute to U.S. Army staff sergeant Walter Grochowina and his family during Sunday's Packers-Colts game for 'Operation Fan Mail.'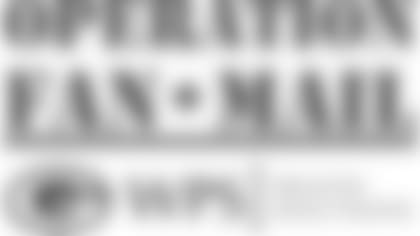 Grochowina, originally from West Allis, Wis., enlisted in the U.S. Army in 2007 as an airborne infantryman. He was stationed at Fort Bragg before deploying to Iraq for a year-long tour in support of Operation Iraqi Freedom. He also served in Afghanistan for nine months in support of Operation Enduring Freedom.
In 2012, Grochowina was selected to be a recruiter and was assigned to the Great Lakes Recruiting Battalion, where he served for three years. He then was assigned to the Milwaukee Recruiting Battalion, where he currently serves.
Grochowina comes from a military family, with both of his parents, brother, grandfather and uncle all having served in various branches of the military. During his time in the military, Grochowina has received numerous awards, including several commendation and achievement medals, the Afghan Campaign medal, the Iraq Campaign medal and the Global War on Terrorism medal.

Grochowina attended Sunday's game, his first Packers game, with his wife Lindsey, son Ryder and father-in-law, Brian Kartz. Grochowina and his wife will soon celebrate 10 years of marriage. They live in Hales Corners, Wis.
Operation Fan Mail, which debuted in 2007, is designed to recognize families with a member who is on active duty. The Packers and WPS Health Solutions will host a family at each 2016 home game and recognize them on the field during pregame activities. A total of 95 individuals or families have been recognized through the program thus far.
To choose families, the Packers and WPS Health Solutions are asking interested families, or friends of eligible families, to submit an essay, 500 words or less, on why a particular fan should be saluted. Essays can be sent to: Operation Fan Mail, P.O. Box 10628, Green Bay, WI, 54307-0628 or submitted online at packers.com/gameday/gamedaypromotions/operationfan_mail.
In addition to being recognized on-field prior to the game, selected families receive four tickets to the game. Families intended for recognition are those that have a member serving on active duty. The family member can be a spouse, mother, father, son, daughter or sibling.