Daniel from Greenwood, IN
Football is a game of emotion. I played in high school and loved the physicality, especially the hitting. I was known to celebrate after a great play because of all the emotions running through me. I also helped fallen players of the opposing team up after the whistle. There is room for celebrations and sportsmanship in football.
I agree, but we can't seem to discipline ourselves to avoid crossing the line into excessive celebration that's not only unsportsmanlike, but vulgar. The league cracked down on excessive celebrations a few years ago by making it a major point of emphasis. That cleaned it up, but then the league relaxed its enforcement and here we go again. The show of emotion is welcome when it is genuine and spontaneous. I'll even accept premeditated and choreographed celebrations, such as the Lambeau Leap, when they are fun-loving, happy events that celebrate one team's joy, as opposed to acts that announce another team's despair. That's the difference between celebrating and taunting. I'm all for celebrating. I'm bitterly opposed to taunting.
Dirk from Munich, Germany
Vic, what about bringing in a veteran tackle as a free agent? I think you assumed Kellen was talking about trading for a veteran player, but if there is a free agent tackle left, I think it could be a signing similar to Vince Young, low risk to bolster depth or even achieve competition. Jared Gaither is still out there, I believe.
Oh, OK, I'll go out back and pick a veteran tackle off the veteran tackle tree. Dirk, Jared Gaither was cut by the Chargers in March, even though tackle was one of the Chargers' greatest needs. The Chargers then drafted tackle D.J. Fluker in the first round. Gaither suffered from back spasms that caused him to miss all but four games of last season. He had previously been released by the Chiefs and by the Ravens. Do you see what I'm getting at? Most of the fruit that had been on the tree has either been picked or fallen to the ground.
Tyler from Union Grove, WI
Vic, going into tonight's preseason game, should we expect to see Vince Young take some snaps or is it way too early for him to see game action in a new system?
Mike McCarthy said he plans to play Young against the Cardinals, though I would expect his play time to be limited for the obvious reason that he hasn't been with the team but for a few days. I'm expecting Graham Harrell to take over for Aaron Rodgers early in the first half, and then for B.J. Coleman to play most of the second half.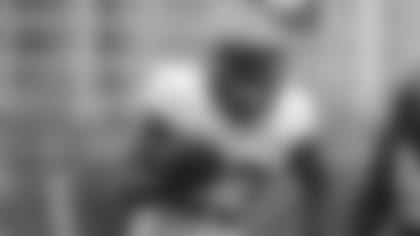 RB Johnathan Franklin
Vic, with all the attention and stories on Lacy, not much has been said about Franklin. How's his camp going so far?
He's had a great camp. He flashed his burst in week one of camp, and I'm hoping he'll break a run or two tonight against the Cardinals. I love him, especially as a change-of-pace back from Eddie Lacy.
Have you ever been inside the brainwashing room at Lambeau? As far as I know, they don't show that part on the tour.
Yes, I've been in the room. I was made to watch a continuous loop of Bart Starr's quarterback sneak in the Ice Bowl. I left the room muttering, "Then run it and let's get the hell out of here. Then run it and let's get the hell out of here. Then run it and let's get the hell out of here."
Vic, how would games look different if the three-point stance was prohibited?
The field would be full of tight ends and linebackers.
Mark from Shepherdstown, WV
Do you see Friday's game as pivotal in the Crosby vs. Tavecchio kicking competition? How many preseason games will it be before a decision is made?
It's a huge game for both guys and it doesn't necessarily have to come down to one or the other. Mason Crosby and Giorgio "Don't Call Me Sergio" Tavecchio are kicking against every kicker on the street or in the league that might come free. For Crosby, it's about splitting the uprights. For Tavecchio, it's about that and more. He has to show enough leg strength to give the Packers reason to believe he can hit from long range on a desperation walk-off try, and that he has the leg to be effective on kickoffs. I don't know how many preseason games the Packers will go before making a decision on the kicking job, but I can tell you they'll be one week closer after tonight, and the clock will be ticking. I don't think this is something you want to take up to the last week of the preseason.
Should we be concerned about team chemistry with the scuffles in practice?
I'm not a big team chemistry guy, Nick. I think great teams develop chemistry from long runs of winning together, but players are being replaced at a greater rate all the time in today's game. How many guys are left on the Packers' roster from the 2010 championship season? Just do your job. That's what I think is important. If a guy does that, I don't need him to be Mr. Congeniality.
Patrick* *from Plymouth, MN
Remember when there was an uproar by fans to sign Nnamdi Asomugha? He had a failed term with the Eagles and is now competing for a backup spot in San Francisco. Any others come to mind?
In the winter of 2012, my inbox was full of demands that the Packers sign Mario Williams in free agency. He signed a $96 million contract with the Bills. Williams has been a controversial figure in the Bills' camp this summer, after leaving the team to seek a second opinion on his sore left foot from Dr. James Andrews, who then prescribed treatment and rest. During Williams' hiatus, new coach Doug Marrone expressed dissatisfaction with the situation. A portion of Williams' offseason was spent attempting to recover an engagement ring valued at nearly $800,000 from his ex-fiance, who then began releasing text messages from Williams in which he described taking pain killers and having suicidal thoughts. Money well spent by the Bills?
PEDs, Vic, PEDs. Sanction players for using them and we'll have the game of football for a long time.
I agree, except punishment must be preceded by detection, and that's where the problem is. The rules for punishing abusers are significant, but the detection process isn't adequate. Avoiding detection only becomes a problem after you've been caught. That's when a violator becomes subject to random testing. Prior to that, testing is scheduled. As Brian Billick said, "If you test positive, you're too stupid to play for me."
Reading that you'll tolerate a mean streak, I am surprised. Having that meanness as part of one's psyche shows mental health problems.
It's not a game for the well-adjusted.
Brandon from White Bear Lake, MN
Vic, I've been a die-hard Packers fan for 28 years. I can honestly say this is the first season I'm truly excited for preseason football, not because it's simply the return of football, but because I'm anxious to watch all of the new guys fighting for a roster spot. I like to think that you had a hand in that.
I'd also like to think I had a hand in your new-found appreciation of the great human drama that'll be playing out in front of us tonight and for the three weeks that follow. The field will be full of desperate dreamers in the second half of tonight's game. Tyrone Walker will be trying to become the next Jarrett Boykin; once upon a time, it was Donald Driver. Brandon Smith, the former wide receiver who desperately decided to convert to cornerback and give it one more shot, will be trying to make the pick-six play he made on the first day of training camp. Giorgio Tavecchio will be trying to kick his way onto the roster of a team that opens the season against the team that cut Tavecchio last year. Every player has a story. That's what makes the preseason worthwhile.
My question is about the Pottsville Maroons, who were the 1925 NFL champions until they scheduled an unauthorized exhibition game and were stripped of the title by the league. Pottsville wants its title back, but I can see why this isn't going to happen. Would you support the NFL scheduling a preseason game in Pottsville in 2025 as an appropriate gesture to the title that got away?
I'd support the NFL giving Pottsville back its title in 2025.
Andrew from Jacksonville, FL
Are you going to have a live chat for the Cardinals game? Those of us far-flung from Wisconsin won't be able to watch the game.
We're going to do something different. Instead of the live chat, we're going to do continual updates. If there's a big play in the game, you'll know about it within minutes of it happening.
I was there when Aaron Rodgers threw that ball into the net. It's the coolest thing I've ever seen.
Then you'll enjoy watching it again. Aaron Rodgers is fun to watch, isn't he?