Noor from Jakarta, Indonesia
Vic, I thought Suh and Fairley were almost a nonfactor. How did the Packers overcome them?
They blocked them. They made them play run so they had to do more than rush, and then they blocked them. Blocking somebody when you have balance in your offense is a lot easier to do than it is when you're one-dimensional. Suh and Fairley weren't able to get into the gaps and focus only on penetration and disruption. The Packers made them move east and west to defense the stretch plays. Then, on pass plays, the Packers interior linemen had the advantage of hesitation. It allowed the Packers to get their hands on Suh and Fairley, instead of having to try to stab at them as they ran by. What we saw yesterday was a beautiful blend of scheme and execution.
Josh from Chillicothe, IL
Who do you see stepping up to pick up the slack if Brad Jones' injury keeps him out?
The injuries at linebacker are going to be the story of the week, and we're not going to get much information, of course, until Wednesday when the official injury report is released. Clay Matthews' thumb is going to be the big story. It'll determine how the Packers deploy their healthy linebackers. Should Matthews be unable to play, would Nick Perry move to right outside linebacker, or would Mike Neal be that guy? Obviously, the Packers are going to have to consider signing a linebacker.
Roddy from Northridge, CA
Not scoring touchdowns could have hurt us big time if our defense was not as stout today. I don't think we gave Lacy enough of a shot inside the 10-yard line. It seemed the defense was ready for the pass in every situation. Your thoughts?
Change is incremental. The Packers are a pass-first team that is forcing itself to run the ball. That's how I see it. I don't think it's in either Mike McCarthy's or Aaron Rodgers' personality to run into a loaded box, or "uphill," as McCarthy refers to it. This team's first instinct is still to throw the ball, but that'll change with time and success in the running game. I wrote about this transition last spring. I said it would come slowly. You don't just flip a switch and become a running team. True running teams have it in their DNA. They wanna run it down your throat. They treat the pass as a sign of weakness. That won't work in today's game, but balance is still king, and I am thoroughly impressed by how quickly and painlessly the Packers have achieved balance. Be patient.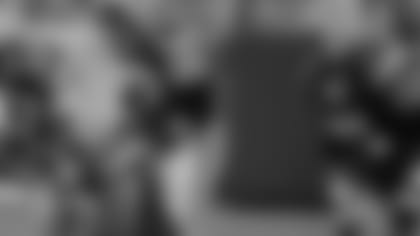 C Evan Dietrich-Smith (62), RG T.J. Lang (70) & LG Josh Sitton (71)
Vic, the fan poll for the day asks, "Who was the MVP of the Packers-Lions game?" Shouldn't Mason Crosby's name be among the finalists?
He had a great game and I think that should be acknowledged. If you're asking me who I think was the MVP of the game, I would say Evan Dietrich-Smith, T.J. Lang and Josh Sitton should share the honor.
I love the commitment to the run. I like the production from the running game. I don't get why they're still throwing on third-and-one. It still doesn't feel good.
"We are a spread offense." That's what Aaron Rodgers said after the game. That is still this team's true identity. The running game is a mask the Packers are wearing. Be patient. If this trend continues, the mask will eventually become the face of this team.
Robert from Coupeville, WA
Perhaps it's just semantics, but why would the Packers care about what other teams think of their identity? I'd rather have it that other teams don't know the Packers' identity; keep them guessing. They'll figure it out eventually and then we can switch it for that game.
You want to win with scheme. You win with execution and every team needs to know who and what it is. It needs to know what it does best because at crunch time good teams always revert to what they do best. That's what I mean when I say good teams don't take what you give them, they take what they want. Don't read that statement into every down and every game. It's meant to refer to those times when you need to make a play. Teams need an identity for themselves, not for their opponents. An identity is a plan that works. It's a plan on which a team can rely. It's not necessary that the Packers identify that plan in October. December is when you want to achieve your identity. It defines hot teams heading into the postseason. Peter from Toledo, OH
Vic, fourth in passing, fifth in rushing. Is this what "look out" looks like to the rest of the league? I love the new identity.
Imagine that; the Packers are in the top five in rushing. Here's what I'd like to know: In their hearts, are they truly proud of that ranking? The answer to that question will determine to what degree the Packers will profit from this amazing gain. If you turn hard to the pass at the first sign of trouble, it'll never be your identity, just an extra thing you do.
Vic, don't get me wrong, I'm all for the identity change and making this a pounding, tough team, however, I still feel like these past two games Rodgers has been a bit unlike himself when throwing the ball. He is still our offense's leader and amazing but it seems he's struggling a bit.
Twenty of 30 for 274 yards, one touchdown, no interceptions and a 106.8 passer rating? That's struggling? You're stuck in 2011, and I remember how that season ended. It's how a season ends that counts. "We're going to continue to let the run game set up the pass. That balance is going to help us out come November and December." – Aaron Rodgers.
Isn't the point of a power running game to run the ball on third-and-one?
Yes, it is. Obviously, the Packers aren't ready to become that predictable.
How can a running back stretch his arm out breaking the plane of the end zone, but have the rest of his body forced out of bounds, be ruled a touchdown, while James Jones' play where he caught the ball in bounds with one foot, broke the plane of the end zone by more than a full stride but stepped out with the second foot, have that ruled incomplete? Did I miss something?
Yeah, I think we're missing something here and it's largely because TV didn't do a good job of explaining it. They brought on Mike Pereira, and I think he went to the heart of the issue, but there seemed to be a disconnect between Pereira and the broadcasters. I think the issue was Jones' first foot. I think it was decided that his first foot down came up off the ground before he had secured the catch. That meant his second foot down was really his first, and the next foot down came down out of bounds. I'm kind of guessing on that; it's what I got out of Pereira's explanation.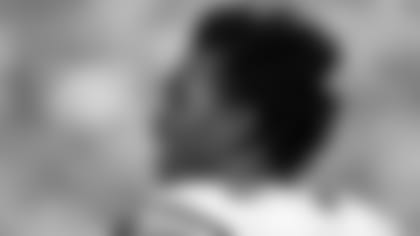 Lions DE Ziggy Ansah
Vic, people talk about halftime adjustments. How effective are these? I had always assumed the coaches had completely scouted out the opposing team during the week leading up to the game, covering every possibility that could happen. Why would they need these adjustments then?
You're being too scientific. It's a game that can be played many ways, and game plans usually include a lot of variations to the same strategies you saw on tape. Here's an example: I saw the Lions use a wonderful pass-rush scheme yesterday that was intended to get Ziggy Ansah free to the quarterback. On an obvious passing down, the Lions overloaded the left side of their line with big bodies. Ansah was stationed as an inside linebacker over a huge gap over the left side of the Packers line. When the ball was snapped, the defensive linemen on the left side snow-plowed that side of the line for the purpose of occupying the blockers, and Ansah then used his speed to loop around behind them unblocked. He was able to get there quickly enough to rush the throw. So an adjustment has to be made. The next time the Lions show that look on defense, the Packers need to pull somebody out to block Ansah. Adjustments need to be ongoing, not just at halftime. You need to get a hat on a hat. After you've done that, you're counting on your hat to win.
51-48? This is really the kind of game the NFL wants to see more of? I fear I won't be able to enjoy the game of football much longer.
It's action-packed and that's what the NFL wants. It's what the casual fan wants to see. I think teams that play that way are taking a terrible chance in the postseason. There's a lack of control in that kind of game. The postseason is about control.
Mark from Stewartville, MN
Vic, were you pleased with Eddie Lacy's performance against the Lions?
I was really impressed with his ability for finding the cutback lanes. I thought he struggled with that early in training camp, but it started to come in the late stages. Yesterday, his vision was superb and he showed a real talent for one-cut-and-go running.
We held the Lions to three points, other than garbage time. The passing game isn't looking as crisp as it could, and Megatron was out, but this win feels good.
This one had me worried. I think my readers might've sensed that in me last week. When I found out before the game that Calvin Johnson was inactive, all of that worry was extinguished. The Packers needed to get to 2-2. It didn't matter how they got there, just get there. The early season is about staying in touch with the competition. It's about positioning yourself for the stretch run. That's when teams define themselves.