Are we about to find out if defense wins championships?
We're about to find out if defense can win a championship. I don't think this would begin a trend.
Bob from Oosterhout, The Netherlands
Are the best teams in the Super Bowl?
Yes, they are. I thought the AFC was weak this season; Denver was clearly the class of the AFC. Seattle and San Francisco were the best teams in the NFC and Seattle won two of the three games between the two teams.
A British friend of mine was amazed that (a London) sports bar was packed with 500 people wanting to watch American football. The crowd was about evenly split between the two teams. Vic, do you think a London NFL team would come about through relocation, or through the addition of a 33rd team to the NFL?
Relocation. I don't think the NFL will expand again for a very long time.
Vic, going back to your days in Jacksonville, you have been critical of Peyton Manning's postseason play. I, and many others, shared your opinion. He played pretty well on Sunday. This late in his career, has he turned a corner, and has not playing over half his games in a dome helped this?
It bothers me that his postseason play hasn't mirrored his regular-season performance. It especially bothers me that he has five one-and-done playoff losses at home. That just shouldn't happen to a great quarterback. This Super Bowl will define Manning's postseason career. With a win outdoors, in the cold and against a powerhouse defense such as the Seahawks', criticism of Manning's postseason play will disappear. He's at the age that this could be his last chance.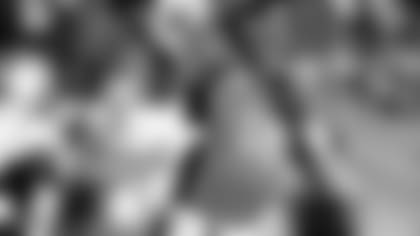 Broncos QB Peyton Manning
I really appreciate Sunday's NFC slugfest. How are the Broncos going to stack up against a punch in the mouth?
They'll try to get the ball out of Manning's hand before the Seahawks can "punch" him. Pete Carroll knows as much and he has the corners to play press coverage and try to make Manning hold the ball long enough for the Seahawks to move him off the spot.
I'd love to see a one-game suspension for Sherman's antics. I would be ashamed if that was a Packers corner acting like a five-year-old.
As I said, it's often difficult to find the off switch for nasty.
Vic, I don't know if you noticed but the interception Kaepernick threw to Chancellor on the sideline route was the exact play that Micah Hyde dropped in the playoff game. Seems like the make-him-beat-you-with-his-arm tactic is right on the money; he comes up short on that throw a bunch, from the games I've seen.
I noticed. It's a honey-hole throw Colin Kaepernick loves to make because he has the arm strength to make it before the safety can get there. The problem is he's throwing it too often. He also stares it down. He later completed the same throw to Anquan Boldin and it was nearly intercepted. Defenses are sitting on it now. Kaepernick's first significant completion in the Carolina game was the same throw. He also loves to make that honey-hole throw mainly to his left. This is the big challenge for Kaepernick going forward. Can he stop staring down his receivers? I know he can make all of the throws, but WILL he make all of the throws? He needs to use the whole field, and if he wants to make that honey-hole throw to the left, he first needs to look to the right.
The consensus appears to be the best player the Packers can draft in the first round would be Ha Ha Clinton-Dix. However, it seems unlikely that a player as highly regarded as he is would drop to 21st in the draft. What would be fair to the other team as compensation for the Packers to give up to get him if he is still available at the 11th-15th pick, or 15th-20th pick?
We're beginning to obsess on Ha Ha. Let's dial it back a little bit and see what happens to Ha Ha at the combine and in his pro day.
Jamie from London, Ontario
Would shrewd cap teams find a way to push money into the current years when they are in a position of San Francisco or Seattle and have a lower-paid QB? How would they do so?
I'm going to assume you mean how would a team make cap room in the current year so they could retain players they might lose in free agency? Let's use the 49ers, for example, because they have to do a new deal with Kaepernick that will eat up a lot of cap room and could cause the 49ers to begin losing players. Here's what they do: They ask three or four core-type players with multiple years left on their contracts and big salaries in the current year to restructure their contracts to convert salary to signing bonus, which would then be amortized over the life of the contract. It pushes money onto future caps and makes room on the current cap to sign Kaepernick now. Do you hear that whistle in the distance? It's the salary cap train and it's leaving the station.
Seth from River Falls, WI
Do the Seahawks have enough offense to keep up with the Broncos? Or do the Broncos have enough offense to beat this Seattle defense?
Or will the polar vortex descend on MetLife Stadium, making it difficult to do much more than run the ball and play defense?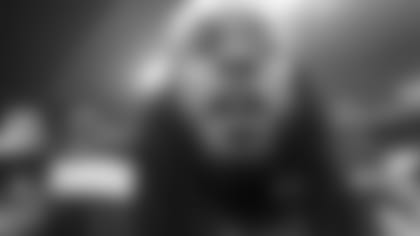 Seahawks CB Richard Sherman
The ironic thing, Vic, is Richard Sherman was a communication major at Stanford; who would have thought? He was also a fifth-round draft pick. Any reason why he fell to the later rounds?
Tony Pauline says Sherman played poorly as a senior at Stanford. It's a crystal ball business and the ball was cloudy on Sherman. It was cloudy on Tom Brady, too. These are the guys that put a team over the top. You have to hit home runs in the late rounds.
Thoughts on the Richard Sherman interview? Absolutely classless.
I think Packers fans worry too much about being classy. You wanna play defense or run a charm school?
If Seattle wins the Super Bowl, does it mean we are back to defenses winning championships?
No, the NFL won't allow it.
Steve from Bullhead City, AZ
Vic, Kaepernick's weakness is having to win games with his arm? It kind of showed in the Seahawks game and was pointed out after the game by Jimmie Johnson.
Vic, Manning said Omaha 31 times in that game and money was involved. I know it all went to charity but I really hope this doesn't become a trend. In-game advertising like that is a slight to the game.
I really don't like this. It rubs me the wrong way.
Vic, where can the Packers find a Kam Chancellor? He looked to be a complete safety against the 49ers.
You find him in places such as the Senior Bowl. Tony Pauline made a point of identifying Keith McGill of Utah as a guy he likes. McGill has Chancellor kind of size. He's a 6-3, 205, corner/safety. I'll keep an eye on him this week. I encourage everyone to read everything you can find about this week's Senior Bowl. It's a week of practice that launched Eric Fisher's, Ziggy Ansah's and E.J. Manuel's moves up the board last year.
Ryan from Platteville, WI
What are your thoughts on potentially eliminating the extra point?
It's only meaningful when a team wishes to attempt a two-point conversion. That's the thinking. I understand the logic.
Larry from San Miguel de Allende, Guanajuato
Chris Borland, the ILB for the Wisconsin Badgers, is writing a blog on the Senior Bowl website. Many say he reminds them of Zach Thomas of the Dolphins. What are your impressions of him, or Tony's?
Borland was outstanding on Monday. I would make him the No. 2 star for the North behind Aaron Donald, who put on a show on Monday that still has me shaking my head. You just don't expect to see a six-foot defensive lineman pancake a 6-5, 340, offensive lineman who was a borderline first-round pick. Everybody Donald faced was pushed five yards into the backfield. The guy was a human bulldozer, and he might be quicker than he is strong. He's here and then he's there, and you can't remember seeing him between the two. I need to see more of him today. What I saw yesterday had to have been a fluke. Borland bears body resemblance to Zach Thomas, but he's a better player. Borland reminds me of an underrated linebacker I covered, a guy named Jerry Olsavsky.