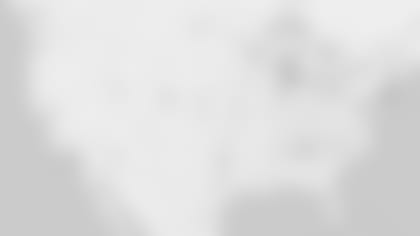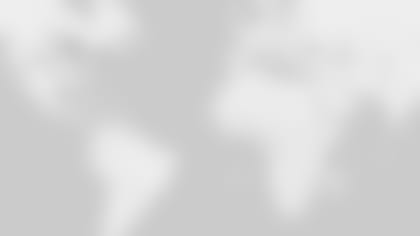 Brian from Albertville, AL
That was hilarious. Aaron keeps us from getting a stud player high in the draft. Aaron wasn't high in the draft.
I like that irony, but if you're trying to make a point with it, forget about it. The Tom Brady, Aaron Rodgers picks are the exception, not the rule. Peyton Manning was a first pick. Eli Manning was a first pick. Terry Bradshaw was a first pick. Troy Aikman was a first pick. So were Jim Plunkett and John Elway. That's 14 Super Bowl titles right there. Look at the quarterbacks in the league right now. Andrew Luck, Matt Stafford, Ben Roethlisberger, Philip Rivers and on and on; they're all high picks. You're not going to make a living picking those kinds of players late in the first round because they're not there. The Packers were blessed with an opportunity to acquire a talent-for-the-ages quarterback late in the first round and, to the Packers' credit, they seized that opportunity. What if they hadn't? Maybe it's time we more fully appreciate the answer to that question.
Vic, thank you for imparting some of your vast wisdom of the sport I love into my daily life. You may not know everything, but please keep acting like you do.
Take a bow, Vic, you're college game to watch last week went into two overtimes. How about this week?
Ohio State vs. Penn State was a much better game than I expected – despite the officiating – but the visual exceeded my high expectations. That might be the best visual in all of sports. It was eye-popping. It was as though I didn't want TV to show the game, just the crowd, and TV did a great job of providing different camera angles. This week, I like Florida-Georgia, and the visual aspect of this game is something I like, too. It's a rivalry game that seldom disappoints, and I like the sight of the sunshine bouncing off the St. Johns River.**
I have been a Green Bay fan since 1960, but I have never seen anything so stupid as the onside kick against New Orleans last week. What possible thinking went on about that?
Probably the same thinking that went into Sean Payton's onside kick in Super Bowl XLIV, and Bill Cowher's onside kick in Super Bowl XXX. They both worked and are now committed to Super Bowl lore. My inbox is loaded with fans that want the Packers to be aggressive. Hey, aggressive has its risks.
Vic, after years of doing the "Ask Vic" column, do you find yourself sarcastically saying, "Oh, great," after the team you're covering loses? Immediately following the game you have articles to finish, but what are your thoughts once you've completed the day's work?
It's about something other than football. That's the truth.
Vic, I don't think it's about the shrimp or the barbeque. Green Bay is not your home. I'm sitting in the same room in Appleton where I listened to the Ice Bowl with my family almost 50 years ago, when Starr scored the go-ahead touchdown. Where were you when Mazeroski connected in the 1960 World Series?
I was in the living room of our home, sitting in front of the TV, a black-and-white Admiral with a picture screen slightly larger than the screen of the laptop I'm using to write this column. The nuns had let us out early to see the final innings of the game. I got home in time to see Tony Kubek take it in the neck and Hal Smith hit his three-run homer. Then the Yankees rallied to tie, and then Maz struck a blow that'll live forever in the picture he signed that hangs on my study wall.
Vic, do you think quarterbacks get too much credit sometimes? I mean they are not successful if they don't have good blockers up front, and wideouts who beat their man and have reliable hands. So I guess my question should be how does Aaron tilt the field? In my opinion, 11 guys tilt the field, not just one.
Try to remember, the days of November.
Steve from St. Charles, MO
No fair catches on bouncing balls, right? Isn't that a reason to use the special technique to kick the ball into the ground right off the tee for onside kickoffs? High bounce, no fair catch.
I agree, let's move on. What will you be looking for when we play the Bears next weekend?
I'll be looking for the energy the Packers will bring out of their bye week and into the second half of the season.
Casper from Odense, Denmark
I was wondering, what would you rather have, a great offensive line or a great running back? Obviously, both are important, but can a great back overcome a bad offensive line and vice versa?
If we're talking about the running game, it's long been my opinion the back makes the line, not the other way around. I would want the great back. He'll find daylight. If we're talking about the passing game, even the best quarterback can't win without pass protection.
"Pick their ribs out of their ear holes." I'm young (28) but have played football from little league to NCAA Division III, and never have I heard this idiom. I get the effect, but could you expound on its history?
Yeah, I made it up. It's not an idiom, it's a Vicism.
Next time you're in a bad mood, you should just have someone else do this column. You're being an arrogant jerk, and quit pretending you played the game and no one else has. No one wants to hear about your playing days. You keep referencing that for your own ego. This isn't interesting at all. It's obnoxious.
A lot of people read it, and that makes Vic very, very happy.
Michael from Waukesha, WI
Vic, it's the bye-week weekend. Things are winding down for a little bit and you at least are getting a little bit of a break, aside from your column and such. Are you in a good enough mood this weekend to hand out some more free gas to a poor college kid trying to get home next weekend?
Vic, let me just ask if you would like to see the Packers bring the rings back on their socks, like in the 1960s?
Yeah, for a throwback game. I'd like to see the Packers design a throwback uniform that incorporates the changes in the uniform down through the years. I'd like to see those socks represent the '60s.
Karl from Albuquerque, NM
Vic, you seem to say our defense is good, but they just had a bad day at New Orleans. On the other hand, you seem to say we need better defensive players (we don't get high enough draft choices for the big guys). Which is it?
I think you're mixing apples with oranges. I wrote that the Packers were playing well on defense through their four-game winning streak, until they went to New Orleans, so I don't want to trash what they had done to date because of one poor performance against what was the No. 2 offense in the league. As for being in the draft order, Chuck Noll was fond of saying, "We don't always like the cards we're dealt, but we never, ever complain about them." It is what it is. The Packers would've picked Suh, but he wasn't there. They would've picked Nick Fairley or Ziggy Ansah, but they weren't there. Nobody is willing to lose to get high enough to pick those kinds of players, so stop complaining. You do the best you can do with the cards you're dealt, and you never, ever complain about them.