*The Green Bay Packers hand out game balls after each victory.
Who deserves such accolades for their body of work during the entire season?
Packers.com analyzes the performances of the team's best players in 2005 and invites you to vote for the Green Bay Packers Offense, Defense and Special Teams MVPs.
Vote for your 'Defensive MVP' in the poll on the left side of Packers.com.
Below is the second of a three-part series.*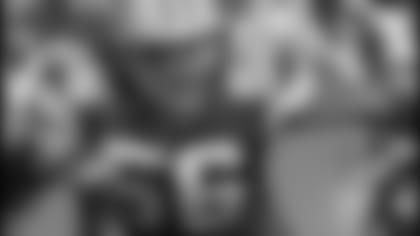 In the 2005 defensive scheme employed by defensive coordinator Jim Bates, the linebackers were supposed to be the centerpiece, roaming from sideline to sideline to make plays.
Barnett made plays -- 194 of them.
In the best season of his three-year career, the middle linebacker set the single-season Packers tackling record. Barnett has upped his tackling production each year, going from 134 in 2003 to 162 in 2004 to 194 this season. He also accomplished something new in 2005 -- his first Lambeau Leap. In Week 5, he returned an interception 95 yards for a touchdown against the New Orleans Saints and culminated the score with the Packers' traditional celebration.
Barnett not only showcased his jumping ability but also his speed. The Packers used him as a spy on fleet-footed Atlanta Falcons quarterback Michael Vick in Week 10. The plan worked. Barnett notched 11 tackles, one sack, two fumble recoveries and helped hold Vick to 24 rushing yards.
In addition to posting high tackle numbers, Barnett served as the anchor of an ever-changing linebackers corps. With starting strongside linebacker Na'il Diggs (knee) limited to eight games and starting weakside linebacker Robert Thomas (quadriceps) limited to 10 games, Barnett worked with a rotating group of outside linebackers, including rookies Brady Poppinga, Roy Manning and four-year-veteran Paris Lenon. Barnett, who never missed a game as a quarterback of the defense, barked out the defensive calls and made sure those players filled the right gaps all season long.
Barnett's 2005 stats: 194 tackles, one sack, one interception, three fumble recoveries, one forced fumble and three passes defensed
---
The rookie from Division I-AA Bethune Cookman started at free safety from Week 1and never looked back.
"They threw him into the fire," said fellow rookie and safety Marviel Underwood said. "Now he's figuring out what to do and how to do it."
The second round draft pick made the transition from college to the pros by quickly picking up the defense. Once Collins mastered the playbook, he could rely on his physical skills. His unique speed and size combination allowed him to play linebacker, safety and cornerback in college. The 200-pound Collins has a 40-inch vertical leap, great range, burst and change-of-direction ability.
Collins best displayed those skills in Week 8 against the Cincinnati Bengals. He collected six tackles and three passes defensed in that game. In the third quarter, he delivered a jarring hit to Bengals Pro Bowl wide receiver Chad Johnson to break up a pass. On the next play, he jumped another pass intended for Johnson and nearly intercepted it, forcing a punt.
As well he played in that game and in the 2005 season, Collins could just be beginning to tap his potential.
Collins' 2005 stats: 96 tackles, one interception, one forced fumble and nine passes defensed
---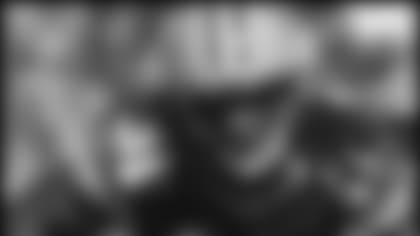 Harris, an eight-year-veteran, had a new role for the first time in his career, but that didn't stop him from putting together his best NFL season.
Head Coach Mike Sherman asked him to cover the slot receiver during passing downs. Harris willingly accepted his new role although it featured a totally different set of reads than his previous position on the outside.
Bates used Harris in another new role in 2005 -- pass rusher. As a change of pace, Bates blitzed Harris on occasion, and the cornerback responded with the first three sacks of his career. On most downs Harris impeded the progress of opposing receivers by using his 6-1, 185-pound build to jam them at the line of scrimmage. His stifling bump-and-run coverage played a major role in the Packers achieving the No. 1-ranked pass defense. He went 13 weeks without surrendering a touchdown
Harris, in his third year with the Packers and as a starting cornerback, earned national acclaim throughout the year. He was voted as an alternate to the Pro Bowl and received plaudits from opposing wide receivers, including Chad Johnson.
"He's ridiculously good," Johnson said. "He doesn't get the notoriety he should ... He's the best I'm going to face this year."
Harris' 2005 stats: 53 tackles, three sacks, three interceptions and 18 passes defensed
---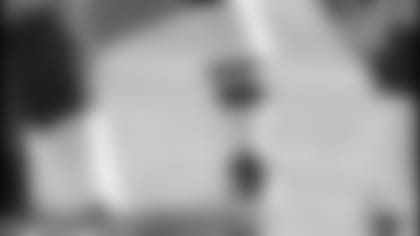 Entering the 2005 season, Jackson had already proven his value to the Packers' defense. The Packers had a 14-4 record with him and a 2-4 record without him. So his offseason knee surgery became a much-talked about topic in Wisconsin.
Jackson's knee prevented him from practicing until Aug. 29, and he showed a bit of rust at the beginning of the season. But once the 345-pounder got up to game speed, he proved to be an immovable force in the trenches. The Packers' defensive scheme in 2005 called for Jackson to occupy blockers, freeing the linebackers to make plays. Many times, however, the nine-year veteran went beyond that, collecting 72 tackles, a very high total for an interior defender.
Jackson also played a crucial role on the Packers' short-yardage and goal line defense. In Week 14, he pushed Detroit Lions center Dominic Raiola backward off of the ball, preventing Detroit from scoring on four opportunities from the one-yard-line.
"It was a team effort, but everything started with Grady," Bates said. "(Quarterback Jeff) Garcia didn't have a chance to get any movement going."
The Packers more frequently rotated their interior defensive linemen in 2005 in an effort to keep them fresh. Jackson played about 30 snaps-a-game, but that did not prevent from serving as a run stuffer all season long.
Jackson's 2005 stats: 72 tackles, one sack, one forced fumble and four passes defensed
---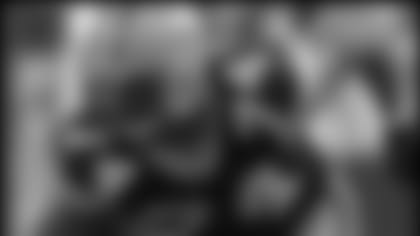 Kampman is the type of player who never wants to leave the field and he rarely did so during the 2005 season.
Harassing quarterbacks on passing downs and pursuing running backs on running downs, Kampman played on 93.6 percent of the defense's snaps. During the offseason he dropped 10 pounds, making him better suited for the Packers' 2005 defensive scheme that had him playing wide and at an angle to the offensive line. In that new role, he responded with the best year of his four-year career. He set career marks in tackles and sacks. Those numbers have improved each year, and in 2005 he set the Packers single-season record for tackles by a defensive lineman with 105.
Kampman's best performance occurred on Nov. 21 against the Minnesota Vikings on Monday Night Football. In the first quarter, he knocked the ball out of quarterback Brad Johnson's arm, forcing a fumble. In the second quarter, he pressured Johnson, grabbing the passer's arm to cause an errant throw and force a punt on the next play. Several plays later he sacked Johnson for an 8-yard loss. All in all, he recorded eight tackles, three sacks, two forced fumbles and a quarterback pressure. That game served as the first multi-sack game of his career and his best game of his best season.
Kampman's 2005 stats: 105 tackles, 6.5 sacks, three forced fumbles and one pass defensed