*The Green Bay Packers hand out game balls after each victory.
Who deserves such accolades for their body of work during the entire season?
Packers.com analyzes the performances of the team's best players in 2005 and invites you to vote for the Green Bay Packers Offense, Defense and Special Teams MVPs.
Vote for your 'Offensive MVP' in the poll on the left side of Packers.com.
Below is the first of a three-part series.*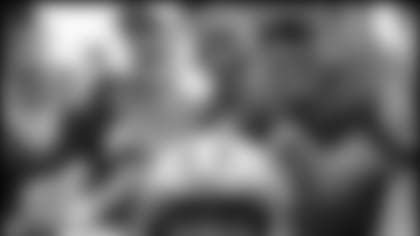 When Javon Walker went down with a season-ending injury in Week 1, Driver had to step up. And he did so with a leaping bound. Serving as Brett Favre's go-to receiver in 2005, he helped compensate for not only the loss of Walker but also Robert Ferguson (knee) and Terrence Murphy (neck). Both players ended the season on injured reserve.
With the Packers' wide receivers suffering so many injuries, Driver knew the team needed him on the field. So he never missed a game despite enduring several wicked shots from defenders
Against the Pittsburgh Steelers on Nov. 6, Driver went up high to catch a pass, but safety Troy Polamalu launched himself at the receiver, earning a defensive pass interference penalty. Driver landed on his neck but stayed in the game. Driver offered another example of his high pain threshold 37 seconds into the second quarter of the Packers' Christmas Day game against the Chicago Bears. He hauled in a 13-yard pass from Favre and received a jarring from safety Chris Harris.
Despite a constantly changing set of complimentary receivers, the courageous seven-year-veteran piled up impressive stats. Driver surpassed 100 receiving yards five times during the season and helped the Packers achieve the seventh-ranked passing offense in the NFL. And he became the fourth player in team history to rack up more than 1,000 receiving yards in three different seasons.
Driver's 2005 stats: 86 catches for 1,221 yards, an average of 14.2 yards and five touchdowns
---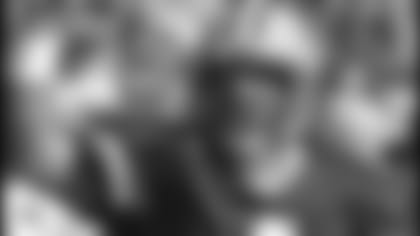 The future Hall of Famer had his share of good and bad moments in 2005.
Throughout the season Favre displayed the arm strength that few quarterbacks possess. He demonstrated that attribute during the last game of the season. With 1:44 left in the third quarter, he rocketed a 59-yard pass to Donald Driver, which traveled more than 50 yards through the air.
Although Favre put up good offensive numbers, including an NFC-best 3,881 passing yards, he also threw several passes he would like to have back. Perhaps trying to force a play for a team that lost many offensive weapons to injury, Favre threw too many interceptions -- an NFL-leading 29 to be exact.
Favre still had several performances that rank on par with any during his 15 years in the league. Against the Carolina Panthers in Week 4, Favre completed 28-of-47 passes for 303 yards, four touchdowns and an interception. He helped steer the Packers back from a 32-13 fourth-quarter deficit with 16 consecutive points. But time ran out on Favre, and the Panthers won 32-29. Favre was just as sharp against the Minnesota Vikings in Week Six, completing 28-of-36 passes for 315 yards and two touchdowns in a 23-20 loss.
It almost goes without saying, but Favre's durability remains another asset. A young Packers team needed him in the lineup for leadership, and he did just that every single week. At an age when most athletes' bodies are breaking down, the 36-year-old extended his NFL record for consecutive quarterback starts to 221.
Favre's 2005 stats: 372-of-607 passes for 3,881 yards, 20 touchdowns, 29 interceptions, a 61.3 completion percentage and a QB rating of 70.9.
---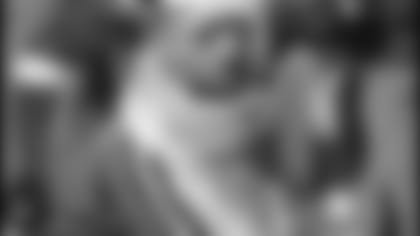 Gado represents one of the best Cinderella stories in the NFL this season. The undrafted rookie free agent went from Packers practice squader to starting running back in less than a month. By arriving early at the stadium to break down film with running backs coach Edgar Bennett, Gado quickly mastered the offense. Once he had the playbook down pat, his combination of strength and speed took over. His emergence helped compensate for the season-ending injuries suffered by Najeh Davenport (ankle) and Ahman Green (quadriceps.)
Gado surpassed 100 rushing yards three times in eight games, including a Packers single-game rookie rushing record of 171 yards against the Lions in Week 14. During that game he broke safety Kenoy Kennedy's tackle and outran the entire Detroit defense down the right sideline for a 64-yard touchdown. Kennedy was not the only defender to have trouble bringing down Gado. The rookie spun out of a tackle attempt by Eagles safety Brian Dawkins in Week 12 to score a 33-yard touchdown.
Despite playing in half as many games, Gado's numbers rank favorably with the NFL's other rookie running backs. Only the Tampa Bay Buccaneers' Carnell Williams, the San Francisco 49ers' Frank Gore and the Miami Dolphins' Ronnie Brown exceeded Gado's yardage total. Gado could have further bolstered his numbers, but a knee injury suffered in the first quarter of Week 14 sidelined him for the rest of the season.
Gado's 2005 stats: 143 rushes for 582 yards, 4.1 yards-per-carry and six receiving touchdowns; 10 receptions for 77 yards, 7.7 yards-per-reception average and one receiving touchdown
---
With the emergence of fullback Vonta Leach, some speculated Henderson would have less of a role in the Packers' offense in 2005. Although Leach split time with Henderson, the 11-year-veteran flourished as a blocker and pass receiver. Because of those efforts, he was chosen as an alternate to the Pro Bowl.
Ranked ninth all time on the Packers receptions list, Henderson served as a valuable outlet for Favre in 2005. Once Henderson hauled in the pass, he showed surprising elusiveness for a 252-pound fullback.
"He's got that knack of making people miss," offensive coordinator Tom Rossley said. "He's got a little shuffle when he gets there."
Henderson best demonstrated that skill during Week 13 against the Detroit Lions. On a third down less than one minute into overtime, Henderson caught a short pass and stiff-armed linebacker Earl Holmes for an eight-yard gain. Seven plays later Ryan Longwell kicked the game-winning field goal.
Henderson's 2005 stats: 30 receptions, 264 yards and 8.8 average
---
On Oct. 9, Tauscher experienced something for the first time in his NFL career -- a holding penalty.
His remarkable holding-free streak came to an end in 2005, but he performed consistently week in and week out. As the right tackle, he nullified several of the game's best pass rushers. He held Philadelphia Eagles defensive end Jevon Kearse and Panthers defensive end Julius Peppers without sacks and helped anchor an offensive line, which allowed only 27 sacks. That mark tied for least sacks allowed in the NFC with the Seattle Seahawks.
Tauscher not only started every game for the third consecutive season, but he also started almost every play. The six-year veteran participated in the highest percentage of snaps on the offense (99.6), missing only four plays all season.
He displayed his skills at another position as well. Lined up as a tight end against the Bears on Dec. 25, he caught a one-yard touchdown pass. A holding penalty negated the score, but seeing Tauscher hurdle the lowest part of the wall into the stands for his first Lambeau Leap served as a highlight of the 2005 season.
Tauscher may have showcased his soft hands, but Bubba Franks does not have to worry. Tauscher remains firmly entrenched as the team's starting right tackle.
Tauscher's 2005 stats: 16 games played, 16 starts