GREEN BAY – Aaron Jones experienced all the nerves and anxiety a rookie running back could expect to feel prior to his first NFL start.
On the eve of Sunday's game against Dallas, however, it was a conversation the Packers' rookie running back had with injured starter Ty Montgomery that helped put his mind at ease a little.
"I just didn't want to make any mistakes. Ty told me before the game, 'Hey, nobody plays a perfect game. If you make a mistake, make it fast – That'll make up for it,'" Jones said.
While Jones admittedly had a few rookie moments, the fifth-round draft pick out of Texas-El Paso put on a show in rushing for 125 yards and a touchdown on 19 carries to power Green Bay's run game during a 35-31 win over the Cowboys.
Montgomery's advice came in handy in the first half when Jones ran the wrong route on a scramble drill. However, he made up for it in catching a diving 9-yard pass to convert on second-and-8 from the Dallas 16 with 1 minute, 6 seconds left in the first half.
On the next play, the 5-foot-9, 208-pound running back followed his blocks perfectly on a 7-yard touchdown run.
Jones finished last week's game against Chicago as the Packers' primary running back after Montgomery (ribs) and fourth-round pick Jamaal Williams (knee) left the game with injuries and didn't return. His 13 carries for 49 yards gave the offense a small taste of the kind of explosiveness he possesses.
"He ran fantastic today, ran hard," right tackle Bryan Bulaga said. "You could see the type of runner he was in training camp and a little bit of that against Chicago. Once he got in there today, you saw it – he runs physical, he's a smart runner and he sets up blocks."
While the touchdown came at a critical time, a bulk of Jones' ground production (12 carries for 98 yards) came in the second half. His nine carries for 71 yards in the third quarter, including a season-long 22-yard effort, helped key two scoring drives.
With Dallas overloading its secondary, Jones came up with a clutch 15-yard carry on the Packers' game-winning drive in the fourth quarter. He not only ran the ball to the Dallas 32, but also managed to get out of bounds to allow Green Bay to hold onto its final timeout.
The performance was no surprise to Packers receiver Davante Adams, who has been a big fan of Jones going back to when the Packers first came together in the spring.
"That's my dark horse," Adams said. "I've been saying that since OTAs. People didn't want to listen, man. I'm like Ted Thompson-Belichick when it comes to scouting talent out here. That's my dog. He's a reliable guy and a good kid."
It's been a fast introduction to the NFL for Jones, who was a healthy scratch in the Packers' regular-season opener against Seattle a month ago.
"You dream of something like this," said Jones, who had many members of his family in attendance. "As the third back, you're waiting on your time, your time. Coaches just kept telling me to stay prepared, stay prepared, your time's coming. It finally came and I'm glad it was in Texas."
Randall's timing: When the Packers' defense needed a big play in the fourth quarter, Damarious Randall came through with a game-changing interception return for a touchdown against Cowboys quarterback Dak Prescott.
With the Packers trailing 24-22 with a little more than 10 minutes left in the game, the third-year cornerback caught a pass that deflected off the shoulder of Terrance Williams and returned it 21 yards to give Green Bay a 28-24 lead after the failed two-point conversion.
"It felt great," Randall said. "Scoring points on defense leads to a lot of wins. That is what our coaches have been preaching."
It was Randall's first pick-six since intercepting Oakland quarterback Derek Carr in December 2015 as well as a step in the right direction for the former first-round pick after being sent to the locker room against Chicago a little more than a week ago.
"We expect that out of 'D.' 'D' is a good player," said cornerback Davon House. "The guy has nine picks now in two-and-a-half years. I expect him to get four more this year. He finds a way to be around the ball kind of like how Casey (Hayward) was. He's just a ball magnet."
House, in his first game back from a quad injury, wound up playing more than he expected due to rookie cornerback Kevin King leaving in the first half with a concussion. The Packers also finished the game without safety Morgan Burnett (hamstring).
"I felt all right. I played hurt, but I do it for my team," House said. "When Kev went down, I told myself there was no way I can come out. We had a game plan going in with me, but once Kev went out, it was like, 'All right, I have to go.' There was no coming out when you're tired or anything like that."
Pivotal punt: One of the primary factors contributing to Randall's touchdown was rookie punter Justin Vogel and gunner Jeff Janis contributing on a 59-yard punt to Dallas' 12-yard line.
It was only Vogel's second punt of the afternoon, but his hang time matched with Janis' speed led to the 6-foot-3, 219-pound receiver tackling Cowboys returner Ryan Switzer for a 1-yard loss on the play.
"Obviously you want to flip position as far as you can hit it," Vogel said. "The scenario, we had a lot of momentum from that. The defense came out with a lot of energy with (Dallas) pinned back and then two plays later we got a pick-six. That's always a great asset to have."
The play helped take some of the sting out of the special-teams unit missing extra points after the Packers' first two touchdowns in the first half.
"It was just a little out of rhythm," said Vogel, who holds for kicker Mason Crosby. "We'll have to look at the film with the coaches and see exactly what we have to fix and adjust."
Toughing it out: Bulaga returned to his starting post at right tackle after sitting out against Chicago with the ankle injury he aggravated against Cincinnati two weeks ago.
Tasked with helping control the NFL's leader in sacks, DeMarcus Lawrence, Bulaga played every snap and helped keep the pocket clean for Rodgers to lead the Packers' second-half charge.
"It felt fine," Bulaga said. "There's pain in it, but you just have to deal with it. That's kind of the way it goes. Once the adrenaline is going a little bit, you don't feel it as much. But I'm sure in about an hour or tomorrow I'll feel it a little bit more. You do what you have to do."
The Packers were again without starting left tackle David Bakhtiari for the fourth straight game. Lane Taylor made a second spot start in Bakhtiari's place, with Justin McCray filling in for Taylor at left guard.
Bobsled time:** Jordy Nelson isn't known for elaborate touchdown festivities. The veteran receiver is more apt to shake the hands of teammates and run back to the Packers' sideline than do anything too out of the ordinary.
However, Nelson did have a hand in the bobsled celebration the Packers' receivers did after Davante Adams' first-quarter touchdown. "We've all had input," receiver Randall Cobb said. "This last one was Jordy's idea, surprisingly. He came up with the bobsled. It was fun."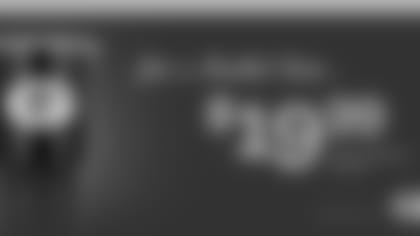 Just $19.99 with in-store purchase!