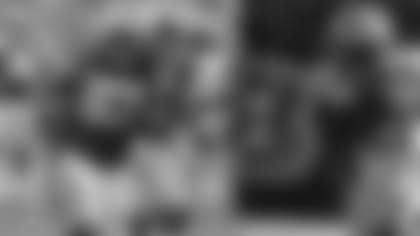 Rookie RBs Eddie Lacy (27) and Johnathan Franklin (23)
GREEN BAY—If the Packers keep running the ball like they have the past two games, defenses will be forced to respect it.
That will be evident when an eighth defender, presumably a safety, begins regularly creeping down into the "box," the area between the defensive ends and within a few yards of the line of scrimmage.
That eighth guy, however, hasn't yet caught quarterback Aaron Rodgers' eye, at least not often enough.
"He's still kind of off in the distance a little bit," Rodgers said on Wednesday, cracking a smile.
Rodgers was smiling, of course, because he would welcome getting a closer look at that safety. It would obviously open up more throwing lanes for one of the league's most potent passers.
That's the cat-and-mouse dynamic that will define where the Packers go on offense from here. With more than 300 rushing yards in their last two games, the Packers are confident in their ability to run, and the fact that it hasn't mattered which running back is getting the ball underscores that confidence.
The Packers have posted back-to-back 100-yard rushers after going 44 regular-season games without one, and neither of the two guys – James Starks and Johnathan Franklin – who hit the century mark carries the label of No. 1 back. That's rookie Eddie Lacy, who returns this week from a concussion.
"It says something about everybody," left guard Josh Sitton said. "We've made it a point of emphasis this year. We've tried to get better at it and we have. The backs are doing a lot of good things, the line is doing a lot of good things. We're communicating really well right now."
The ground game started to find its legs in the fourth quarter of Week 1 at San Francisco, when Lacy pounded out 26 yards on five carries to key a go-ahead touchdown drive.
But Lacy suffered the concussion on a helmet hit on his first carry of Week 2 vs. Washington, a 10-yard burst. Starks stepped in and rushed for 132 yards on 20 carries against the Redskins, adding another 55 yards on 14 attempts in the first half at Cincinnati in Week 3.
Then Starks departed with a knee injury and in came the rookie Franklin to rip off 103 yards on 13 carries, including a 51-yard scamper, the team's longest run since Brandon Jackson's 71-yarder back in Week 5 of 2010.
This week, with Starks already ruled out due to his knee, it will be Lacy and Franklin carrying the load against a formidable Detroit front, anchored by the defensive-tackle tandem of Ndamukong Suh and Nick Fairley.
"Those guys all offer a different dimension with their style of runs," Rodgers said of the backs. "I think the future is bright for those guys running the football, and we have to keep finding ways to give them opportunities."
Continued production will accomplish that, though it's tough to pinpoint a single reason for the obvious improvement.
Rodgers was quick to credit the offensive line for "opening up some big holes," but Head Coach Mike McCarthy wasn't about to discount the work of the backs themselves.
He told a story from 1993, his first year as an assistant coach in Kansas City, when Jimmy Raye – then the Chiefs running backs coach who has served as offensive coordinator for multiple NFL teams – wrote on the board in the meeting room that "the production of the run game is directly related to the runner." Kansas City's top back then was a Hall of Famer, Marcus Allen, but the point was still clear.
Starks has always flashed big-time ability when healthy, but the additions of Lacy and Franklin in the draft have upgraded the position as a whole in McCarthy's mind considerably.
"I look at running back really the same way you look at the quarterback – they're decision-makers," McCarthy said. "They have to run through the right hole and set the blocks. Good runners make the run-blocking unit better. That's a fact."
It's also a fact that a little more than two games doesn't prove a team can run the ball consistently. Detroit's defensive line will provide a legitimate test, though the Lions have allowed two long TD runs against NFC North foes already this season. Minnesota's Adrian Peterson went 78 yards on Detroit's first defensive snap of the season, and Chicago's Matt Forte took one 53 yards to paydirt last week.
No doubt the Packers have studied those plays, and the guys up front will look to create similar creases. Meanwhile, Rodgers will be looking at that safety.
"You take it week by week," right guard T.J. Lang said. "If we go out this week and lay an egg, nobody is really going to remember the last two games.
"We understand we have to keep building on it, make sure we're consistent with it, before you can really say that we're dominant running the ball. You have to make sure you're building on each performance." Additional coverage - Oct. 2