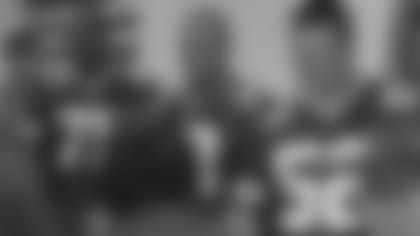 Along with President/CEO Mark Murphy (far left), Super Bowl XXXI alumni Santana Dotson (71), Aaron Taylor (73) and Frank Winters (52) meet the cadets at the Wisconsin ChalleNGe Academy on Friday.
GREEN BAY—With stops at a children's hospital, a school for the deaf and a seniors Bingo game, the 2013 Tailgate Tour has found different perspectives on life around every turn.
Friday afternoon provided yet another.
The latest visit was to the Wisconsin ChalleNGe Academy at Fort McCoy, a National Guard program (signified by the capital NG) for at-risk teens in the state. The Academy gives its 100-plus cadets the opportunity to earn a high-school equivalency degree and learn job skills that, hopefully, will keep their lives on the right track.
The message to the cadets from the Packers contingent of current and former players – receiver Randall Cobb, cornerback Jarrett Bush and running back Alex Green, along with Super Bowl XXXI alumni Aaron Taylor, Frank Winters and Santana Dotson – was to find a personal avenue of success and focus their energies on it.
"They're beautiful kids that had some challenges but have the potential to be great at something," said Taylor, who spoke by phone with packers.com as the Tour bus was heading toward Tomah for Friday night's tailgate party.
"It might not be professional football like it was for us, but they all have the potential to be great at something. Unfortunately, they don't all come from backgrounds that are supportive of that, but that's where I think the ChalleNGe Academy came in."
Staying on that path can be even more difficult than finding it, to which Taylor attested in the story he shared with the cadets. An All-America guard and first-round draft pick out of Notre Dame in 1994, Taylor's first NFL season was lost to a knee injury on the third day of rookie minicamp.
He recovered to start every game in 1995 before an injury to his other knee in the first playoff contest knocked him out of the Packers' run to the NFC title game. Taylor admits he lost his way for a while.
"I felt like I didn't matter, and I had to rally to overcome that, and then to have it happen again a year later in the playoffs, I was devastated," he said. "I handled it the best I could with what I had. At that time it was drugs and alcohol, and I didn't make the best choices.
"We all have some things in our lives we need to be able to let go of to be free and get where we want, and I think that story resonated with a lot of folks."
One night earlier, the Tour achieved another first when it crossed state lines, holding a tailgate party across the Mississippi River in Dubuque, Iowa. The Grand River Center was packed and featured the largest crowd of the tailgate parties thus far.
The energy and enthusiasm was such that the Tour contingent might as well have been just down the street from Lambeau Field. Following Friday night's stop in Tomah, the Tour will conclude with its final tailgate party in Wisconsin Rapids on Saturday afternoon.
"The Green Bay Packer fans in Dubuque are no different than the ones in Ashwaubenon or the ones that are probably in Japan," Taylor said. "Packer fans are Packer fans. That's the commonality.
"This Tour we're on, it's something that bridges the gap. It bridges the gap between former players and current players, and between Iowa fans and Wisconsin fans."
It's also been a heck of a trip down memory lane for Taylor, who played just four years in Green Bay (1994-97) but started at left guard in consecutive Super Bowls.
A college football analyst for two different networks over the past several years, Taylor is still involved in the game, but he said the chance to re-connect with the fans has been special. Having dealt with so many injuries in a playing career that was cut too short, Taylor has gained a new perspective in that regard as well.
"This does not exist anymore out in the real world, so it's almost like we get to relieve the glory days in a time warp and go back," he said. "With the benefit of hindsight I'm much more humble about how dang lucky I was to have been with the Green Bay Packers organization. Had I been drafted one spot higher or one spot lower, I wouldn't have a Super Bowl ring, so luck has a tremendous amount to do with what my experience has been.
"I find I'm much more grateful now. Not that I was ungrateful then, but my perspective was limited. I'm much more grateful now." More from the Tailgate Tour