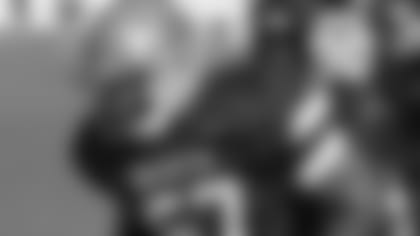 DE Datone Jones runs a drill at the Senior Bowl in Mobile, Ala.
GREEN BAY—It's a process that begins for media and fans every year at the Senior Bowl. The scouts have already been long at the task of evaluating and ranking the prospects, but each year's draft class doesn't begin to come into focus for the rest of us until the NFL season heads into its conference title games and the rest of the league turns its attention forward.
The Senior Bowl is where we reconvene with draft guru Tony Pauline, and at this year's Senior Bowl Tony was quick to point out one of his favorites in this year's draft class, Datone Jones.
"Can he play end in a 3-4?" the question came.
"I think he can," Tony said.
"He looks like a 4-3 end," was the response.
"He's got the frame to add size. He plays like a 3-4 end," Tony said.
It was one of those seminal moments. It was as though a little voice was saying, "That's their guy."
Three months later, Jones is, in fact, the Packers' guy.
"He's a good athlete, solid player," Pauline said when asked to evaluate the Jones pick and the Packers draft overall, three days after General Manager Ted Thompson closed out the draft with a flurry of picks.
"It may take a while for him to fit, only because of his size. He should be able to play two-gap end at the next level. It's just a matter of him getting stronger and learning NFL technique," Pauline added of Jones.
What about the rest of them? Start with Lacy.
"Great value. A player a lot of people thought they would've taken in round one," Pauline said, Lacy having been Pauline's pick for the Packers in his mock draft. "There's nothing not to like about the pick. Even if he doesn't pan out, you can't blame them for taking Lacy there."
How about Johnathan Franklin? Two running backs?
"He's the guy I think they would've taken in the second round if Lacy had not been there. He's the anti-Lacy. He's more creative, better pass catcher. He has the ability to get to the perimeter. When they got to the fourth round, they said we'll take him, too, and we'll have our top two running backs."
Here's what Pauline has to say about the rest of the Packers draft class.
David Bakhtiari—"Interesting pick. He's a little short for a left tackle but he has the athletic ability, he has the footwork. He could play guard."
J.C. Tretter—"He was a left tackle. He's more of a guard at the next level. He's an intense guy, he's a smart guy. I see him more as a backup at the next level."
Micah Hyde—"I like Micah Hyde. He's not a terrific athlete, he's not a burner, but he's got terrific ball skills. He's very underrated."
Josh Boyd—"Most people projected Boyd as a three-technique tackle. He was great as a junior and then Fletcher Cox left and he struggled last year. He's a solid player, I just don't know what they're going to do with him. I guess they're going to use him as an end, so he'll have to learn the position."
Nate Palmer—"He's 3-4 outside linebacker. He's got some pass rush skills, he just doesn't have size. He's very good up the field. Very quick, can change direction. Not just a straight line guy."
Charles Johnson—"He came on late. He's a solid player. He has great size and he ran well at his pro day. He catches the ball well. The level of competition means he has to take a massive step up."
Kevin Dorsey—"Dorsey was very good as a junior. His play fell off a cliff last year as a senior. He has decent size, good hands. Based on his 2011 film, he looked like a prospect."
Sam Barrington—"He's a better player than he is an athlete. He can do everything. He's a three-down defender. You can use him in coverage. He's good against the run. He just doesn't have the great size, speed, strength numbers."
Pauline gives the Packers' draft his seal of approval and sees Jones, Lacy and Bakhtiari as potential starters. Franklin has starter potential but, of course, he has Lacy in front of him.
"They don't have a lot of holes on their roster, but they got potential starters and a lot of situational players," Pauline said.
The Packers also got the player that, three months earlier, Pauline called to the attention of the friend with whom he reunites in Mobile every year.