GREEN BAY – There are hard roads to the NFL, and then there's the one Devante Mays took.
It was littered with pitfalls that could have ended his football career before it really began, rough spots that were overcome by perseverance, faith, an unfailing passion for the game, and a Good Samaritan family that has become as much Mays' own as the biological one he also loves.
"The NFL was always what drove me," Mays told packers.com in a one-on-one interview during rookie orientation. "I just never gave up, just kept pushing, kept grinding, and when I made it, everything had paid off.
"But still now, it's hard to believe."
Truer words have rarely been spoken, but the proof didn't come from Mays. The quiet, reserved running back and seventh-round Green Bay draft pick didn't share much about his story himself.
He simply dropped a name, that of an assistant coach of his at Livingston High School in Texas, who helped get his football career on track, and one phone call brought the bulk of a remarkable, climb-the-mountain story to light.
---
It starts with Mays' senior year at Livingston, about 60 miles north of Houston. He was off to a gangbusters start, averaging better than 10 yards per carry in leading the Lions to a 5-0 mark.
But a nasty foot injury early in the sixth game cut a promising season short, and his absence from the field combined with non-qualifying status academically left the recruiting trail bare.
Mays' best and really only option was Tyler Junior College, about two hours north of Livingston, and he ran for a 15-yard touchdown the first time he touched the ball there.
But an off-the-field incident that might have been brushed off at other places with a minor suspension violated a strict code at Tyler and led to Mays' dismissal from the school.
Football was all but over. Mays took a construction job near Houston in the spring and came back in the summer to take junior college classes at a satellite campus in Livingston.
Then one fateful day he was back at the high school field house, working out with a friend, when a chance encounter with his old running backs coach, Norris Taff, changed his life.
Taff, who was there to simply monitor the open gym, knew Mays well. He remembered his high school nickname, "Bull," that stemmed from his running style. Taff had heard through the grapevine about what happened at Tyler. Checking in on the latest with his former star, Taff listened, and soon was looking him dead in the eye.
"He said, 'I want to get back into school,'" Taff recalled the conversation starting. "I said, 'Do you want to play football?' 'Yeah, coach, I want to play football.' I said, 'Devante, do you really want to play?' 'Yes, coach.'
"OK, let me go make some phone calls."
Taff proceeded to call every junior college in southeast Texas to try to get Mays another shot. No one was picking up or returning calls, not when reclamation projects in a football-mad state are a dime a dozen.
Taff finally reached a coach on the other line, Ronny Feldman from Blinn College in Brenham, Texas, only to get the expected reticence even though Feldman had actually heard of Mays.
"I said, 'Coach, this guy's a player,' and he said, 'Coach, I get 100 of these calls every day, people telling me this and that. You're lucky I answered the phone,'" Taff said.
Fortunately, Feldman invited Mays to an upcoming scouting combine at Blinn, and Taff was able to take him.
"It's June 2013, and it's 108 degrees that day in Brenham," Taff said. "I thought there'd be a couple hundred kids, but there's about 800, and about 70 or 80 running backs.
"But none of them looked like Devante."
Mays ripped off 19 reps of 225 pounds on the bench press and clocked a 4.5 in the 40. Feldman asked him to come back to school, and he redshirted that fall while getting his grades up.
---
Meanwhile, Taff's assistance was evolving beyond phone calls and transportation into more of a lifeline. Along with wife Julie and stepson Zach, Taff espoused the family's strong faith and just kept doing what seemed right, helping someone in need.
While Mays was in high school, Taff knew some details of his difficult upbringing. As they reconnected that one day at the Livingston gym, Taff could sense that while Mays was very close with his family, especially his mother, Elwanda, he was a young adult basically on his own, with practically nothing to his name.
Inviting Mays for a home-cooked Italian meal with Julie and Zach laid the foundation for an additional support system and began forging a strong bond. Over time, Julie went from "Mrs. J" to "Mama J," and Zach became much more than a video-game buddy to Mays.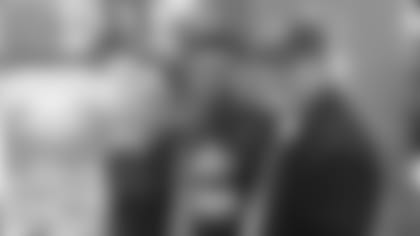 "All he needed was somebody to believe in him, and somebody to support him," Taff said. "We just didn't want to see him fall through the cracks. I knew how good he could be, and I just wanted someone to give him a chance."
More potential setbacks loomed, though. Feldman was replaced at Blinn, and in 2014 Mays was buried on the depth chart in a pass-happy offense that featured current Texas A&M quarterback Jake Hubenak and star receiver Dede Westbrook, a junior college All-American who would go on to Oklahoma and was just drafted in the fourth round by Jacksonville.
Unable to reveal the workhorse back he knew he could be, Mays grew so discouraged he wanted to quit.
"I told him, 'No, you're not quitting,'" Taff said. "He was frustrated. 'Coach, it's not for me. I'm not getting to touch the ball.' I said, 'No, you're not quitting.'
"I said, 'Something's gonna happen.' And sure enough, two running backs get kicked off the team, so the last few games he's basically the only running back Blinn has, and he gets a lot of good tape."
With help from Blinn head coach Keith Thomas, a tight end on Barry Switzer's national title teams at Oklahoma in the mid-1970s, Mays' film of 557 rushing yards and three TDs in six games caught the eye of (then) Utah State special teams coordinator and running backs coach Dave Ungerer.
Invited to visit Utah State by Ungerer, Mays "fell in love with the place," the running back said, seizing on yet another chance. "The mountains and the scenery, the coaching staff reaching out to me.
"I had some more interest, other options, after I took the visit there, but I had made up my mind that was the place I felt was best for me. I didn't take any other visits."
---
Logan, Utah, was a long way from Texas, literally and figuratively. Taff said Mays was "like a lost puppy" at first, homesick and trying to find his way.
The Taffs' unconditional support, emotionally, financially and otherwise, helped keep him going. Taff was his sounding board about football, Julie about life.
Julie texted him Bible verses every morning (and still does). They bought him clothes. They even ordered Domino's pizza to be delivered to his room when he'd call and mention being hungry.
Early on-field success helped, too, as Mays busted a 39-yard run on his first Division I rushing attempt. The Taffs also traveled to a few games while Mays settled in as the Aggies' leading rusher, with 966 yards (5.9 avg.) and nine touchdowns in 2015.
The Taffs were there in Boise, Idaho, for Mays' 12-carry, 124-yard effort in a tough two-point loss to Akron in the Idaho Potato Bowl, and they walked out onto Merlin Olsen Field at Maverik Stadium with him last fall for senior day, even though he was hurt and couldn't play.
They were also in Los Angeles for the second game of 2016 against USC, when Mays hurt his knee, the aforementioned injury he tried to come back from, unsuccessfully. He never fully recovered in-season.
It was like high school all over again. He wasn't on the field enough to make the most of his talents as he finished his college career, leaving his future – in this case his pro prospects and draft-day fate – very much in limbo.
Mays, who graduated with a degree in interdisciplinary studies, with an emphasis in health and wellness, credits both of his families for keeping faith in him all along. Elwanda would hug the Taffs and thank them for everything whenever she saw them. They're forever a piece of his family, and he's forever a member of theirs.
Mays had a few pre-draft visits, including one to Green Bay. He brought back a Packers hoodie for Norris and a cap for Julie. She could only wonder, and remember.
"I was driving him to Blinn one time and I said, 'Devante, I had a dream about you,'" Julie said. "'I had a dream you were going to the NFL.' He asked, 'Who was I going to play for?' I said, 'I don't know that, but you just watch. You believe.'
"He said, 'Wow, Mama J, that's too cool.'"
---
Mays didn't watch any of the draft until the third and final day, back home near Livingston with his mom and other family members. He figured he might have to go the rookie free agent route, but he wasn't giving up hope.
"Every time they'd get ready to announce a player, I would kind of hold my breath, thinking I'd get called, but eventually they'd say another name," Mays said.
He was contacted by the Jaguars near the end of the sixth round, but they just mentioned negotiating a deal if he wasn't selected. In the seventh round, Indianapolis phoned, but same thing.
"I was like, OK, I've got another option, but then a little bit later, Green Bay called, and someone said, 'Are you ready to be a Packer?'" Mays said. "I was so excited. My mom started crying, and my brother was running around."
Emotions were running no less high 35 miles away at the Taff household.
"I was hooting, hollering, crying and laughing," Julie said. "I told him, 'I knew it.'"
Mays visited the Taffs the next day, going to church and out to eat with them. That afternoon, Julie noticed her garden was in full bloom, with green and gold plants amidst similarly painted rocks – work she had done before the draft.
"There's something to that," she said.
---
Mays was pick No. 238, the 25th running back out of 30 selected, but none of the stats mattered at the moment. He was in the NFL. He had reached a goal that seemed so far away so many times.
"We're just on cloud nine," Taff said. "It's just been an amazing ride.
"The big story is not so much what we did but his perseverance, how nobody believed in him, all these schools and all these coaches, but he believes big. I've always told him you belong. You have to believe you belong. That's our mantra."
A simple text message "BB," for "Believe Big," continues to go back and forth regularly between Mays and "Mama J."
The Taffs are hoping to come to Green Bay during training camp, when the 5-10, 230-pound Mays will be immersed in an intense depth-chart battle at running back with two other draft picks and two undrafted rookies. There will only be so many roster spots behind incumbent Ty Montgomery.
Taff knows the fierce competition his former pupil and now surrogate son is up against, but he's going to continue to believe.
"Pound for pound, there aren't going to be too many guys stronger than he is," Taff said. "He loves the weight room, loves to work out. All he wants to do is play football.
"When he's well, he's hell. He's a Go Daddy."
---
Mays keeps a lot of this background to himself. As rookie orientation wrapped up, he made a point to thank a lot of family members and coaches who helped push him and motivate him along the way.
The sentiment is genuine, if incomplete. All he volunteered specifically about Taff was, "He's like a dad to me, always been there for me."
His understated manner is just Devante's way to the Taffs, who didn't tell close-to-all in an hour-long phone conversation in search of any personal recognition or to put out feelers for a sequel to "The Blind Side." They did so as an expression of love for Mays and the desire for others to know the soft-spoken young man as they do, and all he's overcome.
"Don't take his quietness as ignorance. He's very smart and very intuitive, and his faith is very important to him," Taff said.
"Give him a Madden and get him his Bible and his playbook, and that's all he needs. He's very spiritual and humble, and in a lot of ways he's so innocent, because he's never had anything."
Except a story well worth rooting for.