GREEN BAY—Eight years and three days after his agonizing wait to get drafted, Aaron Rodgers will always be motivated by what he was forced to endure before he ever donned an NFL helmet.
Even signing a five-year contract extension that reportedly makes him the highest-paid player in the NFL isn't going to change that.
"I have a good memory and I'm driven to be the best," Rodgers said on Friday to a large media gathering inside the Packers locker room following the announcement of his new contract. "Obviously there's a couple less critics out there now, but I still put a lot of pressure on myself to achieve the goals I set for myself every year and enjoy trying to meet the challenge those goals bring and also opposing teams bring."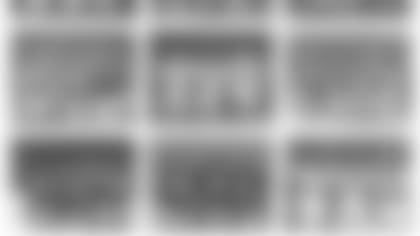 It's only fitting that Rodgers signed the historic contract during the draft. His own draft day instantly became a watershed moment in his career after mysteriously falling to 24th pick. All he's done since then is win a Super Bowl, a Super Bowl MVP and a league MVP, making Green Bay's transition from a legendary quarterback one of the most successful in league history, on par with the one Rodgers watched growing up in northern California, as San Francisco passed the torch from Joe Montana to Steve Young.
This is the second contract extension Rodgers has received since the Packers drafted him with the 24th overall pick in 2005. The other came just halfway through his first season as a starter.
"Eight years ago the Packers took a chance on me on this weekend, took a chance on me again in 2008 after seven games, and I'm excited to know that my future is here, and I'll be here for a lot longer," Rodgers said.
The extension adds five years to the two years Rodgers had left on his current deal, meaning he'll be under contract with the Packers through 2019.
It's the second mega-deal the Packers have negotiated this month, having made linebacker Clay Matthews the league's highest-paid player at his position two weeks ago.
Like Matthews, Rodgers said he likes the direction the Packers are heading despite disappointing playoff losses in the divisional round each of the last two years. He's putting his trust in the front office to maintain a competitive and championship-caliber roster in the face of the salary-cap challenges a contract like his can present.
"There's an expectation that guys like myself and Clay are going to continue to take advantage of the leadership opportunities that we have," Rodgers said.
"I like our team. I like where we're at. Obviously there was some discussion about not doing a whole lot in free agency, but like I said, this seems to be the Packer way, where you draft a guy, you raise him up in your system, and you pay him."
Packers President/CEO Mark Murphy, who answered a few questions from reporters after Rodgers, gave credit to General Manager Ted Thompson and Vice President of Football Administration/Player Finance Russ Ball for putting together a deals that keep premier players like Matthews and Rodgers in house without compromising future flexibility.
"To be able to structure it in a way where we're able to pay them the market rate and still be able to compete financially I think was key," Murphy said. "I think they were able to do it in a way that's good for both of those players and the organization."
Rodgers recently said that now that he's been in the league for eight years (five as a starter), he believes he has at least eight years left in his body to play the game at a high level.
That would take him beyond this newest contract, but he's not concerned about that now. Already the longest-tenured Packers player on the current roster, Rodgers said he appreciates the relationship he has with his teammates first and foremost, and the respect he has earned from them along the way.
The new contract and the status that comes with it is another sign of respect, but Rodgers doesn't look at it strictly that way.
"For me it's about the responsibility that comes with the opportunity I've been given and trying to make the most of it," he said.