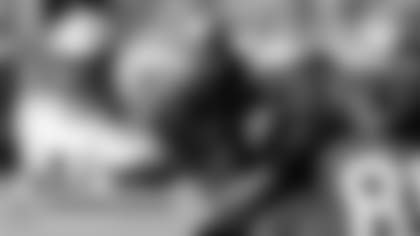 San Francisco 49ers WR Anquan Boldin runs from Green Bay Packers CB Tramon Williams. VIEW PHOTOS
SAN FRANCISCO – This time at Candlestick Park, it wasn't a young, rising superstar quarterback who was the toughest customer to handle.
It was a veteran receiver who's now Colin Kaepernick's new favorite target.
Anquan Boldin torched the Packers for 13 receptions, 208 yards and a TD in the 49ers' 34-28 victory on Sunday in the rematch of last January's NFC divisional playoff. The big, physical pass catcher worked the sideline and the middle, making leaping catches and one-handed grabs as the Green Bay secondary missed cornerback Casey Hayward and safety Morgan Burnett, who were out with injuries.
Tight end Vernon Davis did his share of damage, too, with six catches for 98 yards and two scores, but the Packers knew he'd be a tough matchup. He always is.
To think the 49ers got Boldin for nothing more than a sixth-round draft pick from the Super Bowl champion Ravens. He was the difference.
"Hell of a deal," cornerback Sam Shields said.
Already having a huge game, Boldin broke the Packers' back with two clutch plays late in the ballgame.
Two plays after the Packers had taken a 28-24 lead, Boldin found all kinds of space along the right sideline for a 43-yard catch and run, setting up the go-ahead TD with just under six minutes left.
Then, with the Packers needing one more stop with three minutes to go, Kaepernick rolled right and found Boldin for 15 yards to convert a crucial fourth-and-2 that led to a final field goal.
Unlike the playoff game eight months ago, the Packers held the 49ers running game in check (2.6 yards per carry on 34 attempts) and didn't let Kaepernick beat them with his feet (22 yards rushing). But Boldin was the go-to guy for whom the Packers had no answer.
"They just found holes," cornerback Tramon Williams said. "They have a quarterback that can extend plays. Those things happen."
Boldin was responsible for just over half of Kaepernick's 412 passing yards. The QB's 129.4 rating was superb and featured numerous explosive plays. Boldin caught three passes for 22 yards each, plus one for 30 before the two big grabs late. Davis added a 20-yard TD and a 37-yard catch.
"We gave up too many big plays," linebacker Clay Matthews said. "Give the credit to the quarterback, he made plays when he needed to."
One of the few times Kaepernick tried to run, Matthews took him down with a hard, late hit out of bounds near the goal line that led to a confusing situation after San Francisco left tackle Joe Staley took exception to Matthews' hit and was called for unsportsmanlike conduct after the play.
They were ruled offsetting fouls, giving San Francisco a replay of third down, which resulted in a TD over the middle to Boldin. But former director of officiating Mike Pereira tweeted the penalties weren't administered correctly, and it should have been fourth down, with presumably San Francisco kicking a field goal.
Matthews wasn't aware of that immediately after the game, but he knows had he eased up near the sideline, the whole mess would have been avoided and it would have been fourth down.
"First off, it wasn't a very smart play," Matthews said. "I had already committed to hitting the quarterback, and I should have figured he'd step out of bounds. It was nothing personal. I went up to him later and was joking around with him. But not a very smart play."
Overall, Green Bay's defense was more formidable than it was in January, with 494 total yards allowed not quite the 579 from the playoff game. The unit kept the Packers in the game through three quarters, getting out of two tough field-position spots in the second quarter and not allowing any points.
But three scoring drives beginning late in the third and into the fourth quarter – two field goals and a touchdown – accounted for more than 200 yards of offense for the 49ers. The defensive effort was better than before, but still not good enough with the rough finish.
"As a defense, I felt like we put it all out there," said Matthews, who had one of two sacks of Kaepernick and also got him for a big loss on a running play. "You see the emotion of the guys in this room, it's devastating. We'll rebound from this and we'll come back and we'll remember what this feels like and be stronger.
"We lost. That's the bottom line, but I am happy with the edge we carried into this game. The defenders who played in this game, we put it out there. We gave up too many big plays, but I feel good about where we're going and our mentality."
Additional coverage - Sept. 8