LeRoy Butler originated the Lambeau Leap on a fumble return for a touchdown against the Raiders on Dec. 26, 1993.


Former Packers safety LeRoy Butler, one of the key components to Green Bay's revival and Super Bowl championship in the mid-1990s, has been named to the preliminary list of nominees for election to the Pro Football Hall of Fame's Class of 2007.
The preliminary list includes 111 former modern-era players, coaches and contributors and will eventually be whittled down to 15 finalists, with between three and six members ultimately selected for enshrinement. In addition to Butler, former General Manager Ron Wolf and longtime Packers public relations director and current team historian Lee Remmel also made the preliminary list.
Butler, who retired in 2002, is now eligible for the list because he has been retired five seasons. Reached by phone on Friday, Butler said he's honored to be part of the preliminary process but realizes it may take a while before he's seriously considered a candidate for enshrinement by the Hall of Fame committee.
"I know it doesn't necessarily mean you've made it or anything like that, but it shows that I've had some good times in my career," said Butler, who played with the Packers from 1990 through 2001. "Staying with the same team for 12 years and helping build something to a championship level, it's a tribute to all the great coaches and great players I've played with. Without them I don't think I could ever be considered."
Butler's accomplishments as a Packer are almost too numerous to mention. He played more games as a defensive back (181) than any player in team history and was named to the NFL 1990s All-Decade Team. He recorded 38 interceptions and 201/2 sacks in his career, and he originated the Lambeau Leap on a fumble return for a touchdown against the Raiders on Dec. 26, 1993.
Accomplishing anything in pro football was astonishing considering Butler's upbringing. Coming from the impoverished Blodgett Homes project of Jacksonville, Fla., Butler was wheelchair-bound as a child with a rare bone condition in his feet that created a misalignment requiring braces and preventing him from running. By the seventh grade, though, his feet had healed and he went on to earn a football scholarship to Florida State.
"Almost like my life has come full circle, based on being an African-American, coming from the projects, growing up essentially with nothing," he said.
"People say they don't think about it, but I was always thinking about it as a little kid sitting in that wheelchair, thinking what if I get out of this wheelchair and into the Hall of Fame?"
It will be challenging enough just to make the list of 15 finalists in his first year of eligibility. Seven players on the preliminary list (running back Thurman Thomas, receivers Art Monk and Michael Irvin, offensive linemen Russ Grimm, Bob Kuechenberg and Gary Zimmerman, and the late Derrick Thomas) were finalists a year ago, and two of the biggest names among the first-year eligible players are offensive lineman Bruce Matthews and running back Terrell Davis.
But even if it takes some time, Butler feels he'll be in the running at some point.
"I think three people from that '90s team should be in the Hall of Fame -- me, Brett (Favre) and Reggie (White)," Butler said. "Reggie's already in there, Brett's a shoo-in, and now I'm bringing up the caboose. Hopefully I can do it."
Wolf, whom Butler credits with convincing him to re-sign with Green Bay midway through his career with free agency pending, has publicly stated in the past he feels Butler is worthy of the Hall of Fame.
Wolf and Remmel both made the preliminary list as "contributors," or nominees who made outstanding contributions to pro football in capacities other than playing or coaching.
As General Manager from November 1991 through May 2001, Wolf was the architect of the roster that took the Packers to three straight NFC Championship Games, two consecutive Super Bowls, and one NFL title.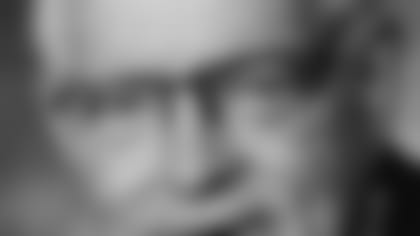 Remmel has been associated with the Packers for 61 years, first as a sportswriter at the Green Bay Press-Gazette and then as a member of the club's front office. The Lambeau Field press box is named in his honor, and he was named team historian in 2004.
"Just to be listed in the same paragraph as such distinguished contributors to professional football as Paul Tagliabue, Ron Wolf, Ralph Wilson and Ed and Steve Sabol is a singular honor in itself," Remmel said.
PRELIMINARY LIST OF NOMINEES FOR THE CLASS OF 2007
Nominees in First Year of Eligibility
Quarterback: Randall Cunningham
Running backs: Terrell Davis, Ricky Watters
Offensive linemen: Bruce Matthews (G/C/T), Randall McDaniel (G), Mark Stepnoski (C/G), Steve Wisniewski (G)
Defensive backs: Eric Allen, LeRoy Butler, Carnell Lake
**Additional Nominees for the Class of 2007
Quarterbacks:** Ken Anderson, Bernie Kosar, Jim Plunkett, Phil Simms, Brian Sipe, Ken Stabler, Joe Theismann
Running backs: Roger Craig, Greg Pruitt, *Thurman Thomas, Herschel Walker
Wide receivers: Cliff Branch, Harold Carmichael, Gary Clark, Mark Clayton, Isaac Curtis, Mark Duper, Henry Ellard, *Michael Irvin, *Art Monk, Drew Pearson, Andre Reed
Tight ends: Mark Bavaro, Todd Christensen, Ben Coates, Brent Jones, Steve Jordan
Offensive linemen: Jim Covert (T), Dermontti Dawson (C), *Russ Grimm (G), Jay Hilgenberg (C), Chris Hinton (G/T), Kent Hull (C), Joe Jacoby (T), Mike Kenn (T), *Bob Kuechenberg (G), Jeff Van Note (C), *Gary Zimmerman (T)
Defensive linemen: Fred Dean (DE), Richard Dent (DE), Chris Doleman (DE/LB), Charles Haley (DE/LB), Ed "Too Tall" Jones (DE), Joe Klecko (DE/DT/NT), Dexter Manley (DE), Charles Mann (DE), Fred Smerlas (NT)
Linebackers: Cornelius Bennett, Robert Brazile, Randy Gradishar, Kevin Greene, Ken Harvey, Rickey Jackson, Clay Matthews, Karl Mecklenburg, Sam Mills, John Offerdahl, Darryl Talley, *Derrick Thomas, Andre Tippett
Defensive backs: Steve Atwater (S), Joey Browner (S), Raymond Clayborn (CB), Kenny Easley (S), David Fulcher (SS), Lester Hayes (CB), Albert Lewis (CB), Lemar Parrish (CB), Ken Riley (CB), Donnie Shell (S), Roger Wehrli (CB), Louis Wright (CB)
Kicker/Punter: Ray Guy (P), Nick Lowery (K), Reggie Roby (P)
Special teams/Wide receiver: Steve Tasker
Coaches: Don Coryell, Tom Flores, Jimmy Johnson, Chuck Knox, Buddy Parker, Dan Reeves, Clark Shaughnessy, Dick Vermeil
Contributors: Bud Adams, Jr., Gil Brandt, C. O. Brocato, Joe Browne, Ed DeBartolo, Jr., Jerry Jones, Bucko Kilroy, Art Modell, Bill Nunn, Lee Remmel, Ed Sabol, Steve Sabol, Rex Stuart, Paul Tagliabue, Ralph Wilson, Jr., Ron Wolf, George Young
*On 2006 15 finalists list