GREEN BAY – Anticipation was building for Kapri Bibbs leading up to the 2007 NFC Championship Game, but there was still something missing for the 15-year-old Packers fan.
With a trip to the Super Bowl on the line, the Packers hosted the New York Giants in one of the coldest playoff games in NFL history with a game-time temperature of minus-1 degree and wind chills of 23 below at Lambeau Field.
Bibbs, back home in Chicago, wanted to be a part of the action. He wanted to feel what the players felt. So Bibbs did the craziest thing imaginable. Instead of putting on one of his three Brett Favre jerseys, Bibbs turned off the heat in his house, opened the windows and sat shirtless in front of the living room television.
According to the Weather Underground, the temperature in Chicago on the night of Jan. 20, 2008, was six degrees.
"I had my whole house mad," Bibbs said. "I sat in the front room with no T-shirt, just shorts on, and had the whole house freezing in the winter time. I'm like, 'All right, if the Packers gotta go through it, then I gotta go through it.' … Just come on with this cold. Go Packers."
Part superstition, part fanatical passion, these were the lengths Bibbs was willing to go for the team he loved at that age. His mom, Stacey Griffin, was raised a Packers fan and passed on that love to her child, dressing Bibbs up in Packers coats, hats and apparel at a young age. Growing up in Chicago, it occasionally complicated Bibbs' 1½-mile walk to school every day, but he didn't mind.
All of those memories rushed back to the surface this past week when the Packers claimed Bibbs off waivers from Washington. While surprised to hear he'd been released after registering 203 total yards and four touchdowns on just 33 touches, Bibbs isn't new to the NFL, having spent parts of the past five seasons with Denver and Washington.
Whatever initial disappointment accompanied the news, however, was quickly absolved when Bibbs' phone rang from a Wisconsin number at 4:09 p.m. Monday, shortly after the NFL waiver wire posted. It was Packers scout Richmond Williams on the other side of the line, informing Bibbs his NFL dream had just come true. He was a Green Bay Packer.
Bibbs intended to call his mother to tell her the good news, but she beat him to it.
"She called me on FaceTime and she stared at me for like 10 minutes," said Bibbs, laughing. "She just called me and started staring at me. I kept smirking and she's waiting for me to respond like, 'You can't be serious? Green Bay Packers?' I'm like, 'Green Bay Packers' and the whole car started blowing up, everybody started going crazy in the car. She said, 'This is what you asked for. This is the team you always wanted to go to.'"
Bibbs' life has been quite the journey. Growing up in Harvey, Ill., Bibbs initially lived in a three-bedroom house with 23 kids and four adults before his mom moved the family into their own apartment when Bibbs was in fifth grade.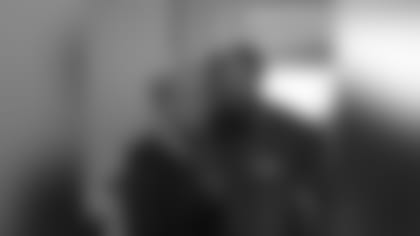 With the Chicago Bears fighting through some lean years, Bibbs' passion for the Packers and football hit fever pitch. During his final two years at Plainfield North High School, Bibbs rushed for 4,210 yards and 61 touchdowns. As a senior, he averaged 294.9 rushing yards per game. Bibbs played at two junior colleges – Snow College in Ephraim, Utah, and Fort Range Community College in Fort Collins, Colo. – before committing to play for Jim McElwain at Colorado State University.
In his lone season with the Rams, Bibbs rushed for 1,714 yards and tied for the most touchdowns scored in the nation (31) before turning pro. While Bibbs went undrafted, he caught on with the Denver Broncos and was part of their Super Bowl 50 team in 2015.
A free agent after the 2018 season, Bibbs already was surveying possible landing spots this offseason. He hoped the Packers might be a potential option, and with Aaron Jones going on injured reserve Monday, Bibbs was thrilled to find out he'd been brought in to back up Jamaal Williams for the final two games of the season.
"I run with a lot of fire," Bibbs said. "Pretty much from where I'm from and how I was raised up, south side of Chicago, I was born to get out of the mud. That's what I do. I'm going to grind regardless of the play or regardless of what's going on, and give you my full effort. I'm going to give you more than what you ask for.
"I want to prove that to this coaching staff that I'm a home-run threat and I can do anything that's asked of me."
Although the Packers ultimately lost that frigid NFC title game to the Giants more than a decade ago, Bibbs got redemption a few years later when Green Bay beat Pittsburgh in Super Bowl XLV. Whenever he sees Nick Collins while training down in Florida, Bibbs always flocks to him to relive Collins' pivotal first-quarter interception returned for a touchdown.
Over the past five years, Bibbs has shared a locker room with Peyton Manning, Von Miller, Josh Norman, Aqib Talib and Alex Smith. He considers future Pro Football Hall of Fame running back Adrian Peterson a good friend and mentor.
Yet, the only time Bibbs has been unquestionably star-struck during his NFL career came earlier this year when he saw Clay Matthews on the field after Washington's 31-17 win over Green Bay. He wanted to go ask Matthews for his jersey, but just missed him. Now, Bibbs stands just a few feet from Matthews and two-time MVP quarterback Aaron Rodgers in the locker room.
Bibbs has collected quite a bit of Packers paraphernalia over the years, but nothing compares to the No. 22 green-and-gold jersey he's been assigned in Green Bay. With two games remaining – Sunday's game in New York and next weekend's finale at Lambeau Field – Bibbs plans to show his childhood team everything he's got.
"I'm taking my home and away jersey," Bibbs said. "I'm going to keep them both because I'm never going to be able to get a jersey like this ever again, especially from my favorite team. That's something I can hang my hat on the rest of my life."