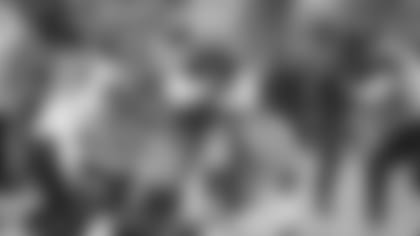 GREEN BAY – If Christine Michael is carrying any extra motivation into Sunday's game against his former team, he's not letting on.
Released by the Seahawks a few weeks ago and claimed on waivers by the Packers, Michael remains Seattle's leading rusher for 2016 with 469 yards and six touchdowns.
He was on his way to the best season of his four-year career when Thomas Rawls got healthy and the Seahawks decided to cut Michael loose, with two rookie draft picks available to back up Rawls.
Since coming to Green Bay, Michael has been worked in slowly, getting one carry for 4 yards two weeks ago in Philadelphia, and then nine carries for 19 yards last week vs. Houston.
A breakout game against the team that didn't want him anymore would have to feel good, but Michael is not looking at it that way, not publicly at least. Though he did say he's going to guard against trying to "do too much."
"I'm just going to play me," Michael said after practice on Thursday. "I'm getting more comfortable in this offense, in the pass protection, the pass game, running the ball, knowing my track, knowing my assignment, and those guys trusting me more.
"I'm just ready to see what I can do this Sunday."
Perhaps the Packers are, too. On Michael's first carry last Sunday, his quick burst was evident, and a different element he brings to the table compared to Green Bay's other running backs. He gained 7 yards on the play and later had a 5-yard run before finding it tough sledding late in the game when the Packers were trying to run out the clock.
Last week's game was the first of his career in the snow, so that should help with the footing and ball-security issues that come with classic Lambeau Field weather, which is possibly on tap again this week.
As for what he might be able to share with his new teammates about Seattle's playbook, Michael responded, "Not much." Translation: There's very little information a player can divulge that isn't visible for all to see on game film.
A second-round pick by Seattle in 2013, Michael has been in this situation before, facing the Seahawks last year during a brief stint with the Dallas Cowboys. He then returned to Seattle's roster a month later.
Packers offensive coordinator Edgar Bennett went through it, too, playing for the Bears against Green Bay late in his career. As Michael did, Bennett downplayed any thoughts of revenge as a player's primary motivation.
"It's always about being competitive," Bennett said. "You play the game how you've always played the game, and that's with tremendous passion."
For Dallas against Seattle last season, Michael had five carries for 20 yards in a 13-12 Seahawks win. He called it "fun" to see his former Seattle teammates across the field, and he feels it'll be the same come Sunday.
"Those guys are lifelong brothers. All those guys. I miss them all. We stay in touch," he said, though there's been no communication this week. "That's my brothers, but this is my team now. This is where I'm at, and I'm just trying to help this team win. It's going to be fun, but at the same time, I have to do my job."