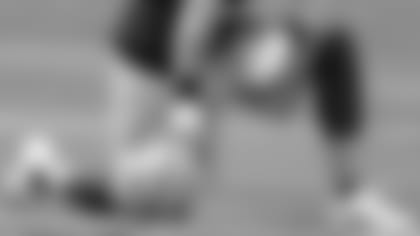 GREEN BAY—Clay Matthews pointed first and foremost at himself on Saturday, but he also called on the Packers' many young defenders to rise to the rank of "playmaker" to improve Green Bay's defense in 2013.
"It's time for younger guys to step up," Matthews said following the second practice of training camp. "It's not just you're a rookie anymore or a second-year player. The time is now. Especially losing veteran players, now is the time, myself included."
Since signing a monster contract extension in the offseason, Matthews has spoken about the leadership role that comes along with it. Over the past two years, the Packers have lost defensive leaders Nick Collins and Charles Woodson as Matthews' status within the locker room has steadily risen.
The four-time Pro Bowler is the face of Green Bay's defense now, and he's embracing it, but he said the new contract hasn't changed his life or how he plays football.
He simply vowed to continue to improve his game, which has produced 50 sacks over four seasons (including playoffs), and he knows the spotlight will shine even brighter in his direction from now on.
"It's always been my motivation to come out here each and every Sunday and make a name for myself," he said. "Nothing has changed, just obviously the salary.
"I know what I'm capable of and I know what I'm going to do, and that's lead this team and be a playmaker."
As for the other potential playmakers, Matthews didn't name anyone specifically, but the locker immediately to the left of his belongs to first-round draft pick Datone Jones, who was brought in to boost the inside pass rush as a complement to Matthews' outside pressure.
"He's out of UCLA, so we'll see," Matthews said of Jones, taking a jab at the archrival of Matthews' alma mater, USC. "In all seriousness, though, he's shown a lot of promise. It will be good to see him in pads and see what he brings to the table."
Then, immediately to the left of Jones' locker is Matthews' counterpart at outside linebacker, 2012 first-round pick Nick Perry.
Due to a wrist injury, Perry played in just six games as a rookie last year, netting two sacks. He's still practicing with a protective wrap on the wrist, though he said it's just a preventive measure and he doesn't plan to wear it all season.
"It's getting better," Perry said. "We're almost where we want to be.
"I have a lot to prove. I have to be healthy, and I have to be available to the team. With me being healthy and me being out there on the field, I think a lot of great things can happen."
Matthews and the Packers are counting on it, as well as on other rising stars such as Casey Hayward and Morgan Burnett in the secondary.
Asked about the recent comments from 49ers quarterback Colin Kaepernick, who claimed he heard Green Bay's defenders sniping at each other in the huddle during last January's divisional playoff, Matthews echoed many of his teammates in saying everyone has moved on. "We've talked enough about that game," he said.
But Matthews is as aware as anyone that the performance, a surrendering of 45 points and 579 yards, will, in essence, represent his defense until it gets another shot at San Francisco on Sept. 8.
That's just six weeks from now, which is why Matthews wasted no time in training camp putting out the call he did on Saturday.
"I'm always convinced that our defense is going to be better than the year before," he said. "My play, (other) individuals' play. That's what you have to believe."
Two days into camp, Head Coach Mike McCarthy believes it's about time for the pads to go on. Sunday will be the first full-pads workout, and after some sloppiness on Saturday that included two fumbled snaps and multiple offsides calls on the defense, McCarthy is looking for more sharpness to go with the increased intensity the pads will bring.
"Tomorrow you get a closer look," McCarthy said. "To me, that's what training camp is for, it's about the padded practices. You only have so many opportunities to get your team ready for games. The fundamental work is critical."
It will be especially vital on the offensive line, where the Packers are continuing the transition that began in the spring, when they switched last year's starting guards and tackles to opposite sides and started working Don Barclay at center as well as at right tackle.
Barclay, currently backing up Evan Dietrich-Smith at center, was the culprit on consecutive fumbled exchanges with quarterback Aaron Rodgers, though McCarthy excused him somewhat because of the plays called for required footwork difficult for a novice center to execute. In any event, real football contact will up the ante for the entire unit.
"We got a lot of work in the offseason and OTAs practicing, but it's really about the pads and the live bullets flying at you," said left guard Josh Sitton, a Pro Bowler at right guard last year. "That's what we do. We play games in pads. I think that will really be the start of it."
It will also end the three-day introduction to this year's camp. There is no practice Monday, followed by five consecutive full-pads workouts, culminating in next Saturday's Family Night scrimmage.
With the first day off looming, the players can expect to be pushed on Sunday.
"Tomorrow is a very important practice," McCarthy said. "We have three hours to be on the field, and we're going to max it out, every position." Additional coverage - July 27