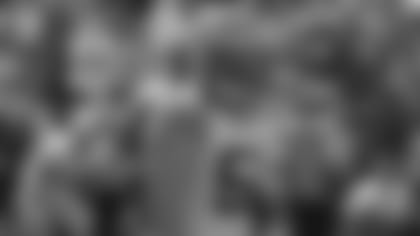 LB Clay Matthews
GREEN BAY—Clay Matthews is good to go.
"Yes, I plan to play," Matthews said on Thursday, after being a full participant in the Packers' padded practice. "I'll be out there this Sunday. It's feeling good."
"It," of course, is Matthews' hamstring, which has been strained to one degree or another in each of his five seasons in the NFL. The latest recurrence came in the second quarter in Cincinnati two weeks ago, forcing Matthews to sit out the second half.
Unlike last year, however, when the injury was much worse and kept Matthews out of four games, it appears he won't miss a full game this time. Head Coach Mike McCarthy said he's "optimistic" Matthews can play as he follows the plan the medical staff set up for him.
Matthews said that pulling himself off the field and talking to the doctors immediately when he didn't feel right in Cincinnati was key, along with what he termed a "fortuitous" bye week.
"I've become a lot smarter," Matthews said. "Obviously, a younger Clay might have pressed the issue and hurt himself even more."
Unfortunately, his absence against the Bengals likely cost the Packers a victory. Matthews forced two of four straight turnovers in the first half that helped the Packers climb out of a 14-0 hole, but the takeaways dried up in the second half and Cincinnati quarterback Andy Dalton caught fire without Matthews' steady pressure.
With Matthews out, Dalton completed 13 of 15 passes for 168 yards and two touchdowns – a 152.9 passer rating – in the second half as the Bengals rallied from a 30-14 deficit.
On Sunday at Lambeau Field, the Packers will face a Lions offense that similarly can get rolling, particularly with the addition of Reggie Bush to both the ground and air attacks.
Matthews hasn't lined up against Bush since the star running back was winning a Heisman Trophy and Matthews was playing on the scout team at USC, but seeing Bush hurdle tacklers and make several big plays – he has a 77-yard TD reception and a 37-yard TD run in Detroit's first four games – reminds Matthews of the player he said gave him "several welcome-to-college moments."
"He's definitely playing very well," Matthews said of Bush, who is averaging 7.3 yards per touch this season. "He looks like he has new life playing out there and that offense definitely features him by putting the ball in his hands."
The Packers' defense, obviously, features Matthews at every opportunity, though he plans to rest some snaps on Sunday with a long, 13-game post-bye stretch just beginning.
That said, however, Matthews only plays at one speed, and mentally he doesn't concern himself with reinjuring the hamstring because he knows he wouldn't be the same player if he did.
Last year, after missing those four games, he came back and recorded seven sacks over the final three regular-season and two playoff games.
So when he says he's good to go, history says to believe him.
"I feel good. I'll make my plays," he said, though it may be tough with Detroit QB Matthew Stafford having been sacked only three times this season.
"I wouldn't be returning if I had concern. Hopefully, it's a thing of the past. Hopefully, it's my one for the year." Additional coverage - Oct. 3