As a community-owned team, the Green Bay Packers have a well-known, nearly 100-year-old tradition of giving back to the community that has always supported them.
The organization and local businesses have often worked together to boost their community impact, and since 2015, the Packers have enhanced these connections through the Community Partners program, which created a coalition of Wisconsin businesses with the purpose of making a difference in the community.
The Community Partners program brings together the Packers and member companies to help those in need through donations, assistance with fundraising efforts and volunteerism.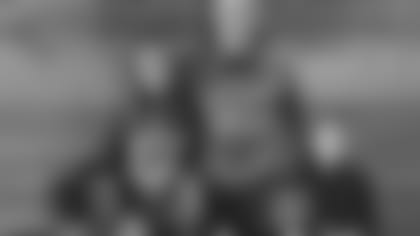 This year, the Packers worked with Boston Store and Jockey to host events and programs aimed at making a difference for communities in southeast Wisconsin.
The Packers and Boston Store teamed up over the summer to host a school supplies drive at all five Milwaukee-area Boston Stores to benefit the United Way Backpack Coalition, which fills backpacks with school supplies and distributes them to K-12 students in need.
Fans, shoppers and community members were encouraged to bring notebooks, lined paper, pencils, markers, crayons, glue, pocket folders, binders and other supplies to any of five Boston Store locations to help fill the backpacks. Following the drive, the backpacks were assembled with grade-appropriate supplies and delivered to Hopkins Lloyd Community School, where they were distributed to more than 300 Hopkins Lloyd students, in kindergarten through eighth grade.
Boston Store and the Packers also collaborated with Next Door, an organization focused on improving literacy and school readiness for children ages 0-5 in the city of Milwaukee. Next Door's research-based programming and high-quality early childhood education programs prepare children and their families to use education as the primary tool to bridge the education gap.
The Packers' Community Partners program sponsored the Books for Kids Station at the 2017 Next Door Walk for Children, distributing over 1,000 books to children and families.
Additionally, five southeast Wisconsin organizations each received a $5,000 donation from Boston Store on behalf of the Community Partners program in late December. Feeding America Eastern WI, Make-A-Wish Wisconsin, Milwaukee Rescue Mission, The Salvation Army and Sojourner Family Peace Center all received the donations to assist in their efforts to benefit families and children in need.
The Green Bay Packers, along with wide receiver Jordy Nelson, also teamed up with Jockey Being Family, which supports and strengthens families by providing funding to nonprofit organizations all over the country, enabling them to provide critical post-adoption services.
Jockey Being Family believes that every child deserves to grow up with a loving family in a forever home.
Nelson, an ambassador for Jockey Being Family, surprised the Cooley family at Lambeau Field's restaurant, 1919 Kitchen & Tap, on Tuesday, Nov. 7, in recognition of November as National Adoption Awareness Month. The Cooley family, which includes five kids ranging from ages 5-13, made the trip from St. Francis, Wis., to have lunch with the Nelson family, exchange Jockey Being Family backpacks and tour Lambeau Field.