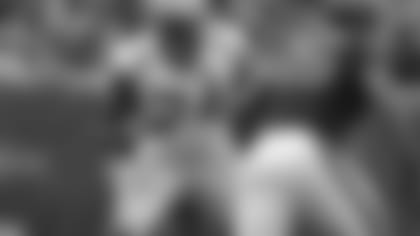 GREEN BAY—It was a brief news item a few weeks ago that received little notice, but it could play a more significant role in the Packers' future than many realize.
Green Bay was awarded one compensatory draft choice in this month's draft, a fifth-rounder, No. 167 overall. That gives the Packers eight picks in the upcoming draft, including the club's regular selection in each of the seven rounds.
Compensatory choices are awarded based on an undisclosed formula that calculates a team's net loss in free agency from the previous year. It's not particularly exciting news or entirely understood, but it's worth noting the players the Packers have acquired over the years with these extra choices.
On the current team, two-fifths of the starting offensive line in right guard Josh Sitton (fourth round, 2008) and left tackle Marshall Newhouse (fifth round, 2010) were selected with compensatory picks, plus a potential starting cornerback in Davon House (fourth round, 2011). Additional defensive prospects were added last year in lineman Mike Daniels and safety Jerron McMillian (both fourth round).
Going back further, other notable compensatory picks for the Packers have included center Scott Wells (seventh round, 2004), tight end David Martin (sixth round, 2001), punter Josh Bidwell (fourth round, 1999), quarterback Matt Hasselbeck (sixth round, 1998) and a trio of players in 1996 – cornerback Tyrone Williams (third round), guard Marco Rivera (sixth round) and linebacker Keith McKenzie (seventh round).
There's no telling in advance what kind of player the Packers will find in their compensatory slot this year. It isn't as high as where Sitton and House were selected, in the 130s, but No. 167 is two spots ahead of where Newhouse was picked three years ago.
The Packers regularly acquire compensatory picks because they aren't big players in the free-agent market, but they couldn't even be sure they were going to get one this year. The fact that they did sheds some light on the league's calculations.
The Packers lost Wells and quarterback Matt Flynn in free agency while signing center Jeff Saturday. Wells was on injured reserve by midseason and Flynn never played, losing Seattle's starting job to rookie Russell Wilson. Meanwhile, Saturday started 14 games for Green Bay and was named to the NFC's Pro Bowl squad.
Yet, the Packers still received a middle-of-the-road selection (compensatory picks are no higher than third-rounders), an indication the value of the contracts signed by the coming and going free agents weigh more than the players' actual performance.
Compensatory picks can't be traded, but that isn't to say they don't influence other draft-day trades.
The Packers had four compensatory picks last year, the two in the fourth round plus two in the seventh (used on a pair of developmental prospects in offensive tackle Andrew Datko and quarterback B.J. Coleman). All those picks no doubt gave General Manager Ted Thompson the flexibility to trade up with regular selections three times in one weekend – a record in his tenure – to draft defenders Jerel Worthy, Casey Hayward and Terrell Manning.
The Packers don't enter this year's draft with the double-digit pick arsenal of a year ago, so trading up seems less likely, though it certainly can't be ruled out. What is a given is the Packers will take that compensatory pick as seriously as any other. Their track record proves it.