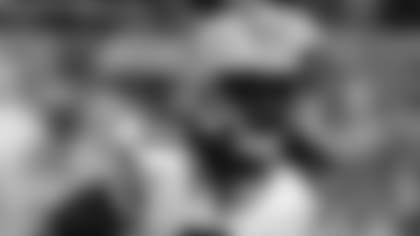 CB Davon House
GREEN BAY—Much like it was in the second half in Miami, the Packers' depth at cornerback will be tested on Sunday.
Exactly how much remains to be seen.
Sam Shields has been ruled out for the game against Carolina due to his knee injury, while Tramon Williams is being listed as questionable with an ankle injury.
Head Coach Mike McCarthy said on Friday he will give Williams all the way up until game time to get ready to play. It's a decent bet Williams will suit up, given he's missed only one game (Week 2, 2011) in his eight-year career.
But even if it's only Shields that's out, that moves Davon House and Casey Hayward up a notch in the cornerback rotation. House is primarily a boundary corner while Hayward mostly mans the slot, though he's the next option outside as well. Micah Hyde and Jarrett Bush would also be available for slot duty if needed.
"We're confident and we know what we can do," House said. "We're excited. This is going to prove our statement if we're really that deep or not."
Both House and Hayward are off to strong starts this season. House picked off a deep ball in Detroit intended for Calvin Johnson and has four pass breakups on the year. Last week, Hayward got his first interception since his rookie season of 2012, when he burst onto the scene with six.
Hayward said this week that for every five passes thrown his way, he feels he should get his hands on at least one of them, if not for a pick then at least a deflection.
"I think I needed to get one (interception) to get a little more confident, but I had been playing well the last three games," Hayward said. "It was just a matter of time before they throw the ball at me. I haven't gotten many targets.
"We're going in preparing like we're going to be starters. It will all be the same. Dom (Capers) will call the game just like he calls it."
McCarthy said it's been a "balancing act" this week getting ready for Carolina's passing game – which features tight end Greg Olsen and rookie receiver Kelvin Benjamin as top targets, with Benjamin returning to practice Friday from a concussion – while preparing extensively for the read option run by QB Cam Newton.
With Packers backups Matt Flynn and Scott Tolzien taking turns with the read option, the defense spent an entire practice period exclusively on the scheme, McCarthy said. Newton rushed for over 100 yards last week against the Bengals.
"I wanted the defense to see the speed of it, get the proper run fits and different variations they've shown on film, particularly with the size of the athlete Cam Newton is," McCarthy said. "He's a different athlete when he runs the football.
"With that, you have to find time and adjust the schedule to make sure you're preparing for the passing game, too. There's a lot more to their offense than just the read option."
On the offensive side in practice, second-year center JC Tretter returned from his knee injury that had sidelined him since late in training camp. On injured reserve with a designation to return, Tretter isn't eligible to play in a game until after Green Bay's bye week.
With rookie Corey Linsley settling in as the starting center, it would seem the plan is to get Tretter back into the swing of things as a reserve at various spots up front, though that in itself will be a process with only one practice in pads permitted per week.
"He took reps at multiple positions on the opponent squad," McCarthy said. "We're trying to get JC as much work as we possibly can, get him as many athletic movements, try to catch him up in the padded work."
ADDITIONAL COVERAGE - OCT. 17