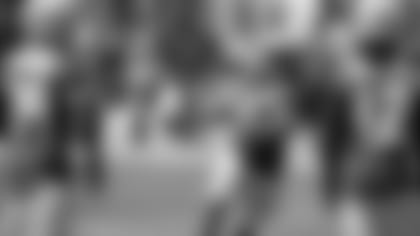 The following is the eighth installment in a series of stories examining the Packers' roster position by position. This installment examines the defensive backs.
GREEN BAY—The headline story for the defensive backfield in training camp is who's going to win the starting safety job alongside Morgan Burnett. But the competition at cornerback won't be any less fierce.
Burnett enters camp with a new contract, and by the end of camp he's expected to have a new full-time partner. Young pros Jerron McMillian and M.D. Jennings will duke it out, and while conventional wisdom says the hard-hitting McMillian is the better in-the-box run supporter and Jennings is the better coverage centerfielder, it's dangerous to pigeonhole prospects with so much room to grow.
For all his prowess as a hitter, McMillian had the better coverage numbers in 2012. He had one interception as a rookie, with a defensive penalty on a teammate and a replay review taking away two others. He also knocked down 13 passes.
That's more than twice as many passes defended as Jennings (six, with one pick), who for the supposed questions about his physicality racked up tackles at a much higher rate than McMillian (46 to 30).
In short, any preconceived notions about the players may no longer apply, and it's best to let the competition play out. The youth movement at safety in the absence of Charles Woodson also includes second-year pro Sean Richardson, practice-squad holdover Chaz Powell and undrafted rookie David Fulton.
The potential wild card could be Richardson, who made the team as an undrafted rookie last year but saw action in only five games before a neck injury ended his season. Richardson, whose neck surgery was done by the same doctor who operated on Peyton Manning, sat out OTAs and minicamp this spring and has been eyeing training camp as his return, though that's not a given.
The only given at cornerback is that the top four at the position are Tramon Williams, Sam Shields, Casey Hayward and Davon House, but the pecking order isn't necessarily set.
Cornerbacks Coach Joe Whitt Jr. has said on multiple occasions that "the best players will play," and he's going to let their performance decide the two starters, the nickel and the dime. How it shakes out promises to be fun to watch.
Williams is the veteran leader of the bunch who takes pride in drawing the assignment of the opponent's top pass-catcher, Shields accepted a one-year tender offer and is playing for a long-term deal, Hayward snagged six interceptions last year and was in the conversation for Defensive Rookie of the Year, and House was the star of last summer's training camp before an injury derailed his progress once again.
As a rookie in 2011, House hurt his hamstring and hardly played. Last year, his shoulder sidelined him nearly half the season and then required a harness, a limitation he has tossed aside for 2013.
"We all can play outside, inside, the whole nine," Williams said as OTAs wrapped up this spring. "That's the thing about this DB group. Everyone is versatile enough to move in, move out.
"We have a lot of depth, obviously. Over the past years, I don't think we had as much depth as we do now. It's definitely going to be a good training camp, great competition. It's going to be something to see when training camp starts."
That depth includes veteran special-teams ace Jarrett Bush and a handful of young unknowns. Micah Hyde was drafted in the fifth round out of Iowa, Loyce Means was signed from the Canadian Football League, James Nixon returns after a season on Green Bay's practice squad, and the undrafted Brandon Smith is a converted wide receiver.
All of them flashed some ability during the spring, and it didn't go unnoticed.
"The first thing I realized is they're really smart," Williams said of the young group. "It's not easy to pick up this defense. Those guys came in and are doing an excellent job picking up the defense. They're not making many mental errors at all. Anytime you can do that, you always give yourself a chance to make the team."
Williams was in their shoes six years ago, surprising many by making the roster in 2007 despite starting well down the depth chart behind Woodson, Al Harris, Bush, returning nickel back Patrick Dendy, free-agent pickup Frank Walker and former fourth-round pick Will Blackmon.
"When you're with the Packers, you're always going to get a fair shot," Williams said. "That's the way I felt when I got here. The Packers gave me a fair shot and I took advantage of it. Just that advice by itself encourages the guys that you're not just here to be a camp body or anything like that. You're here, and if you make your mark, you're definitely going to be rewarded for it."