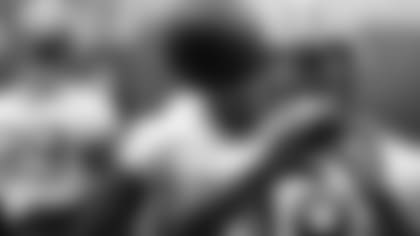 *WR Randall Cobb's 80 receptions last season tied for the most of any single receiver since QB Aaron Rodgers took over as the starter.

VIEW WR PHOTO GALLERY

*
The following is the fourth installment in a series of stories that's examining the Packers' roster position by position. This installment examines the wide receivers.
GREEN BAY—The No. 1 receiver for the Green Bay Packers changes by the week, if not by the series. That may frustrate fantasy football players to no end, but it works for Aaron Rodgers and his offense.
Last season, Randall Cobb led the Packers receiving corps in catches and yards. James Jones topped the crew in TDs. Jordy Nelson was best in yards per catch.
How those categories will shake out in 2013 is anyone's guess, but barring injury, it's a good bet the "big three" will have their names at or near the top of the various lists once again.
The interesting question is whether anyone's individual numbers will truly jump off the page this season, a difficult task amidst such depth and talent.
Cobb's 80 receptions last year were the most by a receiver since Rodgers took over as the starter (tying the departed Greg Jennings' 80 catches in 2008). Rodgers has called Cobb a potential "100-catch guy," but that hasn't happened in Green Bay since Robert Brooks caught 102 in 1995.
Jones' 14 TD catches led the league, and was within shouting distance of Sterling Sharpe's franchise record of 18, as was Nelson's 15 the year prior.
Nelson's 15.2 yards per catch signaled a significant drop from the year before (18.6). Jones had a similar falloff from 16.7 to 12.3 as the offense lost some of its big-play mojo. Here's a good trivia question: The last Packers receiver with at least two dozen receptions to average 20 yards per grab for a full season was Walter Stanley back in 1986 (20.7).
Should a revamped ground game earn respect from defenses and return the Packers to their big-play ways of 2011, who knows?
The real intrigue as far as training camp is concerned, however, comes after the big three.
The fourth and fifth (and maybe sixth) spots are up for grabs, with candidates aplenty. Nine receivers beyond the big three give the Packers an even dozen heading into camp.
The returnees are Jarrett Boykin and Jeremy Ross, both of whom Rodgers has praised for their work ethic and attention to detail. Boykin made the roster as an undrafted rookie last year and caught five passes on the season, none bigger than a fourth-down conversion at Minnesota with a defender blanketing him and ultimately twisting Boykin's ankle with an awkward tackle, an injury that rendered Boykin inactive in the postseason.
Ross' strength is in the return game, and if he's the best option at that spot, he could influence how many receivers are kept on the final roster.
The rest of the candidates are rookies, headed by seventh-round draft picks Charles Johnson and Kevin Dorsey. Injuries prevented either player from making a big splash during OTAs, but if healthy, the two hope to make their combination of size and speed tough to miss in camp. It's only fitting that in the first year of Donald Driver's retirement the Packers found a pair of prospects in the seventh round, the same round in which Driver was drafted in 1999.
The remaining five – Sederrik Cunningham, converted quarterback Alex Gillett, Terrell Sinkfield, Tyrone Walker and Myles White – all went undrafted and have a long, tough road to a roster spot, but don't count anyone out.
Last year, all the pre-camp attention was on which practice-squad holdover would make the team, Tori Gurley or Diondre Borel. Neither did, and the undrafted rookie Boykin won a job instead.