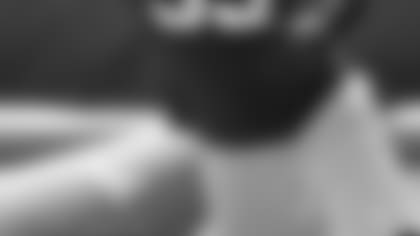 The following is the sixth installment in a series of stories that'll examine the Packers' roster position by position. This installment examines the defensive line.
GREEN BAY—A youth movement that has seen the Packers draft four defensive linemen the past two years welcomes back a player from the past, and hopes competition will improve a unit that struggled against the run late last season.
First-round draft pick Datone Jones was selected with the new-age game in mind. Jones has the size to be a traditional two-gap defensive end in the Packers' 3-4 system, but he also has the athletic ability to play in space against athletic quarterbacks such as Colin Kaepernick and Robert Griffin III, against whom the Packers will play in the first two weeks of this season.
"He has very good length," Packers Defensive Coordinator Dom Capers said of Jones. "He's a very lean guy. He's one of those guys that'll be able to put on weight.
"You like those athletic guys that can go out in space and rush from the outside. We could see him do a lot of the things we ask our defensive linemen to do. We play a lot of sub packages and he can move inside. They play a very similar defense at UCLA."
The translation is that much will be expected from Jones, especially as his athletic gifts pertain to stopping quarterbacks such as Kaepernick and RGIII, who are as much a threat with their legs as they are with their arms. Kaepernick, of course, led an offense that piled up 579 yards against the Packers last January.
Jerel Worthy, a second-round pick in 2012, sustained a knee injury late last season that could delay his contribution this year. Mike Daniels, a fourth-round pick in '12, made a significant contribution last year and more is expected of him this season.
The Packers selected Josh Boyd of Mississippi State in the fifth round of this year's draft. He gives the Packers another big body against the run, and that's a requirement for playing in a division dominated by Vikings running back Adrian Peterson.
Peterson rushed for 508 yards in three games against the Packers last season, and Kaepernick piled up 181 yards rushing and teammate Frank Gore 119 yards in the Packers' playoff loss. Clearly, stopping the run will be a major focus in this year's training camp.
Veteran Ryan Pickett has been a run-stuffing specialist for the past several years, but Pickett will be in his 13th pro season, hence, the need for youth on the Packers' defensive line.
Nose tackle B.J. Raji got some relief last season and he appeared to stay fresh longer into the season. Defensive end C.J. Wilson is a run-stuffing specialist in the Pickett mold, and defensive end Mike Neal, a second-round pick in 2010 who has battled injuries throughout his career, took a major step forward last season and was the subject of an experiment at outside linebacker this past spring.
Jordan Miller is a first-year prospect to back up Raji; Gilbert Pena is an undrafted free agent with a Raji-like physique.
What about Johnny Jolly? He showed a lot of promise as a young lineman before a three-year substance abuse suspension derailed his career. He's back and now the question is: At 30 years of age, can Jolly knock off the rust and join the competition on the defensive line?
"There's going to be great competition. We have a group that can do a lot of real good things. Youth brings a lot of energy," Defensive Line Coach Mike Trgovac said.