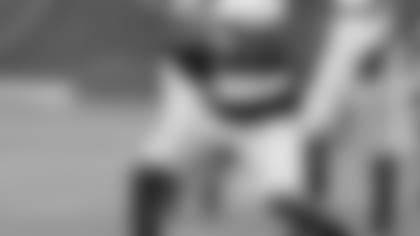 WR Jeremy Ross
The following is the final installment in a series of stories that has examined the Packers' roster position by position. This installment examines the specialists.
GREEN BAY—The questions facing the Packers' specialists heading into the 2013 season can be boiled down to three.
Will someone rise up and seize the punt- and kick-return job, allowing for receiver Randall Cobb to be pulled off special teams?
Will kicker Mason Crosby hold off challenger Giorgio Tavecchio and rebound from the worst season of his career?
Can punter Tim Masthay top his impressive last two seasons?
The return job has been Cobb's the past two years, and there's no doubt he's a threat any time he touches the ball. The return game simply provides more opportunities for Cobb to get his hands on it.
As his role on offense continues to increase, though, (particularly in the wake of Greg Jennings' departure), the Packers run the risk of wearing Cobb out and/or further exposing him to injury should he rack up a combined 60 or 70 returns once again.
Head Coach Mike McCarthy has made it clear someone needs to grab hold of the job for the duties to be taken from Cobb.
Fellow receiver Jeremy Ross was in the midst of doing that late last season, posting a 32-yard punt return and a 44-yard kickoff return at Minnesota in Week 17. But a momentum-turning fumbled punt in the playoffs at San Francisco marred an otherwise eye-catching debut for Ross, who will have a chance to shake off the miscue and prove he's the guy.
Other candidates in the return game could include rookie running back Johnathan Franklin, a fourth-round pick whose speed and shiftiness is similar to Cobb's. Fifth-rounder Micah Hyde also has college experience as a returner, or another darkhorse could yet emerge.
As for Crosby, kicking careers can be fickle, and without a strong start this year, his will be at a crossroads. He followed up the best season of his career in 2011 with his worst in 2012, dropping from 85.7 percent field-goal accuracy to 63.6. He was actually below 60 percent on the year (17-of-29, 58.6) before making four straight to end the regular season and two more in the playoffs.
Crosby hasn't had in-house competition for a job since his rookie year, when as a sixth-round pick he ousted incumbent Dave Rayner. Tavecchio, a strong-legged left-footer, is the underdog but has participated in an NFL training camp before, last season with San Francisco.
For both kickers, talent is not the issue. It comes down to consistency.
The most consistent facet of Green Bay's special teams play lately has been Masthay. Since an up-and-down debut season in 2010, Masthay has developed into a legitimate field-position weapon over the past two years.
In 2011, Masthay set franchise records for both gross average (45.6) and net average (38.6), and then he beat the net mark by another third of a yard at 38.9 in 2012. He placed 30 of 70 punts inside the 20 against just five touchbacks. In addition, 26 punts were fair-caught, nearly as many as in his first two years combined (28), as the Packers allowed only 179 total punt-return yards last season, second lowest in the league.
Masthay's career curve has sloped steeply upward thus far, a trajectory that's difficult to envision continuing. But even if, as expected, it rounds off somewhat, the Packers will take Masthay's current level of production for as long as he can deliver it.